The tour is back in the beautiful Czech countryside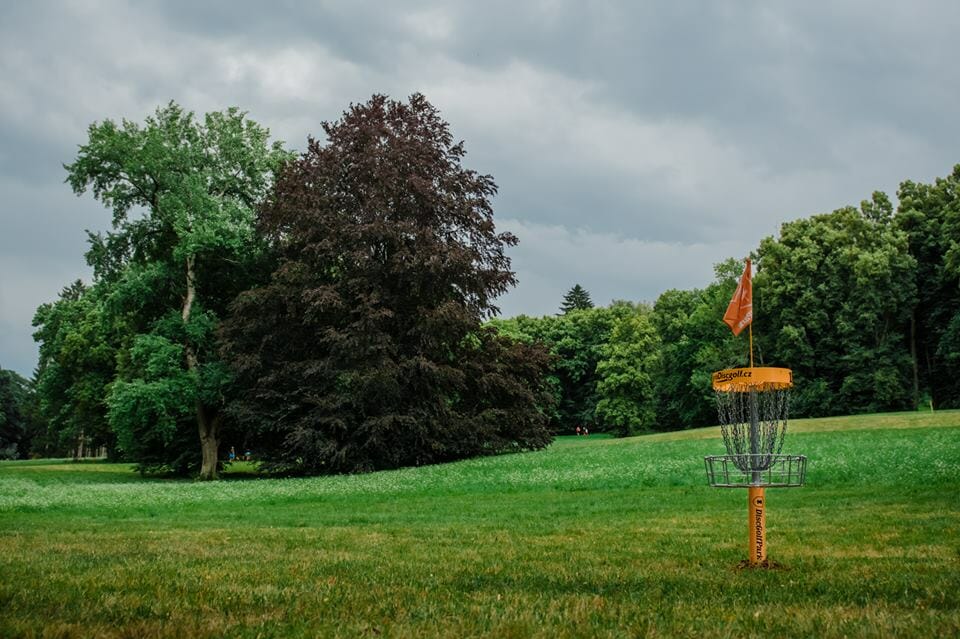 The glitz, the glam, the galleries. The field is set, the players are ready, and all that's left is the doing. The first PDGA Major of the season is upon us, it is time for the Konopiště Open. The field of 143 total players will take on the first PDGA Major in central Europe at the Franz Ferdinand Disc Golf Course just outside of Benešov, Czech Republic.
The Konopiště Open has been a highly anticipated event in recent years and it affords a rare opportunity for the best players on both sides of the Atlantic to come together to test their skill and mettle in front of some of the most enthusiastic fans there are. Last year, Ricky Wysocki beat out Paul McBeth by two strokes in an emotional and intense final round to take the Open win, while Vanessa Van Dyken emerged victorious in Open Women after a playoff defeat of European Champion Eveliina Salonen.
This year, McBeth is entering action following a well-publicized, historic, jaw-dropping, objectively amazing showing at the Great Lakes Open where he went off in an 18-under par 45 second round. Wysocki, on the other hand, has been most recently touring and winning in Europe, defeating holes "designed" to stop him.
Van Dyken is back to defend her title, but Salonen and Catrina Allen have both been playing strong in recent weeks and are undoubtedly hungry for more wins.
The lights are on and the stage is set for an exciting weekend in the Czech Republic.
Storylines
Top Players Rejoin the Field
Wysocki, Allen, Van Dyken, Eagle McMahon, Nate Sexton, Simon Lizotte, and plenty of other top-flight players have been in Europe for a couple of weeks already, opting to skip the Great Lakes Open in order to play events and promote their brands in the disc golf-mad Scandinavian and Baltic countries.  
One of those other players is Gregg Barsby, who must be enjoying his time in Europe. He recently notched a win at the Sula Open in Norway and finished second to Wysocki at the Tyyni in Finland. Barsby has a history of performing well overseas. Last year he was one errant drive on the final hole away from besting McBeth at the European Open and won the Kyy Open in Finland over Jeremy Koling and a strong field of European players.
Will Schusterick has been valiantly clawing his way back to 1000-rated after battling injuries on and off for a couple of years now and is fresh off a win at the Pärnu Open in Estonia. Schusterick was once arguably the best player on the planet not too long ago and fans of competitive play at the top are sure hoping that his European swing will be just what the doctor ordered to get him back to that level consistently.
Europe's Finest Show us What They Got
Tempting though it may be to spend time talking about what our tour mainstays have been doing with their time overseas, we would be remiss to forget that of the 25 1000+ rated pros registered, 15 of them, Lizotte included, hail from the host continent.
More well-known players like Seppo Paju, K.J. Nybo, Teemu Nissinen, and Leo Piironen are threats to finish well regardless of which side of the Atlantic they are playing on, but that doesn't mean we should sleep on the rest of the Europeans.
Väinö Mäkelä has only played in two tournaments this year but his 2017 season is nothing to sneeze at. The Finnish pro played 18 events last season and only finished outside of the top 10 three times, and finished seventh at the European Open.
Allen vs. Europe
Allen, besides Van Dyken who splits her time between the states and Finland, is the lone American playing on the Open Women's side. Allen may be playing the best of any woman in the world right now. Most recently she finished in a three-way tie for second at the Skellefteå Open, just barely losing out in a four-way playoff. And before that, she had four straight wins which included the Beaver State Fling, Utah Open, and the Tyyni.
Allen is the highest rated player by 10 points and so should be the favorite again, but she can expect some truly fierce competition. Henna Blomroos has won three of the four tournaments she has played in this season, and in those wins, the Finn has done so by an average of seven strokes.
Salonen, the reigning Finnish National Champion, is another one to keep your eye on. She has two wins on her season and three-second place finishes. It is worth noting that her second-place finishes were all behind Blomroos.
Course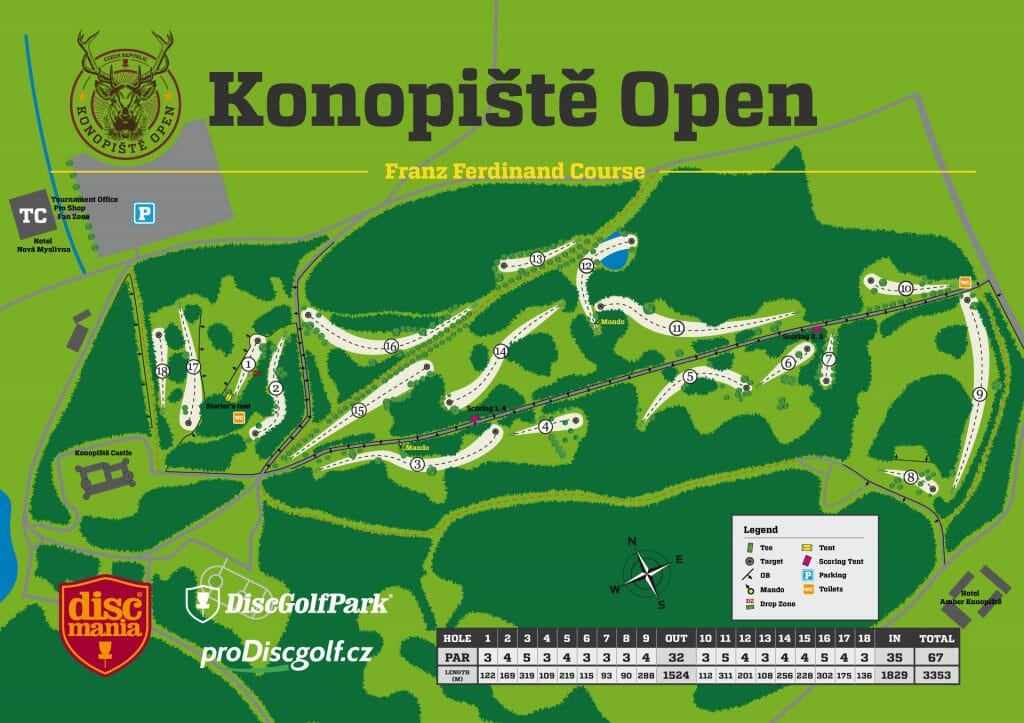 Franz Ferdinand Course in Konopiště Castle Park (all four rounds, Thursday-Sunday): Par 67, 11,013 feet (3,353 meters) – This course is long. The course features three par 5s and hole 3 is the biggest and badest of the bunch. It is a 319-meter, or 1,046-foot, bruiser which forces players to navigate a winding, slanted fairway bordered by massive trees. You can find the course description complete with pictures and detailed hole descriptions here.
Past Winners
| | PDGA Tier | Open | Open Women |
| --- | --- | --- | --- |
| 2017 | A-Tier/World Tour | Ricky Wysocki | Vanessa Van Dyken |
| 2016 | A-Tier/World Tour | Simon Lizotte | N/A |
| 2015 | B-Tier | Karl-Johan Nybo | Natalie Hollokoi |
| 2014 | B-Tier | Lukas Jedicka | Katharina Gusenbauer |
| 2013 | C-Tier | Otfried Derschmidt | Wiltrud Derschmidt |
How To Follow
Ultiworld Disc Golf's European beat-reporter Alex Williamson is on site in the Czech Republic. He will be providing recaps of each round, notebook features, as well as regular updates via our Twitter and Instagram.
The SpinTV is on hand producing next-day post-production video of the Open feature and lead cards through all four rounds of the event. Similar coverage of the Open Women feature and lead cards will appear in the weeks after the event. Check in at the tournament's website for additional media.
Extended Forecast
A pesky upper-level low-pressure system may bring rain into the forecast for the first PDGA Major of the year. However, the chances of rain should decrease throughout the tournament, leading to great weather for the last couple of rounds.
Thursday:
8 AM: 15° with a chance of showers. A westerly wind around 10 kph will increase throughout the day.
2 PM: 20° with a westerly wind around 15 kph.
Friday:
8 AM: 17° with a westerly wind around 10 kph, increasing throughout the day.
2 PM: 23° with a northwesterly wind around 20 kph.
Saturday:
8 AM: 18° with a light west breeze.
2 PM: 25° with a westerly wind around 10 kph. An isolated shower can't completely be ruled out.
Sunday:
8 AM: 17° with a light northwest breeze.
2 PM: 25° with a northwest wind around 10-15 kph.
With most of the wind coming out of the westerly direction, players may be faced with a headwind on hole 11. Hole 11 is the second longest hole on the course and is one of three par 5s on the course. Hole 11 measures in at 311 meters and is one of the more attackable par 5s on the course. The wide fairway narrows toward a basket that is tucked to the left.