Locastro moves to second, eight strokes back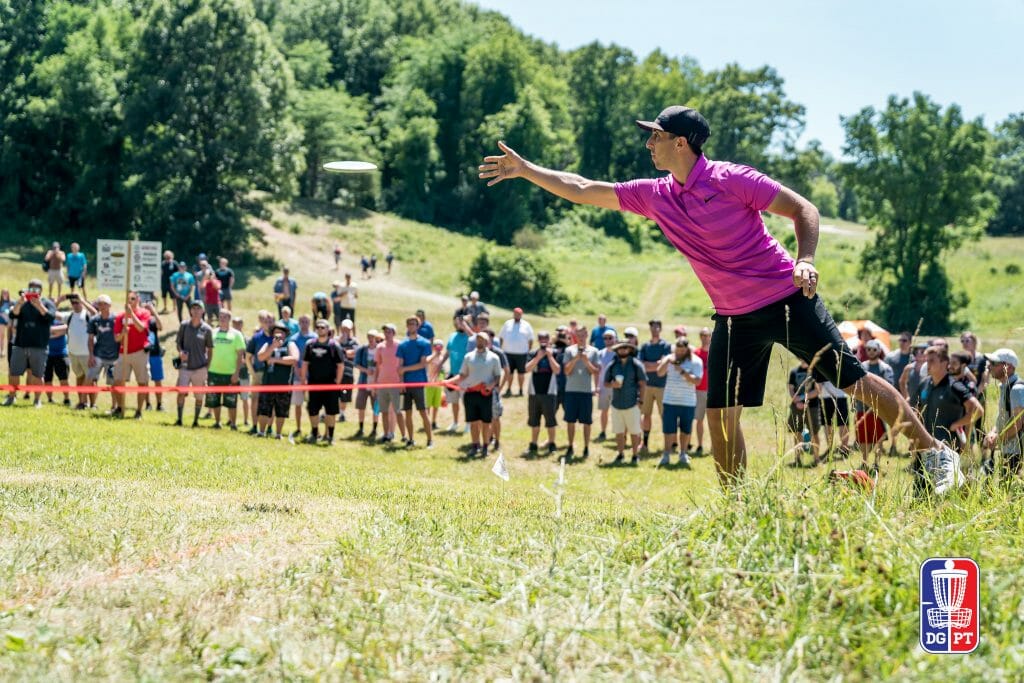 This is McMadness.
Paul McBeth is a monster and there isn't really any way around it. His 1108-rated, 18-under par 45 on the second day of competition at the Great Lakes Open is the highest rated round we have seen this season and it is hard to imagine that it won't be the hottest round we will see on the pro scene for quite some time. It easily broke the Toboggan course record — he, along with Dave Feldberg and Kevin Jones, set the record in round one with an 11-under par 52.
McBeth's scorecard tells the story pretty clearly. It's one of a day where he rode a hot putting hand and had a clear disdain for posting anything worse than a birdie. His lone par came on hole 10, but his earlier eagle on hole 2 made up for it. He birdied everything else.
McBeth hit every putt he tried, including four deep tries from Circle 2. Here he is hitting from 60 feet out on hole 5:
Round Two 2018 Discraft's Great Lakes Open – Paul McBeth hole 5
And finishing out a 10-under par front nine with an uphill 50-footer on hole 9:
Round Two 2018 Discraft's Great Lakes Open – Paul McBeth hole 9
Of course, he wasn't just money from the green; he was plenty accurate from distance too. He put nine of his birdies inside 16 feet for relatively easy putts. And here he is putting a forehand to 27 feet on the 534-foot par 3 12th:
Round Two 2018 Discraft's Great Lakes Open – Paul McBeth hole 12
To finish out his day he cashed in his birdie putt from 50 feet out on 18, without the slightest hint of pressure:
Round Two 2018 Discraft's Great Lakes Open – Paul McBeth hole 18
His 89-percent fairway hit rate, combined with his rates of hitting Circle 1 in Regulation at 72-percent and Circle 2 in Regulation at 94-percent, is likely to be one of, if not the best-combined distance accuracy marks we'll see on tour all season. It already feels like a round that will be worth revisiting over and over on video for years to come.
Let's Catch Our Breath
McBeth's exceptional round means he's separated himself from the field by quite a bit, but it's certainly not for a lack of competitiveness on the part of his closest competition. Nikko Locastro put together a fine round of his own, moving up two positions to second place after an 11-under par 52, moving him to 21-under par 105. That's eight strokes off McBeth's 29-under par 97. Keeping up with an 18-under par round is something that happens just a frequently as 18-under par rounds happen (not often). He gave fans plenty of highlights to supplement McBeth on the lead card; here he is knocking in a long birdie on 10, one of just 12 birdies there on the day:
Round Two 2018 Discraft's Great Lakes Open – Nikko Locastro hole 10
It's hard to talk about round two at the GLO without mentioning McBeth, and that is something we are going to have to be okay with. Dave Feldberg is at 18-under par 108 and 11 strokes off the lead. James Conrad and Willie Prince each put together strong 10-under par 53s, moving up eight places on day two. But that's still only good enough to be 10 strokes off the lead, at 17-under par 109, tied with Cale Leiviska in fourth place. A.J. Risley made a strong move up the leaderboard with a 10-under par 53 of his own, moving into a tie for seventh place with Tim Barham and Grady Shue at 16-under par 110.
We should take a moment to not only appreciate McBeth's round but also to recognize the other players who have put together some very solid tournament performances to this point. McBeth's round is wildly better than anything we've ever seen in high stakes tournament play in recent memory and it's the highlight that carries the day. But we should also cheer on the "rest" who are putting up impressive scores in their own right. If it wasn't for an 18-under par 45 by arguably the best player in the world, it would still probably be anyone's game with just 18 holes left to play.
Big Moves up the Scoreboard
Paul Ulibarri made a big move on moving day, tieing Locastro for the second hottest score. After a lackluster 3-under par 60 showing on the first day of action, the Arizonan put together a much more in-character 11-under par 52 second round. That jumped him up 33 spots into a four-way tie for 14th with Eric Oakley, Bobby Musick, and Brenden Tetloff at 14-under par 112.
Zach Melton completed a 22-place move up the leaderboard with a second day 8-under par 55. That moved him up to a tie for 26th at 11-under par 115.
We also saw Noah Meintsma jump 29 spots into a three-way tie for 31st with Dutch Napier, and Ben Callaway. The biggest move on the day belonged to another Noah. Noah Lantinga leaped up 41 places with an 8-under par 55 into a tie in 52nd place.
Euro Effect
It is tempting beyond the point of practicality to wonder what the scores would be if many of the other top pros were around this weekend; with more potential ratings points in the pool how much higher could McBeth's 1108-rated round have been? But let's skip that and appreciate what we have. The Toboggan course is a place designed to test the best players out there and it certainly has.
McMadness aside, and partially thanks to the previously covered Euro effect, we have known but under-seen players like Tim Barham, James Proctor, and A.J. Risley in the top ten. These are legitimate, 1000+ sponsored players and I think you'd be hard-pressed to find someone who isn't pumped to see some variety atop a DGPT leaderboard.
---
The lead card of McBeth, Locastro, Feldberg, and Conrad tees off at 3:15 p.m. local time. You can follow along with the live scoring at UDisc Live, and the live stream, where you can see if McBeth can do it two days in a row, begins at 2:00 p.m. eastern time on the DGPT YouTube channel, with edited video of the Open Women lead card, before the Open lead card tees. Check back in here at Ultiworld Disc Golf for recaps and coverage of the final round.