An event with decades of history is back on the pro scene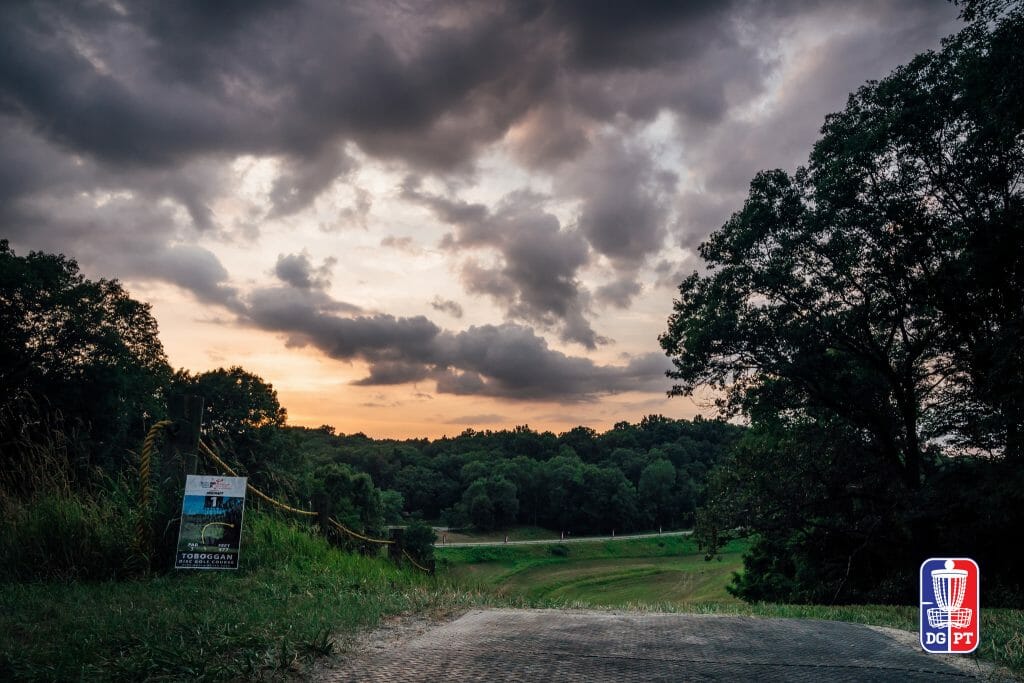 The Great Lakes Open makes it's Disc Golf Pro Tour debut this weekend. The GLO is one of the oldest continuously running events in the country. The tournament will take place at the Kensington Metropark – Toboggan Course in Milford, Michigan. Many of the top professional players will already be somewhat familiar with this course and its challenges as it is the traditional home of the United States Amateur Disc Golf Championship. Michigan is the home state of Discraft, the title sponsor for the event, and we can expect a strong gallery as the state boasts the third most registered PDGA members in the country behind only Texas and California; 68 of the 168 players registered for the event hail from Michigan.
Sarah Hokom should be the odds maker's favorite to take the title over the field of 24 Open Women players. She has won three tournaments in a row and five of her last six tournaments and won the GLO in 2013. On the Open side, Paul McBeth should be the favorite, especially following his impressive performance in the final round at the Utah Open.
Storylines
European Swing vs. DGPT
This year the GLO will feature a strong if somewhat diminished field while many top pros spend time competing in Europe including Ricky Wysocki, Paige Pierce, Catrina Allen, Gregg Barsby, Philo Brathwaite, and Devan Owens, who will all be at the Skellefteå Open in Sweden. The Konopiště Open is the week after the GLO and some players, including Nate Sexton, Eagle McMahon, and Simon Lizotte, appear to be opting out of the GLO in order have more of a travel buffer and spend time in Europe in preparation for the first PDGA Major of the season.
As a result, only 27-percent of the Open players registered for the GLO are 1000-rated or better. By comparison, 40-percent at the Utah Open were 1000-rated or better, and 66-percent were at the Beaver State Fling. On the Open Women's side, there has been a similar rating drop off. At the BSF, 68-percent of the women's field was 915 rated or better, at the Utah Open is was 42-percent, and this weekend it's just 25-percent.
It may be unfair to compare the GLO and Utah Open to the BSF, in general, but the rating-drain at the most recent and upcoming DGPT events coincides with the start of the European season, and expect the GLO the be the hardest hit by the schedule.
Top Contenders Rejoin the Tour
If you've been thinking to yourself, "huh, I haven't seen Michael Johansen, Cale Leiviska, or JohnE McCray in a while. I wonder if they'll be at the GLO?" You would be correct on all counts. None of the three has played an Open event since the end of May, and Johansen has yet to play in any DGPT or PDGA National Tour events this season. McCray has two Masters40 division wins to his name this season: the US Masters Championship and Tennessee State Championship. Cale Leiviska captured his one and only GLO win in 2007 when the event was on NT circuit. It was Leiviska's first of three career NT wins.
Another name returning to the touring scene is Ragna Bygde Lewis. The 941 Swedish veteran has been playing well all season to the tune of four B-Tier wins and a second place A-Tier finish. She's the second highest rated player in the Open Women's field behind Hokom. Bygde Lewis has 62 career wins and spends much of her year competing in Michigan. Searching through her PDGA player page shows many impressive seasons of play, to put it mildly. Considering that she's on her home turf, it's safe to say that she is a major threat to take the title this weekend. She came in second at the 2015 and 2014 GLO's and fourth in 2013.
Course
Toboggan – (Friday through Sunday): Open, Par 63, 9,355 feet; Open Women, Par 61, 7,807 feet.
The Toboggan Course at Kensington Metropark is best known for hosting the USADGC. The land upon which the course sits is, you guessed it, primarily used a toboggan sledding course during Michigan's famously brutal winters, and gives the course its name. As such, elevation will be a major feature of the course. There are 848 total feet of elevation change throughout the course, averaging out to 47 feet of elevation change each hole.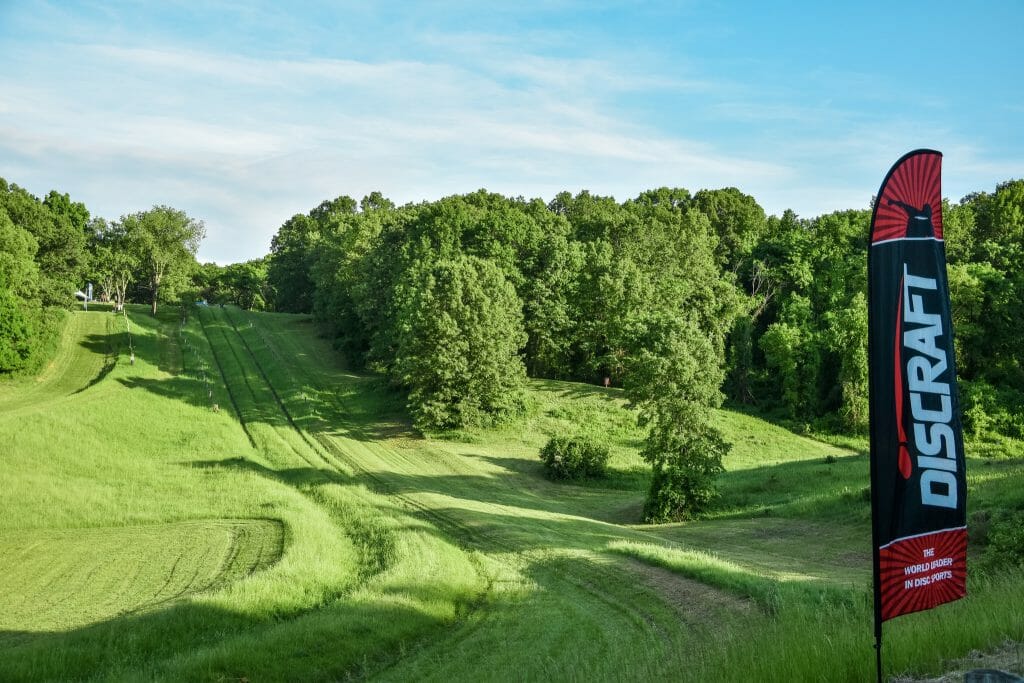 The Open Women's division is playing from six alternate tees (holes 2, 3, 6, 7, 15, and 18) to shorten the layout. The Open division is using four alternate tees (holes 4, 9, 11, and 13) to lengthen the overall layout. Except for the holes listed above, each division is playing from the regular tees at the venue.
The longest hole for both divisions is the 915/590-foot par 4 3rd that plays downhill out of a wooded tunnel to an open field. Off the tee is a 64-foot drop to the field before playing back uphill 12 feet. You can check out the caddy book here for all the details.
Past Winners
The GLO has a long history, dating back to at least 1984 according to PDGA records. It was part of the PDGA National Tour six times, including the first five seasons of the NT series' existence. In total, 11 PDGA Pro World Champions have won a GLO title at some point in their career. It should also be noted that Paul Ulibarri has finished second at this event four times, and never outside of the top 10 in six career appearances. Peruse the list of winners below.
| | PDGA Tier | MPO Winner | FPO Winner |
| --- | --- | --- | --- |
| 2022 | DGPT | Calvin Heimburg | Natalie Ryan |
| 2021 | DGPT | Eagle McMahon | Kristin Tattar |
| 2020 | DGPT | Eagle McMahon | Paige Pierce |
| 2019 | DGPT | Paul McBeth | Paige Pierce |
| 2018 | DGPT | Paul McBeth | Sarah Hokom |
| 2017 | A | Ziggy Bierekoven | Krystal Fromm |
| 2016 | A | Reid Frescura | Catrina Allen |
| 2015 | A | Ben Callaway | Catrina Allen |
| 2014 | A | Tyler Horne | Catrina Allen |
| 2013 | NT | Ricky Wysocki | Sarah Hokom |
| 2012 | A | Jon Perry | Catrina Allen |
| 2011 | B | Tyler Horne | n/a |
| 2010 | B | Mike Raley | Des Reading |
| 2009 | A | Mike Raley | Elaine King |
| 2008 | A | Al 'Sugar' Schack | Angela Tschiggfrie |
| 2007 | NT | Cale Leiviska | Des Reading |
| 2006 | NT | Josh Anthon | Des Reading |
| 2005 | NT | Scott Martin | Juliana Korver |
| 2004 | NT | Cam Todd | Des Reading |
| 2003 | NT | Barry Schultz | Juliana Korver |
| 2002 | A | Shawn Sinclair | Leslie Herndon |
| 2001 | A | Scott Martin | Elaine King |
| 2000 | n/a | n/a | n/a |
| 1999 | A | Ken Climo | Juliana Korver |
| 1998 | A | Ken Climo | Elaine King |
| 1997 | A | Ken Climo | Elaine King |
| 1996 | A | Ken Climo | Anni Kreml |
| 1995 | A | Ken Climo | Becky Powell |
| 1994 | B | Jeff Malton | Elaine King |
| 1993 | B | Steve Kohman | Molly Morrow |
| 1992 | A | Dan Ginnelly | Sharon Jenkins |
| 1991 | C | Steve Wisecup | Elaine King |
| 1990 | C | Dan Ginnelly | Sharon Jenkins |
| 1989 | C | Slate Paul | Elaine King |
| 1988 | C | Joe Eagan | Elaine King |
| 1987 | C | Steve Wisecup | Elaine King |
| 1986 | C | Bob Huston/Kevin Stewart | Gail McColl |
| 1985 | C | Bob Harris | n/a |
| 1984 | C | Joe Eagan | n/a |
How to Follow
Head to UDisc Live for live scoring and stats all weekend. SmashBoxx TV will be providing live video coverage via the Disc Golf Pro Tour YouTube channel. The full Open Women's feature and lead card rounds will be broadcast in the hour before the Open feature and lead card tees off. Those broadcasts are set to begin at 2:00 p.m. eastern time Friday through Sunday. Post-production next-day video from the event is set to be released on the Jomez Pro and Central Coast Disc Golf YouTube channels. The DGPT will be providing updates via their Instagram, with event photos from Alyssa van Lanen. Check in here at Ultiworld Disc Golf for recaps of each round from the Open and Women's Open field.
Extended Forecast
The forecast is promising for the Great Lakes Open. A cold front moved through the region Thursday evening, leading to more mild conditions for the tournament. High pressure will settle into place behind the cold front, leading to dry conditions.
Friday:
8 AM: 62° with northerly winds around 15 mph. Gusts to 25 mph are possible.
3 PM: 76° with northwest winds around 15 mph. Gusts to 25 mph are possible.
Saturday:
8 AM: 60° with calm wind conditions.
3 PM: 79° with a light southeast breeze.
Sunday:
8 AM: 64° with south winds between 5 and 10 mph.
3 PM: 84° with south winds between 5 and 10 mph.
The stout northerly winds on Friday will be the main complicating factor in the weather forecast. A northerly wind may mean players are greeted with a headwind on hole 3. Hole 3 is a 915/590-foot par 4 which features extreme downhill elevation change. Given the elevation change and the potential for a headwind, players will need to break out their overstable discs if they want a chance at birdie.