Wysocki goes wire-to-wire while Barsby gets ace, snags second from Paju in final round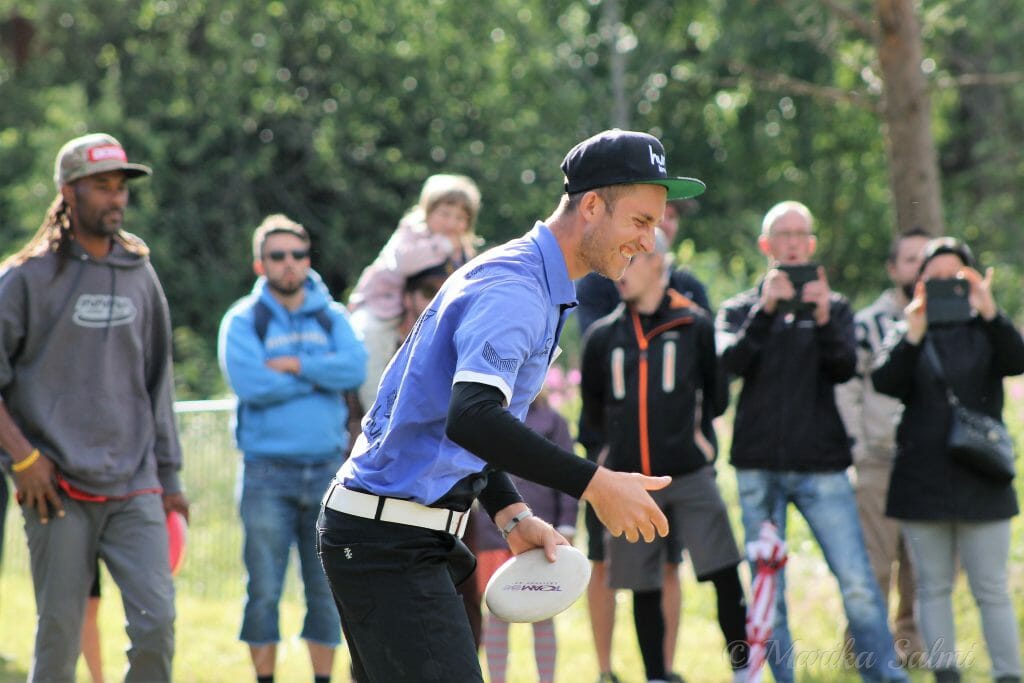 If Ricky Wysocki's massive 1105-rated round at the Utah Open was Exhibit A that he's returning to the form that made him back-to-back world champion, his performance at Tyyni is an emphatic Exhibit B. Though he unsurprisingly stayed under the 1100 mark during the tournament's three rounds, the consistency of them is more convincing than any one round. The currently 1044-rated Wysocki averaged 1059-rated golf for the tournament and never dipped below 1052. For comparison, he averaged 1053 while winning last year's Worlds.
Wysocki ended each of his three rounds as the tournament's leader, and his 33-under par 147 at the Finnish tournament gave him a comfortable eight-stroke victory over Gregg Barsby. Barsby, in contrast, started his final day in third and was four strokes back of second place, which was held by Seppo Paju. The 1016-rated Californian needed every bit of his 1058-rated final round—which included an ace—and a bogey from Paju on the tournament's last hole to snag second by one stroke. Barsby finished with a 25-under par 155 and Paju with a 24-under par 156. With Philo Brathwaite and Devan Owens taking fourth and fifth, Paju was the only European to crack the top five.
As mentioned in Ultiworld Disc Golf's interview with the Tyyni Event Coordinator, this tournament and the nearly 750 attending players made it the biggest disc golf event ever to take place on European soil. Unlike the recent movement in the U.S. of limiting large events to one or two courses, Open players at Tyyni took on a different course each of the three days: Nevas, Keinukallio, and Sibbe Disc Golf.
This arrangement meant that not all players had time to get in practice on the courses. In fact, Barsby's final round heroics to overtake Paju came on a course he'd never played.
"Playing the course blind, you never really know what you're getting into," Barsby wrote to Ultiworld Disc Golf. "But [the] Sibbe course really suited my game well, and I finished hot."
Though we've already mentioned it, it's worth reiterating that the round Barsby is talking about was rated 1058 and included an ace.
Wysocki got the lay of the land beforehand and, clearly, the training paid off for the reigning world champion. He entered the final day just three strokes ahead of Paju, who had what Wysocki called 'probably one of the biggest galleries I've seen this year' on his side.
"[The gallery] was very lively and clapped a lot, but mainly for hometown hero Seppo!" Wysocki said good-naturedly.
Despite where the onlookers' affection lay, Wysocki got down unapologetically to dissecting the Sibbe course. He played a bogey-free, 1067-rated 11-under par 47, and UDisc Live statistics show that he putted 94-percent from Circle 1, 67-percent (2 of 3) from Circle 2, and boasted a 100-percent scramble rate.
When asked to comment on his thoughts about his play, Wysocki was matter-of-fact: "I played very solid and consistent and didn't leave any spots for anyone else to get into contention to win."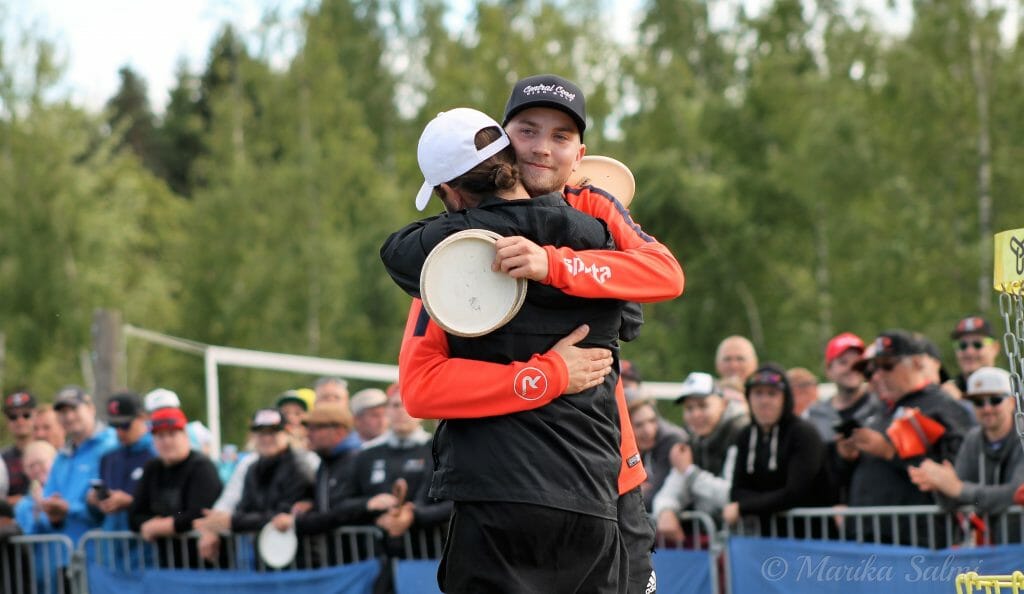 Despite falling farther behind Wysocki and getting overtaken by Barsby during the final round, Paju saw his performance at Tyyni as positive and constructive.
"Obviously there are plenty of things that I could have done better, but considering my level, I performed up to my standards. I wouldn't say it was outstanding, but I am happy," Paju remarked.
Paju was most pleased with his driving, commenting, "I consistently outdrove my cardmates in length and accuracy." The UDisc Live stats back this statement up. Paju's 80-percent fairway hit rate was the highest of any top-5 finisher and his 59-percent Circle 1 and 81-percent Circle 2 in Regulation numbers were the highest of any player in the field.
Alternatively, putting—especially Circle 2 putting—is something Paju wants to improve. Though Paju and Wysocki were both 90-percent on Circle 1 putts for the tournament, Wysocki hit an astounding and tournament-leading 55-percent of his Circle 2 putts while Paju put in just 7-percent of his efforts from downtown.
"Competing against Ricky, it really shows how good of a putter he is, and I think that was the only reason why I lost by nine throws," Paju mused.
Tyyni was just the first—or in the case of Barsby and Brathwaite, the second—European stop for many well-known players. If you're wondering why some big names aren't at this weekend's Disc Golf Pro Tour event — the Great Lakes Open — it's likely because they're playing the third EuroProTour event, Sweden's Skellefteå Open. It will be intriguing to see if Wysocki's decision to compete in Europe instead of returning for the DGPT event will pay off when he takes on the likes of Eagle McMahon, Paul McBeth, and Simon Lizotte at the Konopiště Open in the Czech Republic on July 12th-15th.