McMahon and McBeth's 1087-rated rounds not enough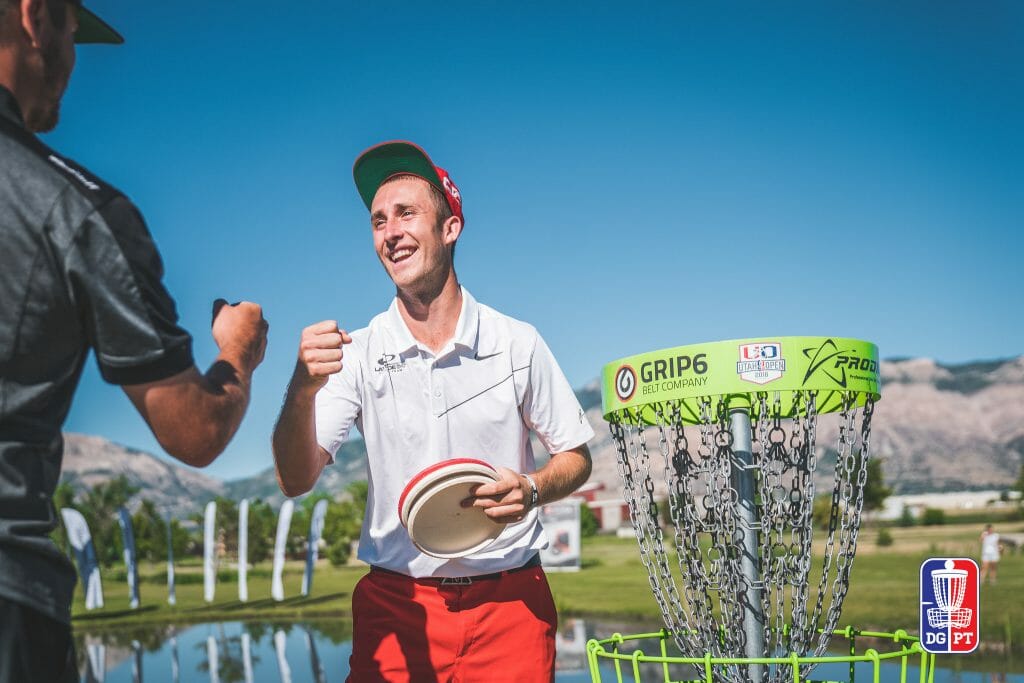 After nature intervened, in the form of swirling winds, on Saturday afternoon leading to a subdued round of scoring at the Utah Open, Sunday ushered in optimal conditions for hot rounds and the sport's top players obliged. For no other player were the improved scoring conditions more important than eventual winner Ricky Wysocki. Wysocki rode a hot putter to an 1105-rated 14-under par 44 final round, and he needed every one of those strokes to keep his distance from Eagle McMahon and Paul McBeth who weren't far behind.
Starting the final round, Wysocki held a one-stroke lead over Joel Freeman, with McMahon and Austin Hannum two back, playing along on lead card. No player had shot lights out consecutively and with the dangers that litter the Mulligan's Creekside course, it was still anyone's game. A reigning world champion in front, the sport's hottest player on his tail and McBeth, a former world champion known for his final day heroics, on the chase card meant the storyline had written itself, we just needed the words to come true.
From the jump, McBeth kept the pressure on the lead card, starting his round with six consecutive birdies, making it look like McBeast mode had been fully activated. He'd finish the front nine 8-under par, missing only one putt along the way, a Circle 2 attempt on the most difficult hole of the tournament, the 546-foot par 3 7th.
Unfortunately, even having already almost matched the weekend's hot round from the first two days, Wysocki and McMahon were not entertaining the idea of a winner coming off the chase card.
Hannum, Freeman, and McMahon all found OB on the first hole, with McMahon and Freeman able to scramble to pars. Wysocki took advantage, pushing his lead with a birdie after parking an upshot. From there Wysocki and McMahon left Freeman and Hannum in their wakes, both shooting 7-under pars on the front nine.
Early it was McMahon that looked like a man possessed on the putting green. Appearing uncharacteristically shaky off the tee, the Coloradoan leaned on his putter, picking up three consecutive birdies from Circle 2 on holes 2 through 4, from 49, 49 and 38 feet according to UDisc Live's statistics. He'd finish his round connecting on 60-percent of his Circle 2 putts and 100-percent from Circle 1.
Eagle McMahon Circle 2 Birdie Hole 3 Utah Open Final Round
Yet Wysocki was not having to work as hard for the same scores and was still two strokes ahead of McMahon and McBeth through the first nine.
For McBeth a couple holes ahead, he remained on the offensive, knowing he'd need to do something impressive to steal a win after a 973-rated second round. When he drilled a 75-footer for birdie on hole 12, it begged the question, could he still do it?
The birdies did not continue to fall for McBeth though; the scorching start dimmed to a smoldering ember. Trying to close out the tournament on the scoreable final three holes, McBeth found OB twice including on the island hole 18. He'd hit the 60-foot drop zone par save to finish bogey-free with a 12-under par 46 and 20-under par 154 total. The final round was rated 1087.
Wysocki and McMahon played evenly through hole 15, trading birdies, which allowed Wysocki to keep McMahon at bay. Similar to his walk-off ace in 2017, Wysocki used a long-range dagger (literally) to shut the door on anyone else taking the title but him.
Hole 16 sets up as the third most difficult of the course, the 408-foot par 3 surrounded by water and bunkers only surrendering birdies to 10-percent of the Open field. Wysocki and McMahon both were safe but short after their drives. A safe lay-up from McMahon shifted the attention to Wysocki, who had an outside Circle 2 look. Never one to shy away from the moment, Wysocki dropped his lever arm low and blasted a try toward the pin, crashing the chains to probably no one's surprise.
That putt allowed him to match McBeth's hot round of 12-under par with two holes left to play and elevate his lead to four strokes over McMahon. Wysocki added two more birdies for a new course record at 14-under par 44 on the way to the win and the uncommon feat of a round rated over 1100.
Finishing the tournament with a 25-under par 149 total, Wysocki led all players with a 24-percent parked percentage and was second in OB rate, reading Circle 1 and 2 in Regulation, and bridie percentage. He putted successfully at a rate of 93-percent from inside Circle 1.
McMahon matched McBeth's 12-under par 46 round, rated at 1087, giving him solo second at 21-under par 153 total. His OB rate was lowest on the weekend and his fairway hits were also ranked at the top. An up and down round one that included a misplay may have been all that kept McMahon from another premiere victory in 2018. McBeth finished in solo third at 20-under par 154.
Further down the leaderboard Hannum and Freeman hung on to fourth place in a tie at 15-under par 159. Anthony Barela moved up 10 places during the final round 10-under par 48 performance and into a tie for sixth place with James Conrad at 14-under par 160. Conrad, more known for his proficiency on more wooded tracks, accomplished an uncommon feat, staying in sixth place after each of the event's three rounds while many other players shuffled their way in and out of the top 10 all weekend. Kevin Jones and Grady Shue both moved up during the final round into a tie for eighth place with Drew Gibson at 11-under par 163.
The Utah Open provided its fair share of highlights with four aces scattered through the three rounds. Barela and Joey Springer connected in round two, while Jeremy Koling and Sias Elmore found the chains on the final day. Elmore's thumber, that bounced in off the green, was caught on camera and made it all the way to number three on SportsCenter's Top 10 highlights.
The Disc Golf Pro Tour heads next to the Great Lakes Open in Milford, Michigan. It is the event's first time on the DGPT and it begins on July 6th.