Seven players who came away from Tyyni with big moments
The 2018 Tyyni was the biggest tournament ever in Europe, measured by the number of participants. With 755 players teeing off for three rounds on three different courses in the course of three days, there were always going to be a multitude of stories to cover. Likewise, a lot of aces could be expected to find the chains, even with occasional, suboptimal conditions.
Without any boots on the ground in Sipoo, Finland, tracking those stories down was always going to be like finding a mini in deep grass. But through the wonder of modern technology manifest in the Metrix and UDisc Live scoring systems, we were able to track down seven seemingly unconnected actors playing part in an ongoing story that connects every disc golf player on earth at a gut level. A story of aces. Or in this instance, seven of them.
---
Gregg Barsby
Our story begins where the real story ended, with the last, and arguably the most consequential ace of the tournament.
On the final round of lead card play, notorious ace thrower Gregg Barsby was chasing down one of Finland's top pros Seppo Paju by any means necessary. Taking the box on the eighth hole at Sibbe, Barsby was not only fighting the Finn's "home field" advantage, he was also, as he had done the previous day at Nevas, battling the course blind.
Like thousands of times before, Barsby un-holstered his trusty Eagle and let a forehand fly downhill on a fairway measuring in at 95-meters (315 feet) long, loudly smashing chains to the resounding cheer of a deep gallery of spectators. With Paju carding an altogether less ceremonious birdie on the hole, the ace came to serve as a de facto tie-breaker, with Barsby jumping Paju by a single stroke to snatch sole second place by the end of the final round.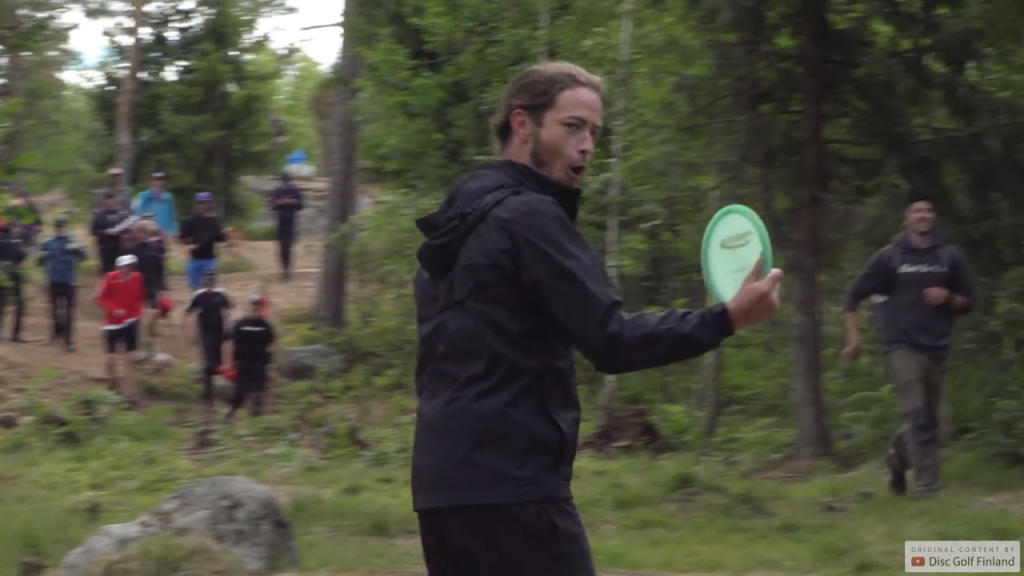 "The ace was sweet!," Barsby exclaimed when contacted by Ultiworld Disc Golf for comment. "It was after a poor approach on the prior hole, so when I stuck number 8 my adrenaline kicked in, pushing me to come back and battle Seppo until the final hole." He went on. "Playing the course blind, you never really know what you're getting into, but the Sibbe course really suited my game well, and I finished hot."
When asked about his general experience at Tyyni, Barsby explained, "my favorite part was just feeling the atmosphere and magnitude of the tournament. A very fun time. Highlights being the first round and the great group I played with. Also to hang after the round at Nevas. I think we had six countries represented at a table of 15, just chatting and sharing laughs, just community vibe…and great to see all the passion that the individual clubs [in Finland] have, working on making the courses beautiful for all the players."
---
Kristin Tattar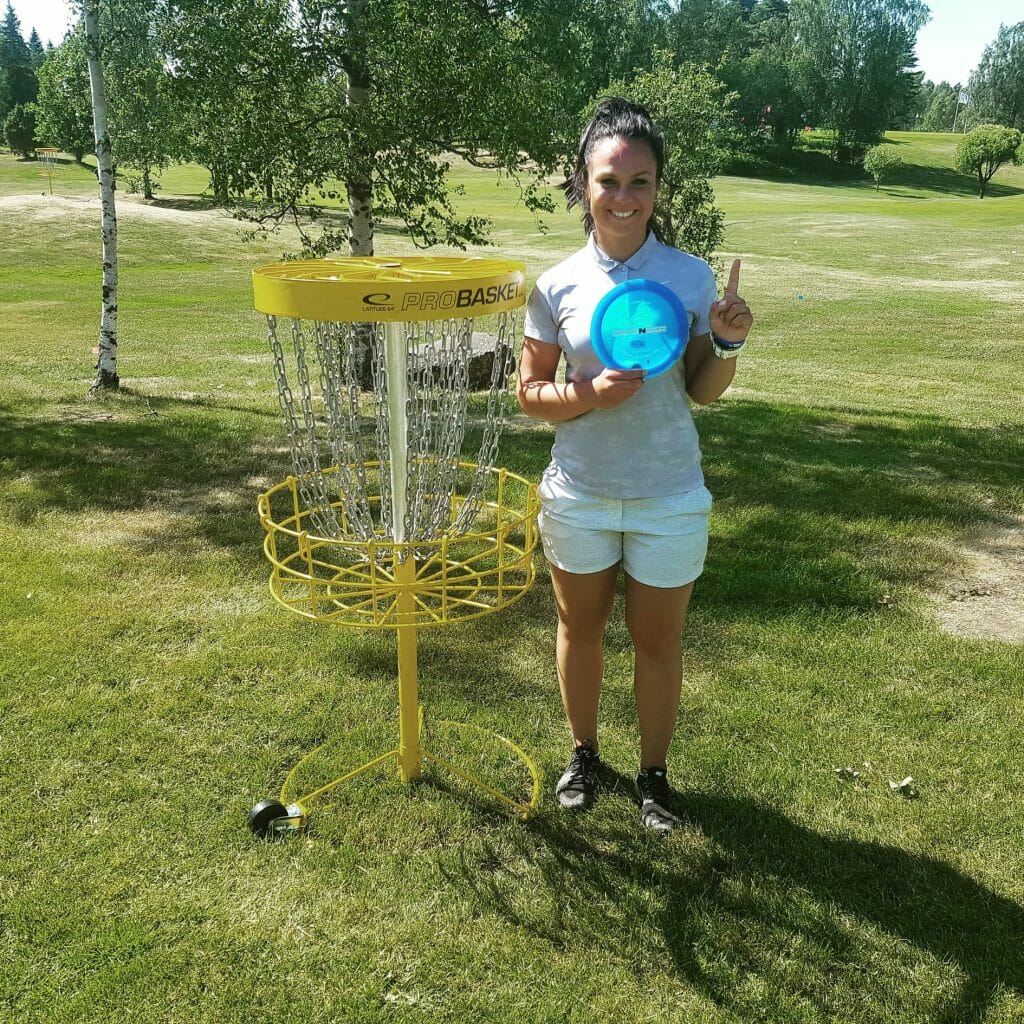 Playing out of Pärnu, Estonia, Kristin Tatter found a very strong second place finish in Open Women at Tyyni. With a wide berth of strokes separating her from Catrina Allen above and Paige Pierce below, it's safe to assume that the result was by far the best of her young career.
When asked to elaborate on her ace, Tattar said, "I threw a hole-in-one on the Nevas course. It was on hole 15 and I threw a hyzer shot that landed right under the basket and skipped up into the basket. It was with a new Lucid Defender that I had just put into my bag. We had a pretty strong headwind on that hole." Tattar left no further comment as to the nature of the drive, but considering she's from Estonia, smart money says it was a forehand shot.
Tattar, whose current rating is 909, which she's achieved in a mere four years of play, found that the most exciting thing about the tournament was playing with the two top Open Women players in the world, Pierce, and Allen.
Tattar has previously found competitive success in winning the EuroProTour last year and plans on hitting the left side of the pond again this season, after wetting her appetite at USWDGC last year.
---
Tuomo Jaakkonen
Jaakkonen's ace came in the second round on hole 3 in Keinukallio, which features an 83-meter long wooded fairway that curves to the right. "I threw a turnover shot with an understandable midrange — a Vip Tursas," Jaakkonen said. "It tracked towards the basket in the middle of the fairway. The basket is mostly blind, only the top can be seen from the tee. We did hear heavy chains but I let others throw their first shots before advancing to the basket. It was my first ace so it felt incredible to see it in the basket."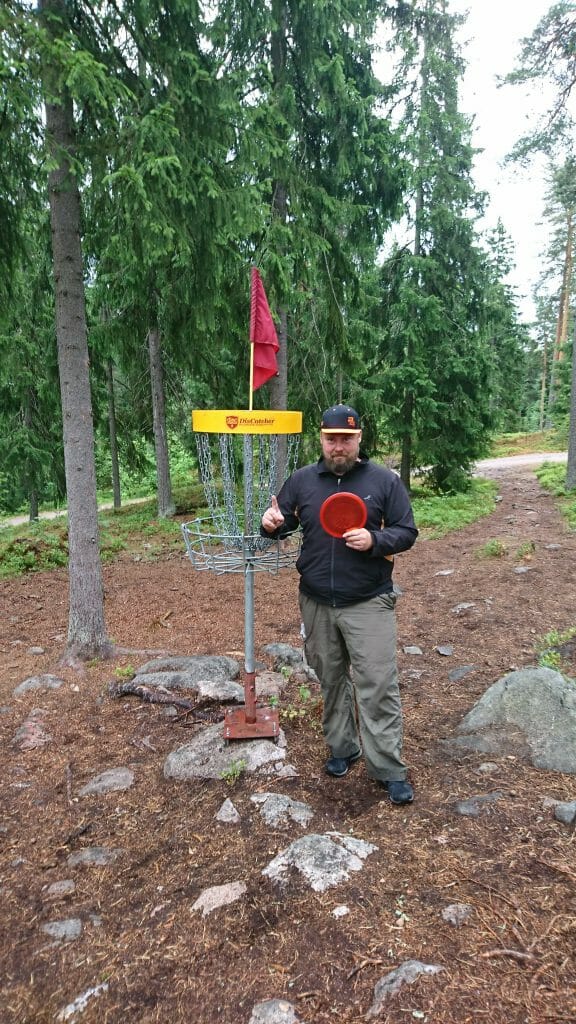 Jaakkonen described the heartwarming feeling that is shared by most players after bagging their first, or any, ace.
"The ace came in the beginning of the round, so I tried to focus even harder after that to have a good round," Jaakkonen said. "I was at -1 after 17 holes, but the OBs on 18 bit me hard with a quadruple-bogey. I still shot my best-rated round (945) ever, almost 100 points above my current rating."
The memorable first ace and best round ever wasn't all Jaakkonen experienced at Tyyni.
"The Team Trilogy meet-up on Friday evening was a lot of fun, with people like [Eric McCabe], Paige [Pierce], Bobby [Brown], Robert [McCall], Tomas [Ekström] and others from Emporia and Skellefteå hanging out with us Finns and Team Trilogy players from all around Europe," Jaakkonen explained. "Also, the Mölkky tournament was fun and I came third. Huge thanks for all the people making Tyyni happen, this event is incredible!"
Jaakkonen's home courses are in northern Finland: Meri-Toppila Discgolfpark and Virpiniemi Discgolfpark in Oulu. Oulu, the site for the 2016 European Disc Golf Championships, is, perhaps like Emporia, Kansas, a true Mecca for the sport and if you ever find yourself in Finland you will not want to miss the challenging woods of Virpiniemi.
---
Aleksi Nieminen
Outside the top pro divisions, there were plenty of aces to go around. The 897-rated Aleksi Nieminen's ace gave him the separation he needed — a single strokes — in Recreational to earn himself a podium finish in the ridiculously large division of 151 players.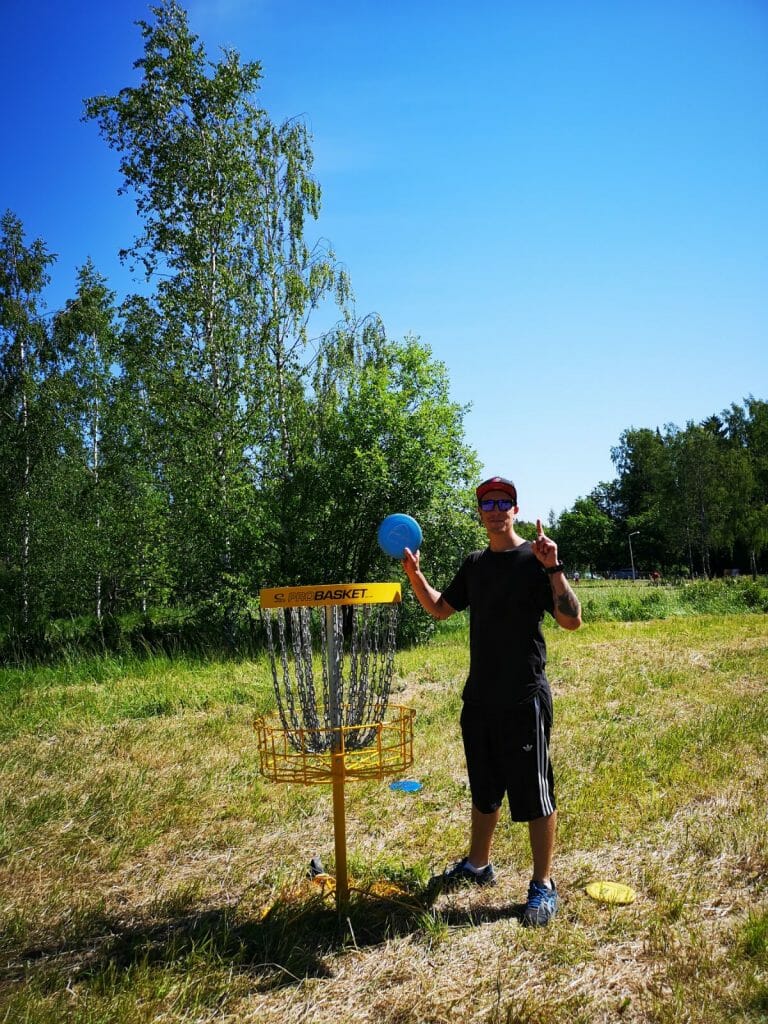 Nieminen was gracious enough to narrate the event for us thusly: "The first course of the tournament was Söderkullan Kartano. I was very nervous and it affected the first couple holes. On hole 3 my plan was to pick up an easy birdie. My caddy and I agreed on the Fuzion Defender. I threw a perfect hyzer with it  and we were all watching as the disc glided into the basket. My caddy was filming the shot, but as he saw the disc go in, he got too excited and stopped filming prematurely! For the rest of the round, I kept my cool and just focused on my game. At the end of the day, I don't think the ace affected the rest of the round too much. This was my 12th ace so far."
Nieminen went on to speak about his experience in Sipoo, saying, "I came to this tournament expecting the bar to be high, which it was! My aim was to at least get into the top 10, and I felt like all my rounds were a tight battle. I was able to play my own game but there were a couple of mistakes I would like to get back."
---
Hannu Kukkonen
Moving up a cohort in age to the M40 division, we find Finn Hannu Kukkonen starting his third and final round with a bang.
"The course was Söderkulla Kartano, hole 1, 75-meters," Kukkonen explained. "I was first to tee in my group. I threw a standstill shot with my VIP Warship. I gave it a good amount of power and I released it on a slight hyzer line. It kept the line all the way and it looked like it would pass the basket on the right side, but it hooked up at the right moment and hit the chains in the middle, where it stayed without dropping into the basket. This was my first ace ever!"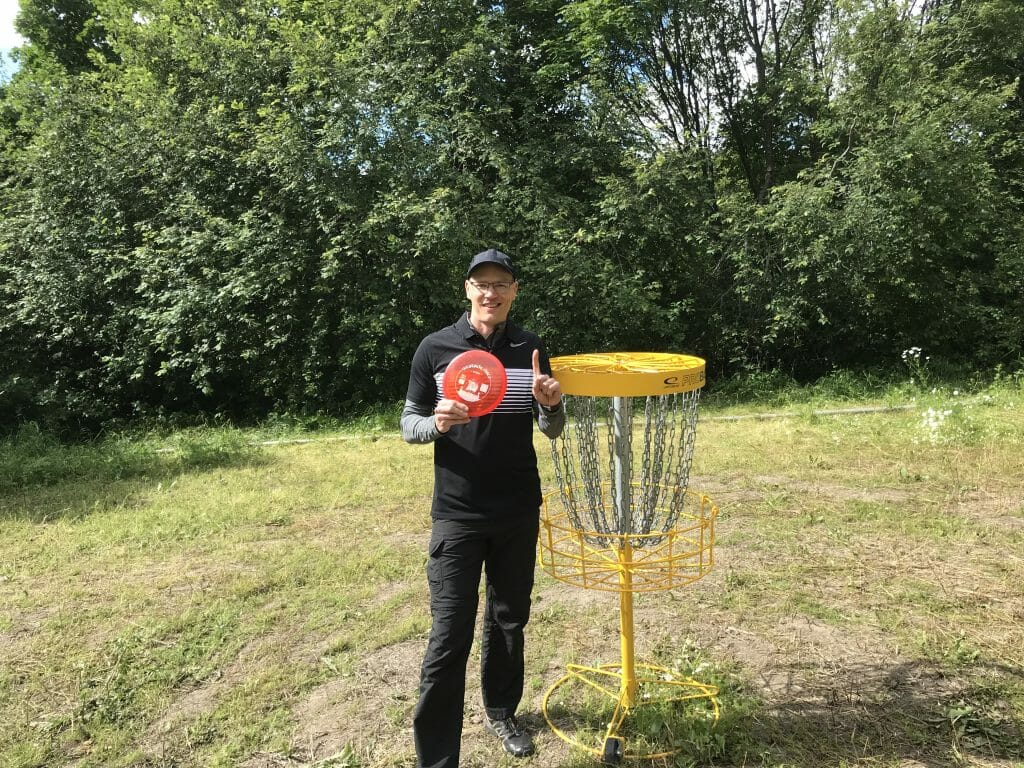 Kukkonen then elaborated on the effects of such an early ace, saying that "having an ace on the starting hole, I knew it would affect my game and I tried to shake off the excitement, but it wasn't until hole 8 that I felt like I was playing my game properly again and I had a good finish with two birdies."
Event highlights for Kukkonen — who lives in Ylöjärv and first picked up a disc two and a half years ago — were meeting new people and sharing stories with them. His local course is called Julkujärvi Discgolfpark, which seems to be a very good venue for rapid improvement.
---
Harri Lähdesmäki
Mr. Lähdesmäki plays out of Julkujärvi Discgolfpark in Tampere, Finland and has been smashing chains for a total of 5 years.
"I started my first round at Tyyni early in the morning in Sibbe," Lähdesmäki said. "It was a new course for me and I hadn't had time to practice there. I got quite a bad start with unsuccessful drives on the first few holes. Maybe I was still asleep.

"Then on hole 5 (102-meters) I suddenly woke up to the noise of the chains. My flex forehand drive with a pink Titanium Force had glued itself to the chains. I screamed like crazy. It was an unbelievable feeling."
But the unintended side effects were both swift and punishing. Lähdesmäki explained that "it wasn't easy to focus on the next two holes, and it was reflected on the scorecard. I took a double-bogey on hole 6 and a bogey on 7 before I got back to my game." Lähdesmäki's tale reminds us all of the grim fact that the ace can giveth and the ace can taketh away.
Bogeys notwithstanding, the event was still a resounding success for Lähdesmäki.
"Tyyni 2018 was absolutely the greatest competition I have ever participated in with my teammates [from the Fg-Ryhti Ylöjärvi club]. There were three beautiful courses I played and a unique atmosphere."
---
Kimmo Kauko
At the seventh and final ace, we find battle hardened local Sipoo veteran Kimmo Kauko. Like most Finns (with the rare exception of Tuomo Jakkonen) Kauko does not mince words. Which is a blessing, given that the word count for this piece went in the trash basket three aces ago.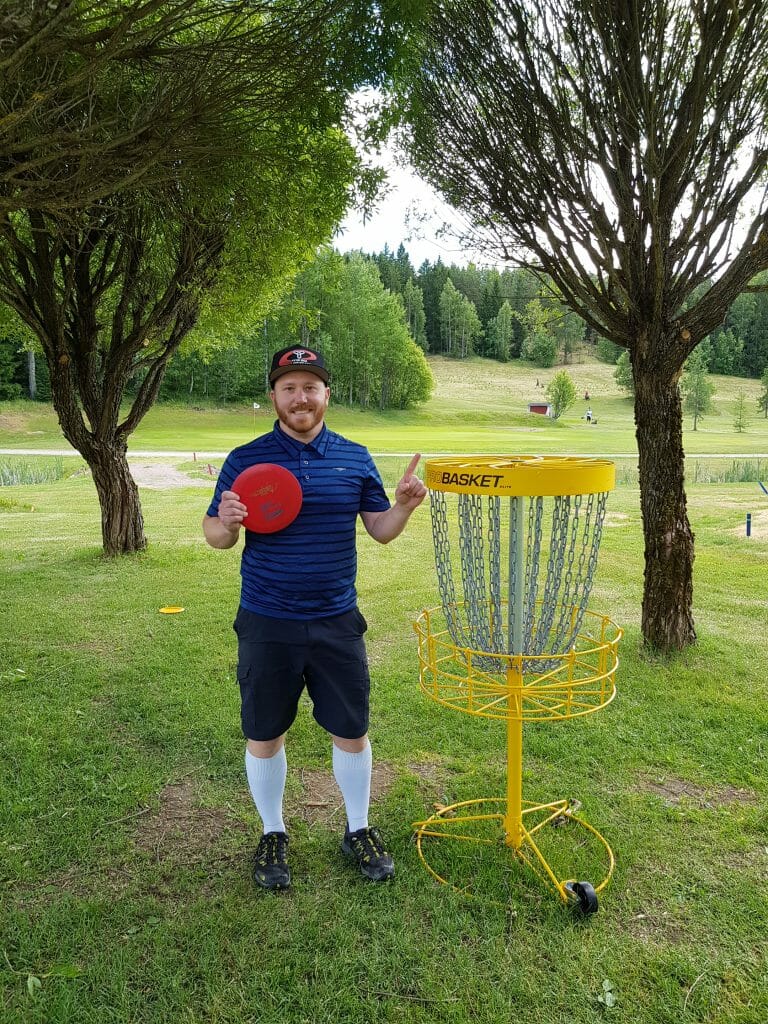 Kauko's ace came at Nevas on the 99-meter long hole number 6 in the last round, thrown with a Destroyer on a forehand line. Kauko gives us a brief recount of the event, saying, "it was the last day of a three-day-competition. I was a little unhappy about the two earlier rounds, but after the hole-in-one, I forgot all of that and I think I was smiling inside the rest of the day," Kauko says, giving away a vital piece of information about where Finnish people keep their elusive smiles.
Kauko, who has ten years of disc golf experience under his belt, and a mere two years of PDGA membership. His home course is Keinukallio, which his division sadly didn't get to play during Tyyni.
---
And this is where we leave you dear, exhausted, reader.
Tyyni, by all accounts, was the disc golf experience of a lifetime, but for a few players, their tournament ace will probably be a high water mark to their competitive career. Except, of course, if their name is Gregg Barsby or Kristin Tattar. For them, it's just another notch on a belt.