A late-round momentum shift led to the German's big win over McBeth and Nybo.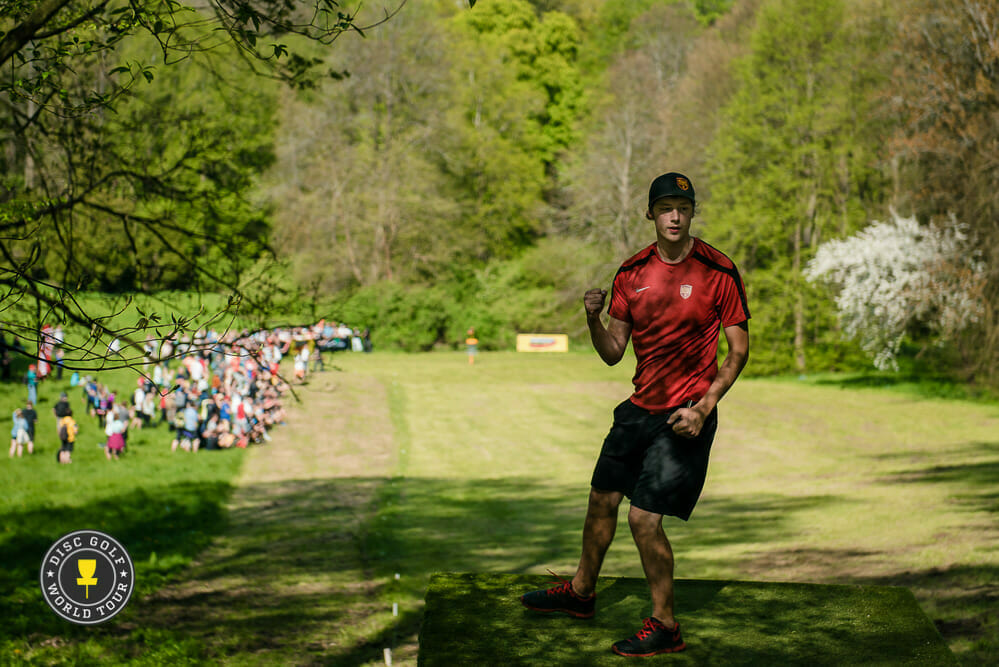 Two times in the last three weeks, Simon Lizotte and Paul McBeth have found themselves part of a three-way playoff to decide who will win a tournament.
And two times in the last three weeks, Lizotte has emerged victorious, just as he did Saturday at the Disc Golf World Tour's Konopiště Open after dispatching McBeth and K.J. Nybo in a roller coaster final round that saw numerous lead changes and a Franz Ferdinand course record that was too little, too late.
The victory marked the fourth time Lizotte has beaten McBeth in an event that is an A-tier or better since 2014. No one else has bested the reigning world champion more than twice in that span.
"It was nuts what happened, it was a miracle," Lizotte said. "I'm feeling a little lucky about it, but you need luck to win sometimes and I'm glad the disc golf god was on my side that day."
It just took a little time for the powers that be to smile upon the native of Bremen, Germany.
After entering play with a three shot lead over McBeth and a one shot margin over Nybo, Lizotte's leads quickly evaporated after opening with a par-bogey combination on the first two holes. From there, McBeth and Nybo took center stage through the midsection of the course, with McBeth's seven consecutive birdies from Holes 5 through 11 contributing to his course record 13-under par performance and setting the table for the late round drama that was set to unfold.
"Paul told me afterward he didn't even realize I was even close," Lizotte said. "So Paul was just battling K.J. at that point and I kind of snuck in there."
He did it in a not-so-subtle fashion, though. Despite gaining a couple strokes back with five birdies on Holes 11 through 16, Lizotte still trailed McBeth and Nybo by two shots heading into Hole 17, a 175 meter (574 feet) par 4 uphill hole that ended up being the tournament's turning point.
Facing a long upshot to get him in line for a birdie putt, Lizotte played the approach aggressively and was rewarded with an eagle as his shot found the chains from roughly 50 meters out.
"When we walked up to Hole 17…I was talking to Paul and I said I need a two and a hole-in-one for a chance to win," Lizotte said. "So I had to try, because third place in that case was pretty safe for me. I had nothing to lose, so I totally was going for it and that happened. It was of course like one in 100, I think."
With the momentum shifted in his favor, Lizotte then canned a 40-foot downhill putt for birdie on Hole 18 to force the playoff after McBeth and Nybo both took pars.
"I of course knew it was for the tie," Lizotte said. "That was probably the most pressure I've had on a putt ever."
After McBeth's drive on the first playoff hole went out of bounds, Lizotte and Nybo both carded birdies to whittle the playoff field to two and take the action back to the climactic Hole 17 for one last showdown.
With a massive drive off the tee and an approach that landed him within 20 feet of the basket, Lizotte sealed the victory after Nybo's birdie attempt slipped off the right side of the chains and fell to the ground.
Lizotte attributed the furious finish to an improvement in his mental game that helped him push through the early-round adversity.
"I've been in that situation way too many times, where I've seen someone give up or I've given up myself, and in the end only one or two strokes were missing," Lizotte said. "So if you wouldn't have given up, you would still have a chance. And I would just keep telling myself that, 'don't give up, just hang in there, just stay two or three behind, whatever you can do,' and maybe you get rewarded for that. And sometimes it happens and sometimes it doesn't. You just have to realize that giving up never helps."
Despite losing in the playoff, Nybo's thoughts after the final putt landed found him praising his rival and being pleased with his own performance.
"I played very well in the tournament and I was just thinking that I played a good tournament," Nybo said. "And Simon, he was just amazing in the end and he was on fire. I was happy for him too, I was, for sure. Of course, you want to be number one."
The win garnered Lizotte $2,500, while McBeth and Nybo were credited with a second place tie and pocketed $1,635 each. Seppo Paju's fourth place finished earned him $1,100, while Nate Sexton and Lassi Hakulinen each took home fifth place and a $913 payday.
The Disc Golf World Tour resumes on June 2 at the European Open in Nokia, Finland.