Ulibarri, Conrad, Dietrich take down stateside A-Tiers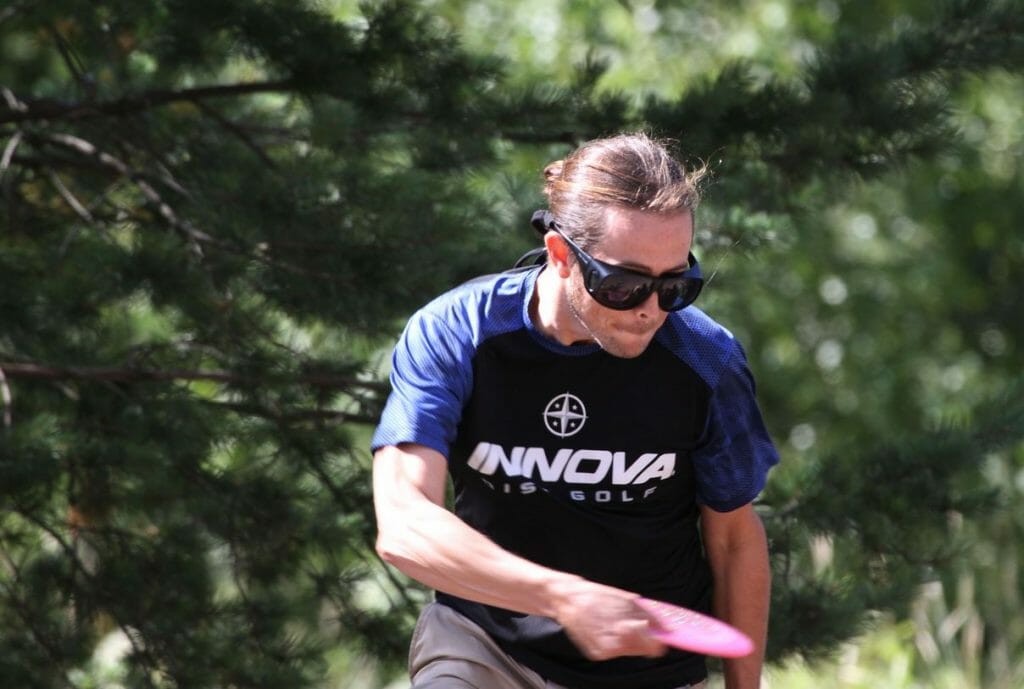 Even though Gregg Barsby just missed out on winning his first career PDGA Major at last week's European Open, he ultimately did not leave Finland empty-handed.
Barsby came from behind to win the Kyy Open A-Tier at Lauste Disc Golf Park in Turku, Finland, with a 15-under par 174 total through three rounds on the 8,681-foot, par 63 track. The California pro's final round 5-under par 58 was just enough to surpass early-tournament leader Väinö Mäkelä and a charging Jeremy Koling.
Mäkelä, another in a long line of young Finnish standouts, threw matching 6-under par 57s during the first two rounds but struggled to find birdies during the final, finishing with a 2-under par 61. Koling stormed back after a difficult first day, throwing a 1045-rated 55 hot second round to get himself back in contention.
The final round saw high drama, as Barsby held a one-stroke advantage over Mäkelä and a two-stroke lead over Koling with one hole to play. After Koling's tee shot on 18 left him with an easy birdie look, Barsby's bid for deuce from the rough behind the basket came up low off the front cage. With the pressure to stay ahead of Koling and tie Barsby to force a playoff, Mäkelä missed his birdie attempt from the outer edge of the circle, just chaining out weakside. Barsby cleaned up his par for the $1,030 purse, while Koling needed a four-hole playoff to oust Mäkelä for second place.
Joonas Kuitunen and Leo Piironen tied for fourth place with 11-under par 178s and Janne Hirsimäki finished in sixth place with a 10-under par 179 total.
The Open Women's division was also decided by just one stroke. Maija Laitinen was perhaps a surprise winner given the number of notable European players in the field, as the 871-rated Finn carded a 28-over par 217 total. Henna Blomroos and Anna-Sofia Haipus tied for second place with 29-over par 218s, while Katka Bodová was alone in fourth place with a 36-over par 225 total. Vanessa Van Dyken and Eveliina Salonen rounded out the top five with 38-over par 227s.
Three more A-Tiers were on the books back in the United States there were three. Paul Ulibarri took the Open win at the 21st Brent Hambrick Memorial Open in Columbus, Ohio, with a 21-under par 222 total, while Jessica Weese locked down the Open Women's division with a 37-over par 280 score.
Ulibarri averaged 1050-rated golf across the two-day, three-round event, which featured two rounds at the 9,930-foot, 27-hole, par 81 Hoover Dam course and one round at the 6,255-foot, 18-hole, par 54 Westside Temporary Course. Despite the strong performance, Ulibarri still had to hold off Chris Dickerson's 1060-rated final nine at the Hoover Dam monster layout to secure the win. Dickerson finished three strokes back in second place with an 18-under par 225 total, while a pair of Columbus-based pros — Brad Schick and Tyler Horne — rounded out the top four. Schick finished with a 12-under par 231 in third place, while Horne ended the event with a 5-under par 238.
Weese averaged 928-rated golf across three rounds and the final nine to finish 14 strokes ahead of Sandi Hendel, who finished the weekend with a 51-over par 294 total. Ohio pro Rebecca Cox took third place after a 55-over par 298 showing.
Further west in Bozeman, Montana, Christian Dietrich won his third Rocky Mountain Championship in as many years, but this one was much closer than his previous two wins.
After one round at the Bohart Ranch Ski Center's Upper Course and two at the Lower Course, Dietrich trailed Kevin Sheehan by two strokes heading into the final nine. There, Dietrich got the three strokes he needed to remain the only Open winner in Rocky Mountain Championship history, finishing with a 36-under par 177 score. Sheehan finished with a 35-under par 178 mark, while Cale Leiviska notched a third place finish with a 32-under par 181 total.
While Dietrich's win netted him $1,500 and further cemented his place as a Montana disc golf legend, Sheehan is quickly becoming a name to watch in Big Sky Country. Coming off a 25th place finish at the PDGA Amateur World Championships last weekend, the soon-to-be high school junior broke the course record at Bohart Ranch's Lower Course in round two, throwing a 1061-rated 13-under par 42 on the challenging 5,680-foot, par 55 course.
Dietrich grabbed a highlight of his own in round one, tossing a 388-foot ace on the Upper Course's sixth hole. The highlight, plus post-production video of each round, can be viewed at Central Coast Disc Golf in the coming weeks.
The finish in the Open Women's division was equally as close, with 2016 PDGA World Amateur Champion Sai Par Ananda edging out Sarah Hokom in a playoff with a 60-foot birdie putt for the win. Incredibly, the pair were tied through each of the first three rounds, throwing matching scores in each and averaging 962-rated golf before heading into their playoff with 7-under par 176s. Erika Stinchcomb finished in third place with a 10-over par 193.
In Iowa's capital city, James Conrad won the Des Moines Challenge in a sudden death playoff over Terry Rothlisberger after both finished the three-round event with a 27-under par 152 totals. Pro Worlds breakout sensation Adam Hammes took down third place with a 24-under par 155 final score.
Holly Finley won the Open Women's division with an 8-over par 187 total. The Wisconsin pro was tied with Kaylee Campbell through the first two rounds, and Campbell managed to stay in second place with a 15-over par 194 score, five strokes better than third place finisher Lesli Todd, who came in at a 20-over par 199 overall.
Finally, the World Flying Disc Federation World Overall Championship took place in Basingstoke, United Kingdom, as a PDGA XA-Tier. The three-round event featured 81 total players in 12 divisions playing the 6,502-foot, par 56 Down Grange Disc Golf Course.
Anton Lindh of Härnösand, Sweden, won the Open division with a 4-under par 164 total, while Anneli André of Gothenburg, Sweden, won the Open Women's with a 49-over par 217. Five-time PDGA World Champion Juliana Korver won the Masters Women's division with a 31-over par 199 total, narrowly defeating Niloofar Mosavar Rahmani, who finished with a 33-over par 201 total.