McBeth takes second place, while McMahon prepares to take some time off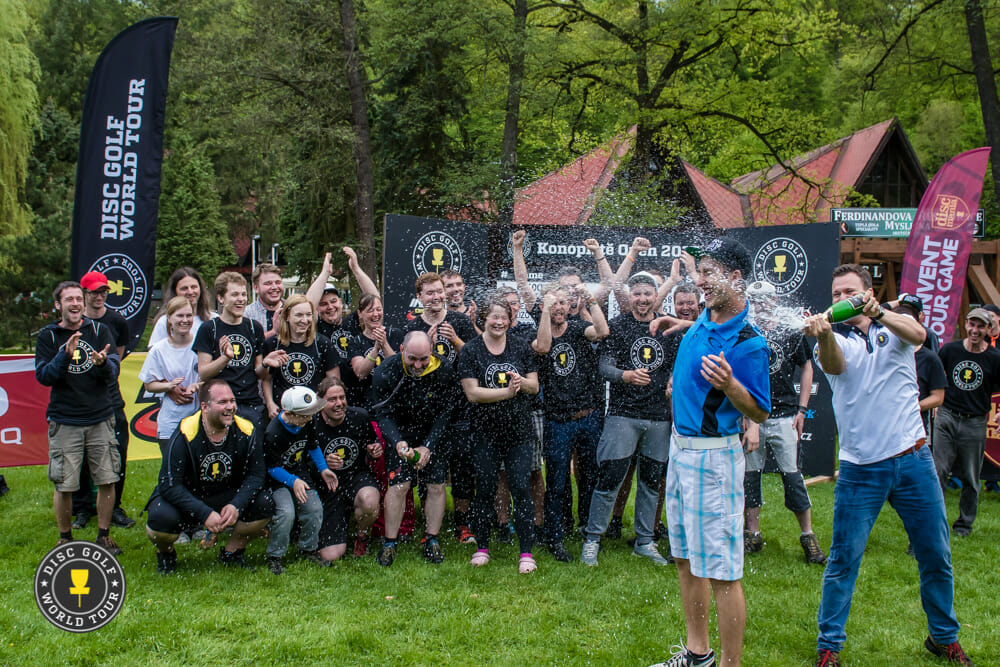 Ricky Wysocki isn't exactly known for outward displays of positive emotion.
Self-flagellation? Sure. There have been plenty of times where he's disgustedly shaken his head at a perfect drive that he deems poor, or an angry snatch at his mini after a putt gone awry. But save the patented head-down, subtle wave to the crowd after a strong hole, the reigning PDGA World Champion rarely cracks a smile until a tournament is complete.
So when Wysocki dropped an emphatic fist pump after a birdie putt on hole 13 during yesterday's final round of the Konopiště Open, it was a sign of more than just an imminent victory. There was some catharsis to go along with it.
Wysocki's 12-under par 55 final round was good enough not only to bring home a come from behind win over Paul McBeth, who tossed a 9-under par 58 on the day, but also secured his second Disc Golf World Tour victory of 2017. His 37-under par 164 bested McBeth's 35-under par 166 and netted him $3,000 in prize money, while Nate Sexton's hole 18 park job gave him sole possession of third place with a 30-under par 171 total. Simon Lizotte, who missed a chance to tie with Sexton on 18, took fourth place with a 29-under par 172 for the weekend, while Teemu Nissinen and Seppo Paju tied for fifth place with 26-under par 175s.
Wysocki's rebound round came on the heels of a Saturday showing that saw his four-shot lead from Friday turn into a one-stroke deficit. Despite some frustration with his play, he returned for the final undeterred.
"Yesterday it was rough having lost that big lead, but I definitely wasn't giving up," Wysocki said. "I built a lead and I didn't play my best, but I knew yesterday was the kind of day that I needed to just keep myself in the tournament and know that I have one more day left and that, hopefully, it's gonna be in my favor."
Looking to seize the momentum he always talks about, Wysocki took control of the final early on. After both he and McBeth started the day with pars, Wysocki trimmed some trees off hole 2's tee but still landed in the fairway. He put his forehand approach at circle's edge and converted for the lead card's lone birdie, while McBeth was left scrambling from the woods. His bogey 5 led to a two-shot swing and a Wysocki lead.
"I got over the hump and I took the lead, and as most of you know I play pretty well with a lead," Wysocki said. "So I just used that as momentum, just having that one stroke in my back pocket."
He never had to reach into that reserve, as he held the lead at one for five holes before adding another birdie with a bullseye hit on hole 8. McBeth, meanwhile, left his tee shot too far left of the pin and sailed his birdie bid from a knee wide right. He took the lead card's lone par, and Wysocki had the gap up to two.
From there, it was time for the fireworks.
McBeth took a shot back with a 45-foot putt for birdie — and his own fist pump — on hole 9, while Wysocki took his first par since hole 5. McBeth then used a soaring forehand skip shot to put his next drive under hole 10's basket, while Wysocki's own forehand drifted too far left.
Faced with a 90-foot look for birdie, Wysocki launched a jump putt and sprinted toward the basket before it even hit the chains, certain it was destined for success. And it was.
"I was definitely running it," Wysocki said. "You can see from the video, if you were watching, that as soon as I putted it I knew it was in. So I started running it in as soon as I putted it. That's just kind of a sign of how confident I was."
And while Wysocki's putt on hole 10 was seismic, his putt on 11 may have been more consequential.
After both contenders threw safe drives from the tee, their approaches ended up on opposite sides of the green. Wysocki was sitting about 45 feet left of the pin, while McBeth was about the same distance on the right side, but blocked by some low-hanging canopy. Again, Wysocki tossed up a putt, ran to the pin before it connected for the eagle, and pumped his fist. McBeth's bid splashed out low on the right side of the chains, and Wysocki had added to his margin.
"I could kinda see the future — I knew if I made this it was gonna put the pressure on Paul because he didn't really have the easiest putt," Wysocki said. "And not only the pressure on him on that hole, but for the tournament, because if I had a two-stroke lead with only eight holes to play or seven holes to play, the holes coming up we were gonna trade birdies a lot of the time. So it's gonna be hard to make those two strokes up.
"I just had all that stuff in the back of my head and I let that kind of fuel my fire," Wysocki continued. "Jamming that putt in the heart really motivated me and [gave me] one step in the right direction and one stepping stone toward the win."
Indeed, he didn't need any more cushion for the victory. Though McBeth again narrowed the gap with a birdie on hole 12, Wysocki took it back on hole 13 and added another on hole 15. McBeth, who struggled with accuracy off the tee throughout the round, found himself scrambling on hole 16 and missed a putt from inside the circle that would have shaved a shot off of Wysocki's lead had it landed. Instead, his two birdies to close the round served more as moral victories than anything else.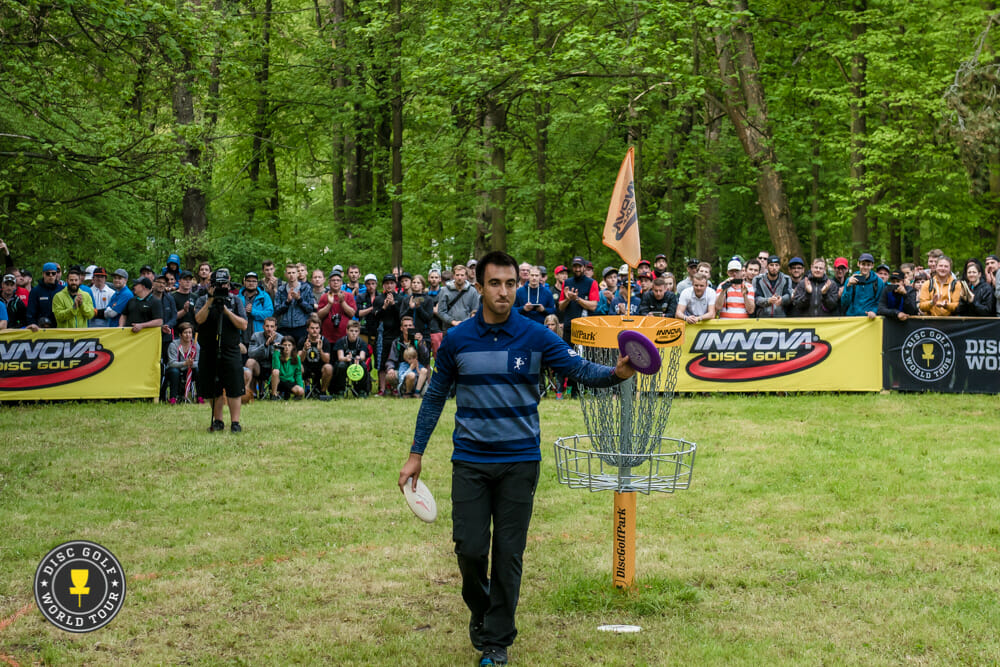 McBeth said after the round that some of his driving issues could be attributed to wet teepads as some rain hit the region. Given that he injured his back two years ago in a similar situation, he said he was more focused on being cautious and less on his lines. Still, he felt he let this one slip away.
"This is probably the most disappointing loss because it was all me," McBeth said. "He made some big putts, but I kept opening the door and opening the door."
While those big putts were not out of the ordinary for Wysocki, the big emotions were. He said his leftover feelings from the cancellation of the Glass Blown Open combined with his round two performance to create a situation where he was ready to blow off some steam — even if he didn't necessarily intend to.
"I think my revenge was taken out on the course today," Wysocki said. "Like I always talk about, I like to speak with my play. I don't want to be bitter or anything about the cancellation of the tournaments, so I just said, you know, 'I'm not gonna say much about that' and let my play and let this win speak for itself…It definitely had something to do with it. Not just that, but after the second round — me not playing as well as I had hoped and Paul had kinda stolen all the momentum, and I had to change that. In order to change that I had to make some long putts and throw some great shots down the stretch to be able to show the emotion and let it come out, which is what I did."
Still, he didn't plan on making it a habit.
"If there's too much emotion and up and down, you don't want to go through that mental roller coaster," Wysocki said. "It's not good for a long-term tournament, which is what we're in for. The less emotional victories are always the best for me."
Beyond the battle for the top spot, Sexton and Lizotte managed to make the run for third place a tight one. After entering the round three shots back of Sexton, Lizotte birdied four straight to tie heading into the final hole. When Sexton laced a forehand shot down the fairway and into tap-in range, Lizotte simply needed to convert on a 20-foot putt to take a share of third. But he missed, bringing his streak of seven consecutive top 3 finishes to an end.
"It was just — this round felt like no luck," Lizotte said. "You always need luck to play good rounds, and it was completely luck-free. A little frustrating, but all in all fourth place is decent."
Sexton, perhaps taking the torch from Lizotte, has now notched a top 3 finish in three straight events. He has not finished worse than fifth place in 2017.
"I think it's the new normal," Sexton said. "I think I'm just playing good, I'm playing how I want to play and I'll keep doing it. I'm definitely playing well."
Eagle McMahon, meanwhile, was battling tonsillitis before the event and attributed his 23rd place finish to a lack of quality practice rounds at the Konopiště Castle Park course. He said after the tournament that he has decided to skip the next three high-profile events — the Masters Cup, Utah Open, and Beaver State Fling — in favor of heading home to Colorado to mentally refresh before the PDGA Professional Disc Golf World Championship next month in Georgia.
"This is the first time I've really toured — I think I've been home for a week since the beginning of the year, and I'm really just not used to that, I don't think," McMahon said. "Usually I go out for two or three events at a time, go home for two weeks, and then back and forth. So I kinda stay hungry, go back home and it's kinda refreshing like that. I'm trying to figure out if this full-time tour thing is actually for me, or whether I should maybe just go to the big events or just kind of figure out a good schedule."
Wysocki is now securely in control in the Disc Golf World Tour's points standings, as he also won the season kickoff at the Aussie Open. He also leads the Disc Golf Pro Tour's points standings and trails McBeth by seven points in the PDGA National Tour series. He'll have a chance to change that, though, when the National Tour resumes this weekend in Santa Cruz, California, for the Masters Cup. But he'll have to get by a motivated McBeth first.
"This [finish] is disappointing, but it makes me actually want to get out there more," McBeth said. "Most losses I'm just mad, this time I'm disappointed with my play. I need to work on it. It's not like I felt like he beat me out there."
The Disc Golf World Tour now takes another long hiatus before its next event. The European Open — which also serves as a PDGA Major — starts July 20 in Nokia, Finland.