Three players and the course designer weigh in on the highs and woes of Skellefteå's par 6 opener
Measuring in at a terrifying 1,148 feet (350 meters) long, hole 1 at the Skellefteå Open winds its way like a serpent's tail down a corridor of birch trees littered with two treacherous mandatories that will jump out and bite your head off without a moment's notice should you fail to mind your angles with the greatest of care.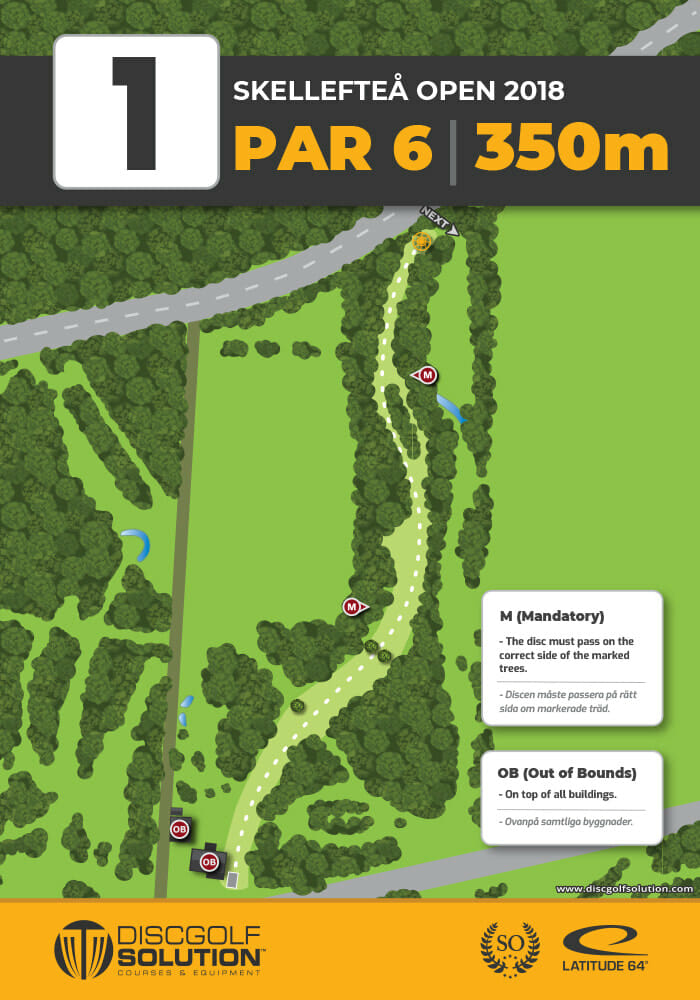 It's the signature hole of Disc Golf Terminalen, a massive par 63 course in Skellefteå, Sweden, site of Sweden's homegrown disc golf manufacturer Latitude 64 (who missed a good marketing opportunity to make their home course a par 64), and it's also the only permanent par 6 hole anywhere featured in high-level competition. What's more, coming in at an average of 6.8 strokes across the field for the weekend, the par is quite definitely "true."
Ultiworld Disc Golf reached out to three different players who competed in the event and course designer Tomas Ekström for their insights into this very unique hole.  You can check out detailed course info and the full caddy book on the event's website, and the live scoring results here.
Ricky Wysocki, unsurprisingly, coupled the outright tournament win with the best combined total score on the hole: a first-round eagle, capped with a pair of birdies on days two and three. When we got in touch with him he could not help but rhapsodize on the wonders of Västerbotten before diving in about his experience on the hole.
"As far as the par 6 it's a very well designed hole requiring three or four amazing shots to card an eagle or birdie," Wysocki, the defending PDGA Pro World Champion, explained. "I was able to start my event by carding an eagle four on the first day and starting my momentum early. The hole is such a good starting hole but can definitely make or break your round early. I played the hole very well going -4 in three rounds."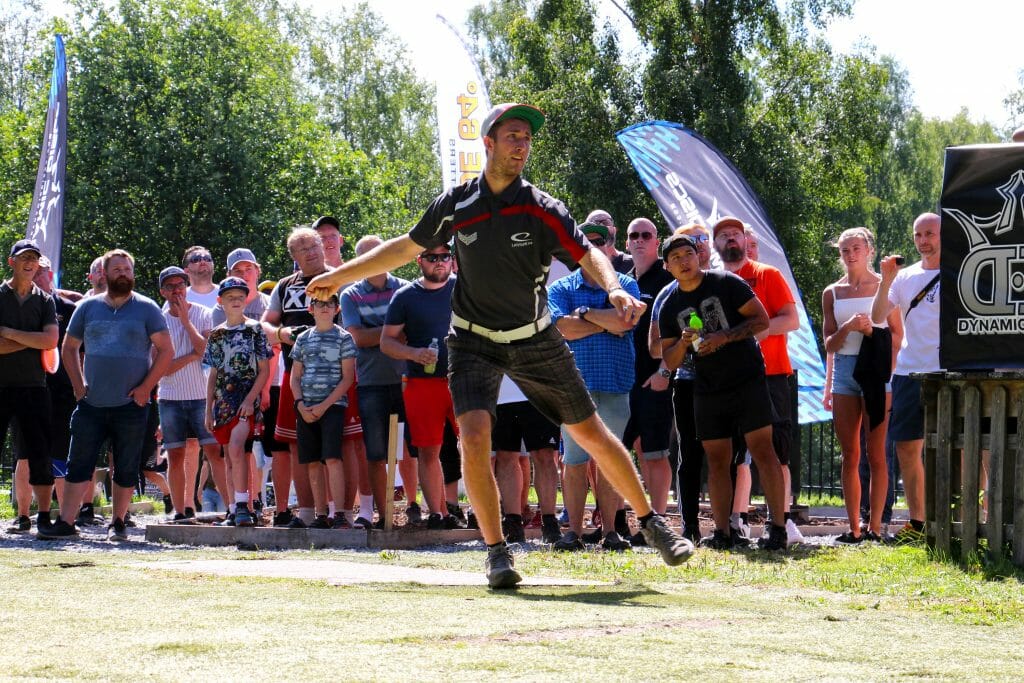 Ekström, Product Manager at Latitude 64 was generous enough to invite us into the deepest reaches of a designer's mind. He explained his vision when designing this hole and how it fits in with his full vision of the Terminalen course.
"The vision was to make a hole that you can use different strategies on," Ekström explained. "For example, if you have a big arm you can take a risk playing a long drive, that makes the second shot easier and will also make it possible to reach the third sweet spot, which is impossible with a short drive. Players that will play more safe can drive with a midrange to the shortest sweet spot and go with a driver on the second shot, reaching the second sweet spot. So there are multiple ways to play the hole to get a birdie. Pretty much all skill levels have a chance for birdie if they play it right. But all shot requires accuracy and staying on the fairway. Most players become too greedy and end up crossing the fairway multiple times which will cost a lot of strokes."
Though the tournament layout could start on any number of holes, Ekström was keen to throw players into the deep end right off the bat.
"We've been using the hole as number 14 on a different layout. So we don't have to use it as a starting hole," Ekström said. "This year we decided to throw people into the course right from the start. But, many people think that the hole is the toughest hole on the course, which it isn't in my mind. With really bad play you can take an 8, which feels awful, but it's only a double bogey. There's a lot of other holes you can shoot high scores on if you don't stay on the fairway. The pros might lose a stroke to their competitors, but they will lose two strokes on hole 2 if they miss the island. So it's not a hole that will ruin your day, even if you shoot a pretty high score."
And Ekström confirmed that indeed, it is the only permanent par 6 in the world and addressed possible criticisms.
"Yes, it is [the only permanent par 6]. The criticism we often receive is that there isn't such thing as a Par 6," Ekström said. "But we don't really care about that, and I think people that have played it agree that it is a par 6. For the whole field…the average score was 6.7, 6.8, and 6.8 [each round]. And if we look at the top 50, which is more correct based on skill, I think it's still over 6. So the par setting is okay."
Gregg Barsby, although slipping off the podium for a hot second in Skellefteå, continues to play consistently strong golf on European soil, and proved he could hang with the hole by going triple-turkey, 5-5-5 throughout three rounds. He was unavailable for comment, but knowing his touring schedule and his undying love for death metal, we assume he was checking out this fabulous bone church somewhere in the Czech Republic.
Finland's own Teemu Nissinen was consistent with his pars throughout the tournament, shooting even on the challenging opening frame through the three rounds. Even so, he seemed less than happy with the results.
"Well, in 2017 I played that hole with two eagles and one birdie," Nissinen explained. "This year I threw good tee shots, but my second shots ended up on the right side off the fairway. After that, it's hard to get a look for birdie, so I scrambled every round for par."
We were obviously curious about Nissinen's game plan, so he went on to explain it to us, saying, "I have played that hole every year with the same game plan: hyzer off the tee, roller second shot and then it depends what I have left." What he had left this year was, unfortunately, a series of scramble scenarios. But in the wise words of myself, you can't eagle them all!
When asked how he felt about starting a tournament round on such a demanding hole, Nissinen responded that "it's a really good starting hole. You have to be ready to start the round. Couple bad shots will cost badly," before agreeing to the assessment that it is indeed fair but challenging.
Even though you can't eagle them all, you can start your tournament with a triple bogey, and still average the starting hole under par for the weekend. Mikko Ylätalo of Oulu, Finland, learned this weird lesson by the dint of a feat unmatched by anyone else during the tournament.
After a disastrous start to the hole, and, in effect, the entire tournament, he came back from carding a 9 to heroically tapping in eagles in the remaining two rounds. When Wysocki dropped his final and winning put in the basket on Sunday afternoon, an eagle on the hole had been matched by him alone, and a pair of them was matched by none expect Ylätalo. Understandably excited, Ylätalo broke his performance down for us and his plan of attack.
"My style of play is aggressive so I'm going for eagle on that hole every time," Ylätalo explained. "My 9 strokes in the first round was just first round, first hole nerves, and my drive hit the first tree. Then everything just went wrong and I made some poor decisions and didn't execute my shots. My game plan for the hole was to get a big drive close to the double trees in the middle of the fairway. You need about a 125-meter drive to reach them. If you get there, you have a chance to go for eagle."
He then delivers a matter of fact-like summary of his seemingly routine execution in rounds two and three that led to two eagles.
"I got both my eagles the same way," Ylätalo continued. "I threw an amazing drive off the tee with a flippy destroyer and I was about 10 meters past the double trees both times. The second shot was a hyzer with a stable destroyer to get close to the sweet spot, where you can see the basket. The third shot was a midrange turnover from 95 to a 100 meters each time, and my putts for eagle were from 2, 5 and 4 meters long."
With such disparate numbers displayed on the scoreboard, no one is better qualified to comment on the nature of the starting hole than he is. Ylätalo concludes, with a refreshingly silver lined take on the issue of risk and reward.
"It is definitely one of the hardest holes to start your round," Ylätalo says. "But I like it! You just have to be prepared. I feel the hole is fair. I would say it's easy to get a par on that hole if you just play wisely and don't get too aggressive."