It wouldn't be the Beaver State Fling without a playoff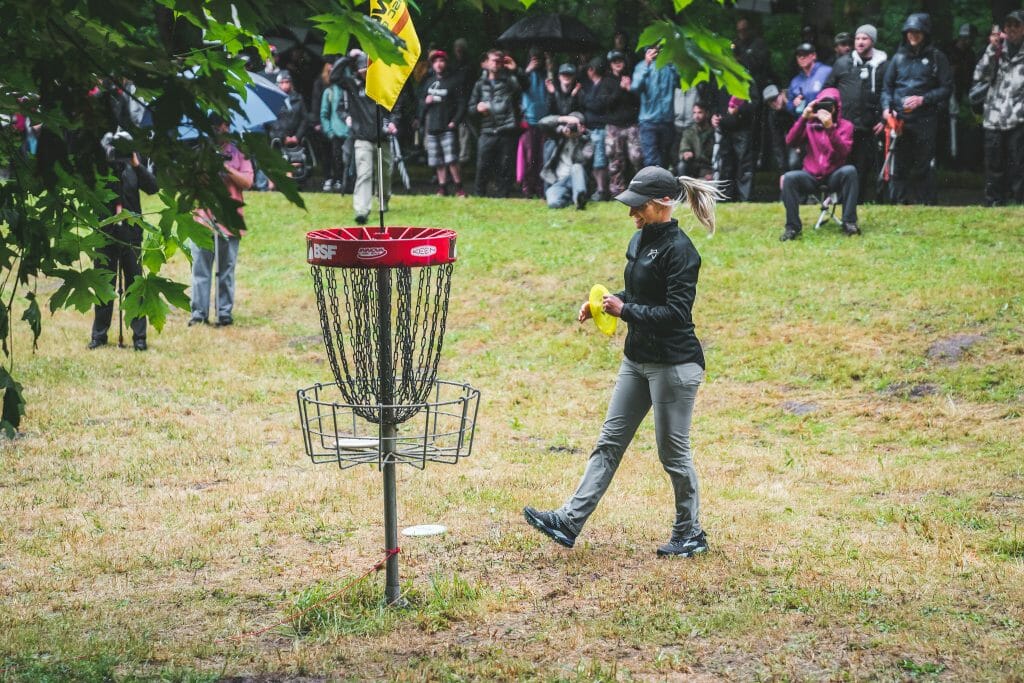 The rain was going to have its final say during the fourth round of the Beaver State Fling. An Oregon summer day meant conditions were wet with no sign of clearing up. The winner would emerge from the lead card separated by just three strokes and well clear of the rest of the competition. But the four players would have the elements to battle in addition to their three cardmates.
Paige Pierce had a tenuous hold on the lead, the one stroke advantage a far cry from her 2017 BSF blowout win. Outside of last season, however, the Estacada, Oregon tournament has not been Pierce's preferred playground, her only win coming just 12 months ago.
Someone who does like the Milo McIver State Park landscape is Catrina Allen, who sat three strokes back in fourth to begin the final round. Allen had held the lead during the second round, taking over after a 991-rated round on the same West Course they'd be finishing on.
"It's such a well-designed golf course," Allen says of the Riverbend courses. "It's demanding, definitely a thrower's course. I like I get to throw all the shots in my bag."
To get to Pierce, Allen would first have to get through Vanessa Van Dyken, who'd been playing well on the East Course, and Valarie Jenkins who had been on top card all weekend.
Slow front nines by Van Dyken and Jenkins pushed them out of contention, and Pierce and Allen were already displaying early signs of how their rounds would play out. Pierce would two-putt from Circle 1 on hole one, something she'd do seven more times on Sunday. Allen cleaned up from inside the circle — her 86-percent putting percentage from inside 10 meters would be the best of her card mates.
It didn't appear like Allen would have time to trim the gap on Pierce though. The two had matching rounds through 15 holes and picking up three strokes is a task as tall as the property's abundant fir trees.
If she was going to make a move, it had to start on the 250-foot hole 16, the easiest hole on the West Course. Allen steps up and sticks a backhand drive short but in the circle. Pierce follows and ends up in Circle 2, her first putt missing for birdie. With Pierce still needing to clean up her par, Allen sets up from 27 feet and stares down the birdie and it connects with the chains, falling into the basket and closing the lead to two.
"I was never thinking about any of that," said Allen of the potential comeback. "None of those thoughts are things you're supposed to be thinking. You're supposed to be thinking about the shot at hand and executing. I was just trying to finish with a good round."
On the top of the box for hole 17, Allen, who arguably owns the best roller game in the Open Women's field, lined up her backhand roller. Only one woman carded a birdie on 17 during round two, and it required Madison Walker to throw-in from 50 feet out. Allen needed to find the second birdie of the tournament with her shot. Even in the soggy conditions, Allen nailed her angle and watched as her disc made a B-line directly towards the pin, settling about 15 feet away for an easy two. Pierce would try the air shot but hit a guardian tree to finish with a par.
Catrina Allen Beaver State Fling Final Round Hole 17 Roller
Down one on the final hole — Allen had also birdied 16 and 17 in 2016 to force a playoff with Pierce — Allen needed some heroics on hole 18 to complete the comeback and force a playoff.
"On 18 was the first time I was trying to play aggressive and throw a roller for a look for two," Allen said.
The 509-foot par 3 is not the hole you want to be facing when you need a stroke, because you certainly can't count on the reigning world champion to drop one. Both Allen and Pierce lined up rollers off the tee, and both flipped over early leaving tricky upshots from the rough around a tight corner. Pierce found more trouble than Allen, needing two shots to make it to the green. Allen's first approach got her just inside Circle 1 but putting for par from a lie inside one of those deciduous obstacles.
With Pierce standing over a 15-footer for bogey, it looked like Allen would need the par save to force the playoff. A tester for sure, Allen's precarious footing and stance resulted in a short-armed attempt, drawing a hard clank off the front basket iron. She would be in with a bogey four and an even-par 61 round, finishing at 6-over par 250 total.
"I thought out of my hand I made it, it just dropped," Allen added.
Pierce would still have to hit her putt to claim the victory. And like the trend of the day, what seems unthinkable, Pierce misses left from inside the circle, drawing chains but nothing else. She two putts to a double-bogey five, drawing even with Allen at 6-over par 250 total after going 3-over par 64 during round four.
Paige Pierce Beaver State Fling Final Round Hole 18 Putt
And suddenly, it's starting to feel like 2016 all over again as Allen and Pierce head back to the 630-foot par 4 hole 1 for a playoff.
Both women had birdied there in round two, but this is a playoff after a full round, plus the added sudden death pressure. Allen is up first and plays an errant shot to the right but it finishes in the clear. Pierce follows with a roller, outdriving Allen but winds up slightly obscured by some foliage on the right side of the fairway. With Allen getting into position for a clear approach on her third shot over the road, Pierce has to "patent pending" out on her second and catches a low hanging limb, leaving her behind Allen. Pierce's third looks good, flying in line with the pin, however, it skips through the green and long for a Circle 2 attempt at par. Allen corrects on Pierce's distance and neatly places her third shot inside Circle 1, pin high and roughly 15 feet away.
Catrina Allen Playoff Approach Beaver State Fling
Could Pierce pull out the long-range putt in the playoff this year, much like Allen did in 2016 for the victory? Ultimately she could not, although it looked good out of her hand, it misses right, catching a few chains on the way to the grass below. With at least a bogey assured for Pierce, Allen quickly and calmly converts the par for the win, and another playoff triumph at the BSF.
The victory is Allen's first on the PDGA National Tour this season. After the win, Allen said she's feeling good with recent form.
"I took three months off this winter, so I think I'm getting back in my rhythm," Allen said. "I figured the beginning of the year wouldn't be the greatest but it would pay off in the end. Just getting back in my groove."
Behind the top two, Jenkins would finish third at 9-over par 253 total. Sarah Hokom worked her way back up the leaderboard into a tie for fourth with Vanessa Van Dyken at 16-over par 260. Nicole Bradley, Lisa Fajkus, Paige Bjerkaas, Sai Ananda and Kona Panis rounded out the top 10 in that order, all finishing above the cut line to cash.
The PDGA NT series will make its return to the touring calendar in September at the Delaware Disc Golf Challenge. The next high-profile event on the calendar is the Utah Open, a Disc Golf Pro Tour event, beginning on June 22nd.