Allen's big birdie putt gives her playoff win over Pierce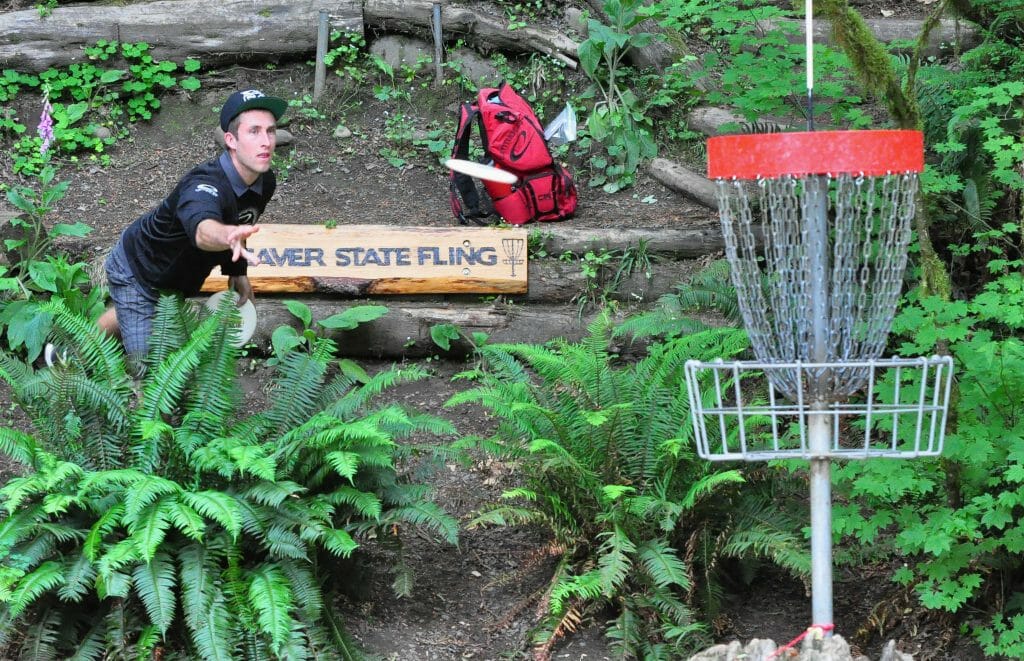 Fifteen hours.
After a heartbreaking, 18th-hole loss at the European Open, Ricky Wysocki had to pile his discs and his pride in a plane and fly 15 hours back to Portland, Oregon, where the Beaver State Fling waited just a few days later.
As Wysocki tells it, though, that uncomfortable half-day wasn't just an opportunity to catch up on some sleep or forget about his sorrows amid the drone of a flight cabin. He used it to get better.
"After the [European Open] tournament I was definitely bummed out because of the way it ended," Wysocki said. "I put myself in that situation and I wanted to capitalize and win, obviously. Coming home, it makes it that much harder having to fly 15 hours back to the States knowing I'd just lost like that. I was using that as motivation to fuel my fire for this weekend and really propel me forward into the tournament that I played this weekend."
Maybe some more transatlantic voyages are in order, then, as Wysocki channeled that fire into an authoritative Beaver State Fling victory with a 33-under par 211 over the course of four rounds at Milo McIver State Park to notch his third consecutive Professional Disc Golf Association National Tour win. The triumph was his seventh on the season, and he pocketed $3,750 in prize money for his performance. He has yet to finish worse than second place since the middle of March.
Philo Brathwaite tossed a 30-under par 214 to finish in second place and collect his 11th Top-10 placement on the season, while Paul Ulibarri, Paul McBeth, Nikko Locastro, and Nate Sexton all tied for third place with 26-under 218s for the weekend.
After being one stroke out of first place after the first round of play on Friday, Wysocki took command with an 11-under par hot round on the Milo McIver East course during the day's second round, an effort that featured seven straight birdies and no bogeys.
"I had a lot of momentum after the first few holes, I think I started off with a few birdies in a row so I had a good feeling about the round," Wysocki said. "When you start off a round like that, for me I can tell I'm going to have a good round right out the gates like I did that round."
The timing for Wysocki's hot shooting coincided with the rest of the top competitors playing between 6-and-8-under par, while McBeth went a mere 2-under.
"We kind of all dug ourselves into a hole," Ulibarri said. "Ricky had that really hot second round and kind of pulled away from all of us. It was kind of a dull round, where the whole field didn't play that well except for him, so it was a good time for him to do that."
It was enough to give Wysocki a four shot lead heading into Saturday's third round at Milo McIver West, where he went 8-down to hold off a surging Brathwaite – who buoyed a 10-under par round with an ESPN-landing albatross on the course's 850-foot Hole 6 – and a 12-under hot round by McBeth. For Brathwaite, the big shot wasn't intentional, and it was actually a marked shift from his usual performance on the hole, which he said he has never birdied in his career.
"I felt like I was in a really good position to be aggressive," Brathwaite said. "I'd really struggled on that shot in practice, but I didn't shy away from it. I just told myself, 'I've got to believe I can do this, I've got to believe I can do this, or it's not going to happen.'"
That brought Wysocki and Brathwaite to within two shots heading into Sunday's final round, and that was all the tall kid from South Carolina needed to coast to a win. His 7-under par Sunday was a continuation of his steady play, and the slightly more comfortable margin of victory was a contrast to the nail-biting finishes he was involved with at the Masters Cup and the European Open.
"It definitely is a little bit of a mental break," Wysocki said. "Nothing's easy, but it's easier to win like this than it is to mentally battle like it has been the past, you know, so many tournaments in a row."
Wysocki now takes his NT winning streak to this weekend's A-Tier Greater Hartford Open before heading to the Vibram Open, the site of his only NT victory in 2015. And while that one big win from last year is a drop in the bucket compared to his 2016 success, he is determined to keep the hot hand.
"I'm still going to be practicing as if I didn't win," Wysocki said. "I'm going to practice maybe even more and keep making building blocks and stepping stones for my game. I won, and I'm happy, but I'm not really content because I want to always get better. Just because I win doesn't mean I can't get better."
The travel might be more fun, though.
"I'm going to be able to fly out and think about my win instead of losing like I did last week," Wysocki said. "So obviously that's a better flight. A happy flight."
Allen Lands 50-Foot Playoff Clincher To Down Pierce
Catrina Allen continued her own NT winning streak, besting Paige Pierce in a one-hole playoff to take the Open Women's title after surrendering a five shot lead and battling back to birdie two of the final three holes to force sudden death. Allen's 50-footer left her at a 4-over par 251 for the weekend and gave her the $,1750 purse, while Paige Bjerkaas, Melodie Bailey, and Zoe Andyke rounded out the Top-5. Allen still has not lost in the Open Women's division in the United States in 2016.
Catrina Allen Putt to Win BSF 2016
It was the closest margin of victory for Allen since this year's Memorial Championship, which she won by one stroke in regulation. The tight race made for a different mentality than she had become accustomed to, she said, as she spent the end of the round with her thoughts turned off.
"Before I just had to keep doing what I was doing, and just [tell myself], 'don't worry about things,' because I was so far ahead," Allen said. "It was weird, the last probably five or six holes, I explained it as [feeling] numb…I wasn't thinking, 'Oh, this putt will put me back to one up or one down or even.' It was really bizarre. I don't think I've felt that way in a long time. It was different than any way I've felt this year."
The big putt for the win displayed a bit of a killer instinct, as it was the first time in her career she could remember ending a tournament from long range.
"[Pierce] had a 25 or 30 footer, I could have just laid up and made her make it," Allen said. "Like I said, I just went numb and went through my routine and could hear [sports psychologist] Bob Rotella in the back like, 'Just give it a chance,' and kind of just went into my routine and it was in. And it was the best feeling I've had in disc golf."
Allen said the win – and the putt to clinch it – gives her even more confidence about her play, as she was able to walk away with the victory despite not playing consistently throughout the weekend.
"I think to make that putt on the last hole was huge momentum for me for the rest of this season," Allen said. "Even with a second place finish this weekend I would still be having a great year, but to prove that even when it's close I can still do it really feels good."