Barsby returns to tour to take third place, while Allen cleans up in FPO.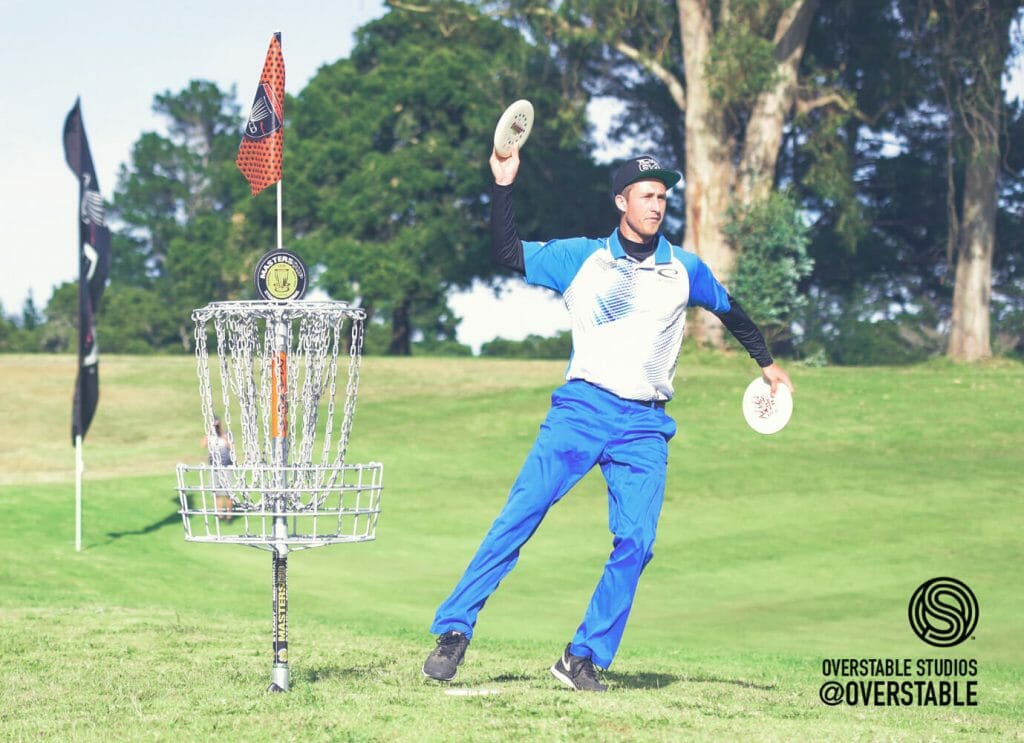 SANTA CRUZ, Calif. – Despite being the world's second-ranked disc golfer, the knock on Ricky Wysocki in recent memory has been that, come crunch time, he wilts under the pressure.
So, with a 70-foot birdie putt with water looming just behind the basket standing between him and almost certain victory, what did he do?
He hit dead center chains.
On a day in which neither of the top players could salt away the victory early, Wysocki saved his best for last en route to an 8-under par 51 finish and a dramatic "Steady" Ed Memorial Masters Cup victory over Paul McBeth, whose 6-under par 53 was not enough to overcome a bevy of uncharacteristic mistakes and a rival whose putter more resembled long-range artillery.
The win marked Wysocki's second straight Professional Disc Golf Association National Tour victory and his first over McBeth since last year's Maple Hill Open by Vibram. Gregg Barsby's 7-under par 52 vaulted him into third place overall, while Eagle McMahon and Peter McBride rounded out the Top-5.
"My mental game is getting a lot better," Wysocki said. "I feel confident at the top now. I really think I belong there."
The road to that achievement in Santa Cruz, though, was as undulating as the mountains surrounding the seaside town.
Heading into the final round already one shot behind McBeth, Wysocki started with a bogey to fall two strokes back of the lead. The two then spent the next six holes keeping pace with one another, but with McBeth's drives often coming out low and Wysocki always seeming just a little bit longer off the tee, it seemed like only a matter of time before the balance tipped in Wysocki's favor.
Hole 8 was the first time it actually did, with McBeth – again throwing low – landing out of bounds after his drive hit the curb of the DeLaveaga Golf Course's cart path. Wysocki took advantage by carding a par to McBeth's bogey, but both followed up by landing on an O.B. green off the tee on Hole 9.
Facing a 100 foot putt to save par, Wysocki dialed up his first of two bombs on the day, dropping his putter in the basket from the edge of the green to the delight of the 200-person gallery. Not to be outdone, McBeth followed up with a 60-footer of his own, immediately seizing any momentum Wysocki had gained.
"We had fortunate greens [on Hole 9] where we could run it and not be worried about going out of bounds or missing it high," McBeth said. "That one, [Wysocki] made it and I had the opportunity to go for it, so there was no real thinking [or worrying about keeping up] because he made it."
Still looking at a one shot deficit after McBeth matched his par-saving putt, Wysocki stepped up to Hole 10 and parked his drive for a birdie. McBeth carded a par, and the two remained tied until Hole 12, an 800-foot Par 4 that saw McBeth miss a putt from the edge of the circle to give Wysocki the lead.
"There were a lot of things off today and I was still able to hang in it," McBeth said. "My drives weren't clean at all, my putts – there were some that I was making and there were some short ones that I should have made. There are stretches of pars in there that should not be pars."
Those pars continued for both players until Hole 15, a 430-foot Par 3 that found everyone aiming for the ace. Wysocki had an easy putt lined up for birdie, but he floated it over the top of the basket and into a nearby bunker, which played as a hazard. He cleaned up his putt for bogey, while McBeth took a birdie to cause a two-stroke scoring swing and recapture the lead.
Wysocki, though, remained undeterred.
"I knew instantly it was a momentum shift," Wysocki said. "I knew if I kept fighting like I did the whole round – I knew I had to hit that putt for bogey, and I made that – and I knew if I hit that putt I really had a chance to win. I just made sure to bear down after that, knowing there are some dramatic holes to finish."
And Wysocki certainly brought the drama. He made Hole 17's island green look like full fairway with a slow, floating drive that landed in easy birdie range, while McBeth landed further out to the right and missed his bid for a 2.
That brought the battle to a tie heading to Hole 18, a 485-foot downhill shot that played into a perfect right-handed hyzer line. But when Wysocki pulled his drive too far to the right and McBeth landed about 30 feet closer to the basket, it looked like McBeth had finally sealed the win.
Wysocki, though, had other plans. After confirming the O.B. rules behind the basket with other players, he sized up his shot and fired a bullet into the chains. The gallery exploded and Wysocki high-stepped his way toward the basket, shouting with enthusiasm at the ensuing victory.
McBeth, looking to force a playoff, hit the top nub of the basket and chained out, making for his fourth consecutive second place finish. Wysocki was then mobbed by his fellow disc golfers and the celebration was on.
"It's really cool seeing all my friends – no matter what the sponsorships are, that's all aside," Wysocki said. "It was really cool to see everyone unite when I made that last putt, and I would do the same thing for all my other buddies if they were on the flipside."
Asked if he thought about McBeth's early season criticisms as he stood on the 18th green, Wysocki said he was focused on his own game.
"No, for me, as long as I play to my potential I feel like I can win," Wysocki said. "As long as I do that in the future, I know that I'll put myself in positions like I did today and I'm going to capitalize the majority of the time. I'm excited for the tournaments to come and I'm learning and growing, so I'm excited."
Barsby, whose strong final round put a bow on his triumphant return to the National Tour, said he was inspired by watching the final round rivalry unfold.
"Playing with Rick and Paul always just pushes you because both of them play their own unique game and they're both really good at executing shots and getting numbers," Barsby said. "Last year we had a battle at the Vibram [Open] and it was the same deal, where Rick's making big putts – Ricky's got great big putts, obviously Paul does, too – so it's fun playing with those guys. I'm a fan of it, too. I love watching Rick make that huge putt right there, I love it. That's why we play, for those moments."
Catrina Allen racked up yet another massive win in the Women's Open division with a 7-over par 210 performance on the weekend. Paige Pierce (+19), Valarie Jenkins (+21), Nicole Bradley (+27), and Paige Bjerkaas (+27) comprised the rest of the Top-5.
Despite her increasingly wide margins of victory, Allen said her focus has not been on the gaps over the field.
"It doesn't feel like I'm playing good, it just feels like I'm playing," Allen said. "I'm not really thinking about how good or bad I'm playing; it's about the next shot and staying focused."
She did, however, think about Wysocki's finish and how it paralleled Jeremy Koling's big putt for a victory over McBeth at last year's Memorial Championship. At the time, she said she felt goosebumps right before Koling's shot, and that sensation returned yesterday to give the event a PGA Tour feel.
"When Rick was stepping up, I got the same goosebumps," Allen said. "[I got a] good feeling, and Ricky made it. It was just like how they talk about, in golf, Tiger Woods' putt going in because the whole crowd was cheering it in. So maybe it was a little bit of people cheering for Rick."
The PDGA National Tour resumes on June 10 at the Beaver State Fling in Estacada, Oregon.