10 consecutive birdies power world champion's first win since March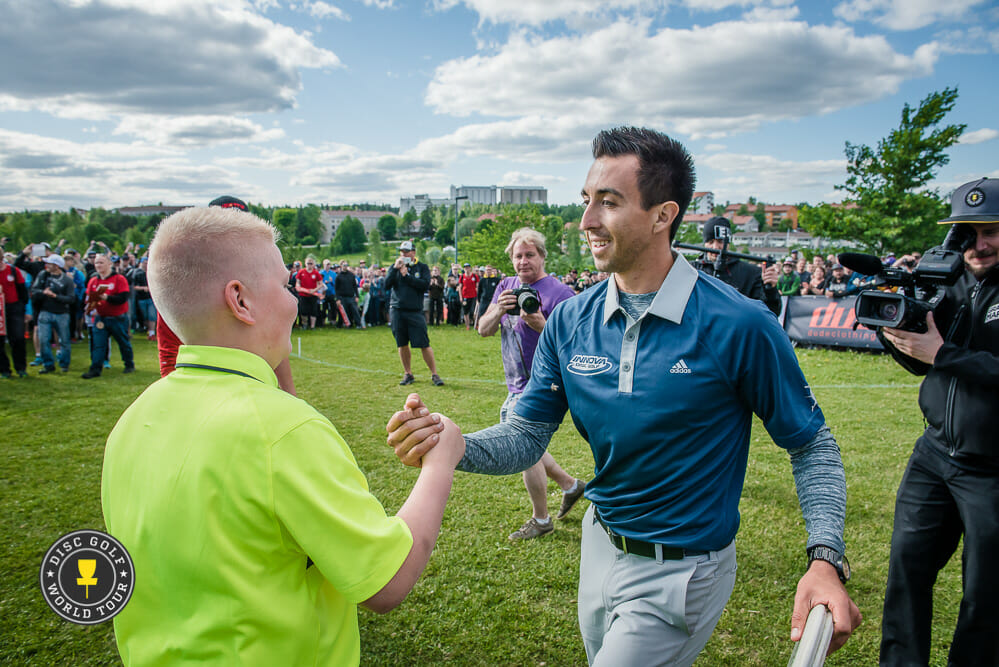 The third time's a charm, and that adage could not have been more true Saturday for Paul McBeth.
Trailing by five strokes after two days of play at the Disc Golf World Tour's European Open in Nokia, Finland, McBeth went unconscious in the third round, carding ten straight birdies and outlasting Ricky Wysocki on the tournament's final hole to score a 22-under par 170 for the weekend and take home a two-stroke victory. Besides being his first win since March, it marked McBeth's third consecutive triumph at the European Open.
It was vintage McBeth, a performance that recalled his dominant 2015 and big comeback wins at the Beaver State Fling and the United States Disc Golf Championships. And he was so dialed in, he said, that he hardly realized what was happening during his impressive stretch from Holes 5 through 14, which found him picking up eight strokes on Wysocki (20-under par 172), six on third place finisher Simon Lizotte (15-under par 177), and nine on K.J. Nybo, who ended up in fourth after a one-hole playoff with Lizotte.
"I didn't know when I was there how many I had in a row or what holes I was birdieing," McBeth said. "I knew I was just chipping away at the lead, and that was the whole goal. It wasn't about how many birdies it was, it was just closing that gap."
Others on the lead card, though, definitely took notice.
"It was pretty obvious after like five or six in a row," Lizotte said. "Then we were like, 'OK, this is gonna be tough.'"
But even with that long run of success in the middle of the round, McBeth and Wysocki saved the most drama for The Beast's final four holes, which all graded out in the Top-5 for difficulty during the tournament. Wysocki parred Hole 15 to take one back from McBeth, who bogeyed, and the gap remained at one shot after both birdied Hole 16. With Wysocki absolutely crushing a forehand drive on Hole 17 to land within 15 feet of the pin, McBeth left his drive short and settled for a par, bringing the two into the final hole tied for the lead.
And that was where the wheels came off for Wysocki, as his drive slipped out of his hand and he went out-of-bounds off the tee, and again on his second shot. McBeth, meanwhile, kept it in the fairway and, even after two-putting, walked away with the win.
Wysocki said he was disappointed with the result, but that he wouldn't let the loss kill the momentum he's built up over the season's last few events.
"[McBeth] played solid and you can't take it away from him, but I put myself in position to capitalize and I just didn't," Wysocki said. "Obviously I'm not taking anything away from his round, but I knew that I didn't play to my potential like I know I could have."
McBeth, though, certainly did. The performance continued a trend for the defending Professional Disc Golf Association World Champion, as it marked the 10th time since 2014 that he has picked up five or more strokes during a tournament's final round. And while chatter has been abound that McBeth is off his game, he still was not convinced that the win would silence doubters.
"I'm sure they'll still talk," McBeth said. "But like I said, I went full straddle [putting] the whole tournament, so there's a huge confidence boost in that part of my game, which is the biggest one that I was struggling with all year. I'm not too worried. I don't think I've fallen off in my talent level, but I've definitely slacked off on the mental side."
McBeth said he posted some self-motivating thoughts on social media before the round Saturday – highlighted by a photo of him holding a past European Open trophy – as a way to remind himself to stay focused. It's been something he has battled for much of 2016, but he said this final round woke him up a bit.
"I guess it was mostly just not caring as much as I was before, or last year in particular," McBeth said. "I wasn't as aggressive as I should have been, and just mentally I wasn't prepared or staying in it the whole time. Today, I knew after being so far back I had to be focused the whole time, and I'm sure when people watch the footage it will look a lot different. They can see it in my eyes, or my demeanor, or the way I was walking around the course from today [was different] than any other round so far this year."
That extra swagger was also driven by McBeth's reaction to the death of Muhammad Ali, as the young champion said he spent much of the final round quoting the boxing legend.
"It was one of those things that stuck in my mind all day," McBeth said. "That kind of helped and kept me motivated. He was one of the best self-motivators there is in the world, so he was one of those idols to me. I enjoy watching fighting, boxing, MMA, that stuff, so he's been one of those big inspirations to my life and a lot of people in my family's life."
Lizotte shared an appreciation for McBeth's victory – "Nothing you can do about it when Paul goes ten birdies in a row. Unreal," he said – while also leaving the event on a high note of his own.
"It was great, it was amazing to watch and I'm happy being third," Lizotte said. "It was by far my best finish in this tournament, and just shows that overall I'm playing more safe, more smart, more confident now. So that's a good sign."
The two will face off again at the European Masters in July, while McBeth and Wysocki travel back stateside for this weekend's PDGA National Tour event, the Beaver State Fling in Estacada, Oregon.