Jenkins collects second place, and momentum, heading into Worlds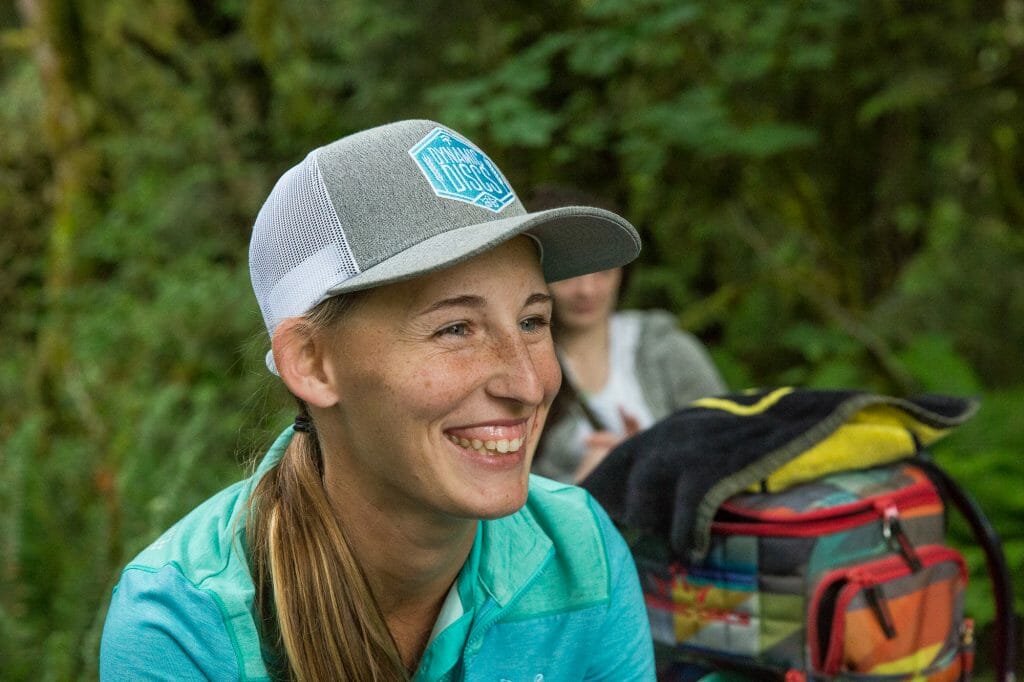 In her nine-year professional career, one of the few high-profile events that has eluded Paige Pierce has been the Beaver State Fling. In her five previous attempts at the event, she had collected four second place finishes, including a loss in a sudden death playoff last year.
After shooting three rounds over 1000 and taking a 15-stroke lead into this year's final round, though, there was little doubt Pierce would finally cross the Fling off her checklist. And she did just that on Sunday — and almost came away with an unprecedented fourth four-digit round — as her 2-under par 59 final at Milo McIver State Park's Riverbend West Course concluded her blowout victory.
Pierce finished out her fourth PDGA National Tour win of the season at an outstanding 10-under par 234, and in the process bested second place by 18 strokes. Valarie Jenkins took the runner-up spot by throwing an even-par 61 Sunday to finish at an 8-over par 252, while Catrina Allen slipped to third place after her 2-over par 63 added to a 9-over par 253 total. Sarah Hokom rounded out the top 4 after a 3-over par 64 final round saw her finish with a 12-over par 256. The performance was Jenkins' second top 3 finish at a National Tour event this season.
Had Pierce broken 1000 on Sunday, she would have been the first Open Women's player to ever register each round of a PDGA National Tour or Major over that mark. Instead, she topped 1000 in three of four rounds for the third time in her career – she also did it at the 2013 and 2014 Memorial Championships – and is the only women's player to accomplish that feat. Starting with this year's Beaver State Fling and working backwards, over those three events Pierce averaged 1008, 1005, and 1009-rated golf.
Coming in with six wins in a row — not counting the Utah Open in which she left due to a family emergency —  and 13 on the season, Pierce was resolute that the Beaver State Fling in and of itself was "not entirely" a warm-up for the upcoming PDGA Professional Disc Golf World Championship, nor just another high-profile event that could be disassociated from season long goals.
"Every tournament, every round, every shot is a build up to Worlds in my mind, from January until Worlds comes," Pierce said after round three. "So, not necessarily the Beaver State Fling, but just it being another tournament, another competition with pressure, [it's] just helping me gain confidence and just being sure, being sure about my shots and mental game."
With Pierce waltzing to victory, the battle for second place  found Allen and Jenkins trading places throughout much of the final round before Allen found trouble on the par 3 15th. Her upshot to the green was slowed by a tree, leaving a long putt for par. After missing that putt, she couldn't connect on the comeback attempt and had to settle for a double bogey, giving Jenkins the cushion she needed down the stretch.
Jenkins said she was pleased with her play as the event progressed, especially through round four, after she described her play in round one as "mediocre."
"I felt like I really picked up steam as the tournament went on," Jenkins said. "I think that kinda has to do with that we're not playing as many tournaments. We had a few weeks of break in between, so once we get back into a tournament we're playing a few practice rounds before it starts, but once you get into that competitive mind frame I feel like my game really starts to come together."
Even as Jenkins' play improved as the holes ticked away, Pierce had collected such a lead that first place was realistically out of the question. But that didn't stop Jenkins from appreciating Pierce playing at the top of her game.
"It was amazing to see what she can do," Jenkins said. "You have to root for her because she's throwing insane shots and making these killer putts, and you want to see her keep going and doing that because I think in general it's going to help our game. We all can do it, and it helps our game knowing that this is possible. And so even though she's kicking our butts right now, I think it's going to help the women's game as a whole in the future."
Looking ahead to Pro Worlds in just over a week, Pierce said the repetition of pressure situations she has found herself in since the beginning of the season has put her on the right track heading into the highest of high-profile events in the professional game. And Jenkins echoed Pierce's sentiments on the importance of being mentally prepared for the game's biggest stage.
"I think it's all just about a mindset," Jenkins said. "Going into every tournament, it can become such a routine when you're playing tournaments in and out every weekend. But Worlds definitely requires a different mindset. You really have to wake up every day and be focused on executing that round, and setting your mind to 'I want to win this tournament,' and that's what I did last year, and I remember doing that in the years that I won before. It's just a switch that has to happen, and if you can set your mind to it there's nothing stopping you from doing that.
"But there's another side to it, where you just come into it and you're just like, 'I want to shoot really good rounds,' and that's not the mindset you need to win the World Championship," Jenkins continued. "So I think that I'm going to get my mind focused on that, and hopefully to my best ability. It's pretty exciting to be coming back to a Worlds and be the defending champion, because it's been some time since that happened."
If Jenkins is successful in her title defense she will join the rarified company of Elaine King and Juliana Korver as the only five-time Open Women's World Champions.
"Practice helps," Jenkins said. "Going to a field or whatever can help, but it's not the same as being in a tournament and playing against your competition that you're going to be up against in the world's biggest tournament."
Pro Worlds begin Wednesday, June 21 in Augusta, Georgia.