A big ol' Texas welcome back to spectators.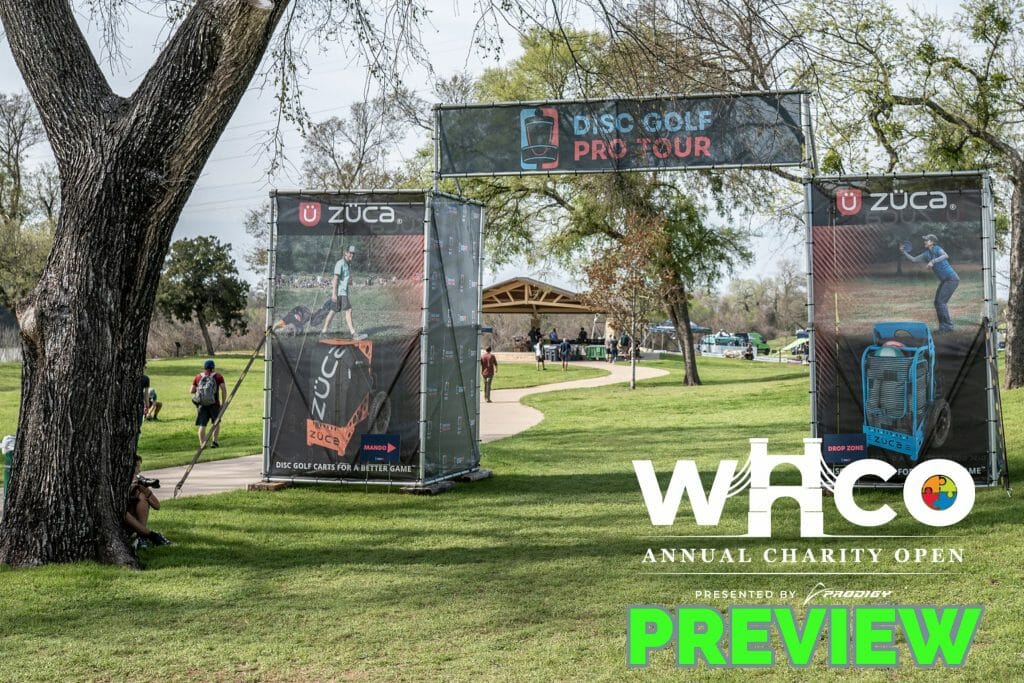 Two years ago, the Waco Annual Charity Open was the epicenter of the COVID-19 pandemic's impact on disc golf. Just hours before players were set to tee off for the first round of WACO 2020, the NBA suspended its season, the first domino in a cascade of cancellations across the sports world. By the following evening, DGPT brass and tournament staff were staying up until the wee hours agonizing over how to proceed. Ultimately, the second round was played without spectators and the third round was cancelled.
"We [internally] had a call Friday morning, and I had put out a statement that we weren't going to allow spectators, and that was our decision — the Pro Tour's decision," said DGPT CEO Jeff Spring back in 2020. "And then we had a call with the PDGA and they informed us that they were going to be suspending the Elite Series…The PDGA said, 'We'd like you to finish the round, but we'd like you to end the tournament after this round.'"
Disc golf shut down for months. When the DGPT returned in June 2020, events, like many across sports, were played without spectators. It was a harrowing time for the Tour — little did they know that disc golf was poised to explode in popularity.
WACO was back on the Tour in 2021, but it remained a spectator-free phase one event: COVID-19 vaccines were still not available to the general public. It was another thrilling event, with Kona Panis securing her first Elite Series win in dominant fashion and Nikko Locastro cashing a wild long-range putt to lock up his second DGPT win.
Fast forward to 2022. WACO's tickets are completely sold out. Disc golf is back, and the pandemic finally feels like it is truly receding. Cases in Texas and across the country have plummeted in recent weeks. It's not just another season on the Pro Tour for WACO; it's a fresh start.
Past Winners
Five Things We'll Be Watching
1. We've got a number of players making their DGPT season debuts this weekend, including Paul McBeth, Simon Lizotte, Lauri Lehtinen, Andrew Fish, Philo Brathwaite, Mason Ford, Valerie Mandujano, Alexis Mandujano, Macie Velediaz, and Keiti Tatte. McBeth got an early season win against a competitive field at The Memorial, but many of the other players haven't played anything beyond smaller local events. Will we see a continuation of the strong end-of-season play from Valerie Mandujano and Mason Ford? How will Simon Lizotte look after another few months to work on getting back to full health and becoming a father? Is Macie Velediaz ready to make a star turn? Lots to keep an eye on.
2. Will we see a continuation of the boom in interest in live disc golf coverage?  The live broadcasts from the final rounds of the Las Vegas Challenge neared or exceeded all-time highs in viewership. Was that a "first tournament of the year" effect, or are we seeing the start of a new level of engagement? It's not about live vs. post, either — there are plenty of eyeballs to go around.
3. WACO has earned a reputation for delivering…unusual results. As you can see above, it's been four years since a repeat winner, when both Paige Pierce and Jeremy Koling went back-to-back in 2017 and 2018. Since then, a diverse slate of players has taken down a victory (note that 2020 was just a two-round event, but Colten Montgomery won from the chase card!). Scores often stay close at the tournament as well, adding to the Sunday drama. Will we see more familiar names back at the top of the leaderboard, or will the combination of the thick woods, high winds, and variable tree kicks deliver victories to less heralded names once again?
4. Who can handle the changing weather over three rounds? It will obviously be crucial for this event (see below for the forecast) but it's also worth seeing which players can manage shifting conditions as a means of better handicapping future tournaments. The rain will be a factor on Friday, but it's the shifting wind that will be more compelling to watch.
5. Yea, you know you're curious too: how will Gannon Buhr back up his hot start at LVC? He talked on The Upshot about feeling even more confident in his game on the more varied Brazos East course than he did about LVC. Expectations have skyrocketed for the 16-year-old, but he's been embracing the moment and isn't satisfied with his playoff loss from two weeks ago.
GRIP6 Pick6 Locks Of The Week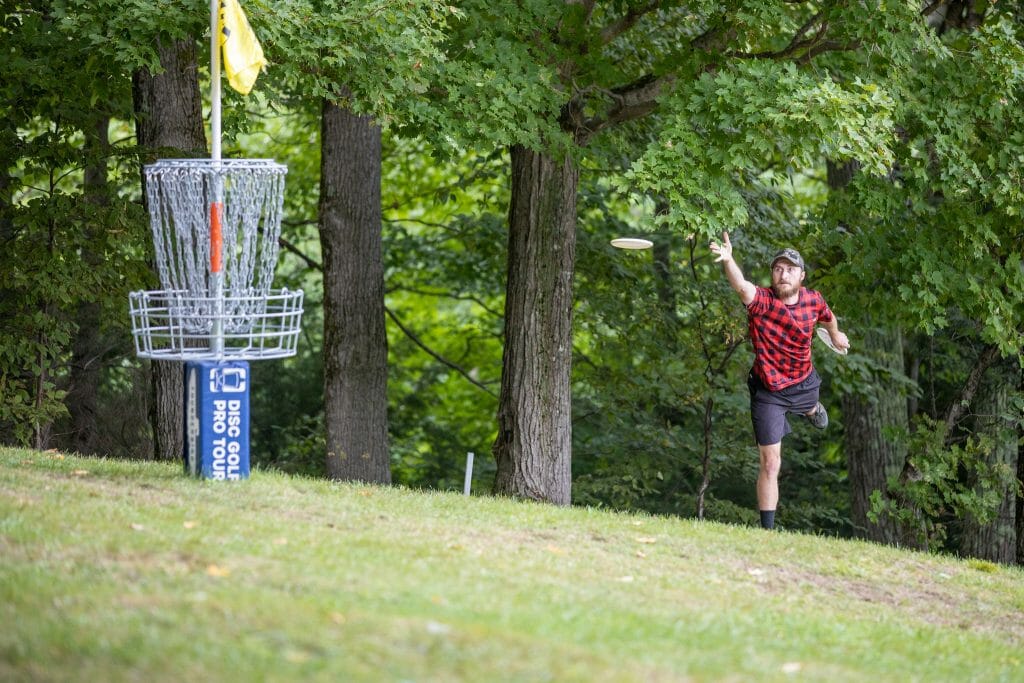 How can you not take Chris Dickerson after this display of pure swagger? In all seriousness, though, Dickerson looked very sharp at LVC. He went OB just four times and played well in all facets except Circle 2 putting. Don't sweat the C2 issues: leaning on his control game and C1 putting skill will be plenty to keep him at the top of the leaderboard at WACO. Dickerson also finished 7th at WACO last year. And he can handle the crazy weather that's coming for everyone in round one: he won the USDGC in driving rain in 2020.
We picked her last year and we're picking her again: Sarah Hokom. She's played WACO five times and never finished lower than fourth. What more do you really need to know? How about that she was 12th in Circle 1 putting at LVC? Good sign.
The Course
Brazos Park East: MPO – par 63, 7,957 feet; FPO – par 67, 7,677 feet
Brazos Park East, aka The bEast, is a classic combo course. Mixing park style golf — not totally dissimilar to places like Fountain Hills or Vista del Camino — with some exceptionally tight wooded fairways, the bEast has a little something for everyone. While the course isn't long, there are a couple opportunities for the big arms in both divisions to air it out and let the disc fly, especially on the big water carry on hole 18 (seen cleared by Ella Hansen and parked with putters by Calvin Heimburg and Kevin Jones).
This year, there are basically no substantive changes to the layout, pars
Here is the 2022 WACO Caddie Book.
Extended Forecast
We're getting a real taste of Texas spring. It's straight up not going to be fun out there on Friday, with cold, rain, and wind. The sun will come out for rounds 2 and 3, but the wind will be up again — and in the opposite direction — for the final round on Sunday. Here's a closer look:
Friday: Showers possible in the morning and likely after noon. North winds picking up from 10-15 mph in the morning to 20-25 mph in the afternoon, gusting to 35. High of 40 degrees. Nasty weather for disc golf.

Saturday: Sunny, high near 56. 5-10 mph wind.

Sunday: Continuing the warming trend, temperatures will top out in the mid 60s. South winds will pick up from 5-10 mph in the morning to 15-20 mph in the afternoon, gusting to 25 mph.
Players will need to be prepared for very different conditions in each of the three rounds. Early tee times may be advantageous throughout the weekend as the wind will be lower. It could cause scoring to bunch over the weekend.
How To Follow
UDisc Live will have livescoring available all weekend. For video coverage, see our How To Watch post.
Read on for PrizePicks Lines & Best Bets…
Bonus Content for 2022 Waco Annual Charity Open Preview: From COVID Cancelled to Sold Out is only available to Ultiworld Subscribers
Already have a subscription? Log in
Whether you visit Ultiworld for our reporting, our podcasts, or our video coverage, you can help us continue to provide high quality content with a subscription. By becoming a subscriber, not only do you receive benefits like bonus content and full article RSS feeds, you also help fund all of Ultiworld's coverage in general. We appreciate your support!