Waco Annual Charity Open - Final Round Recap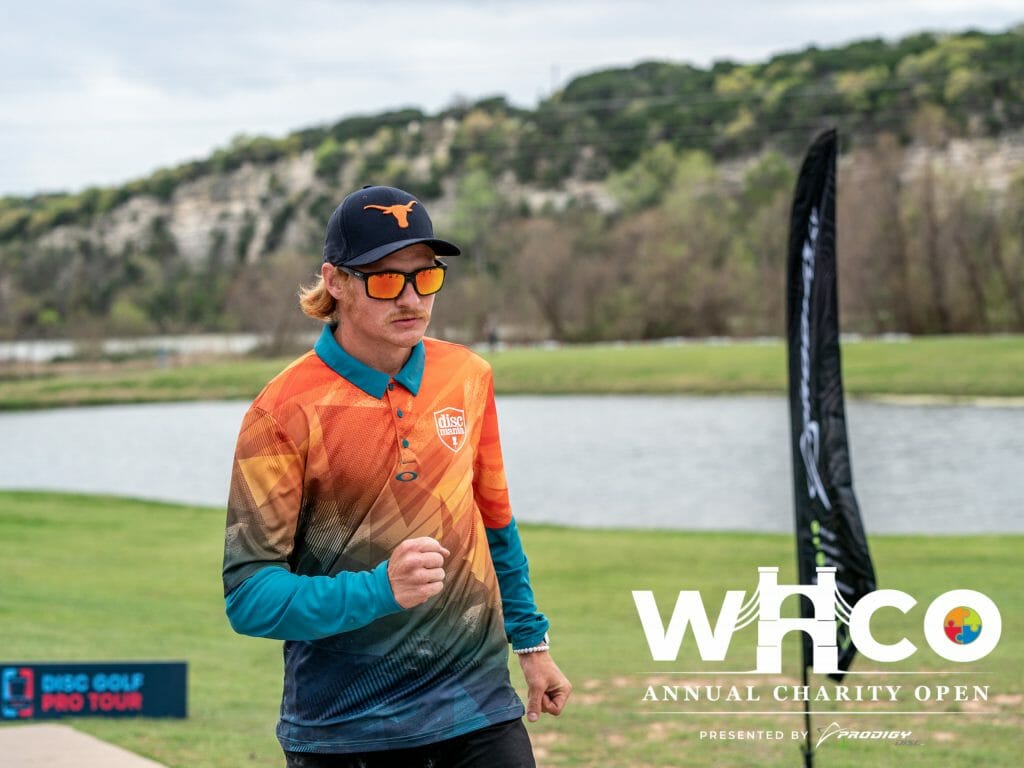 The second round of the Waco Annual Charity Open turned into the final round early on Friday so the stakes on moving day were much higher.
Shooting the hot round, 1078-rated, 13-under par from the chase card to overtake Paul McBeth for the victory was Colten Montgomery, finishing at 20-under par total over the tournament. It's Montgomery's first Disc Golf Pro Tour win and biggest of his career. He has one prior A-tier win, the 2017 303 Open.
Montgomery had two eagles — holes 13 and 15 — and was the only player to 2 the 13th over two rounds. He did not miss a Circle 1X putt Friday, and was second in the division in fairway hits and C2 in regulation.1
Playing several holes ahead of McBeth and the lead card, Montgomery added to his share of first place by going for the green on hole 18. He put it inside the circle and converted the birdie, placing all the pressure on McBeth. McBeth had a chance to force a playoff with his a birdie on hole 17  and hole 18 but missed an edge of circle look and turned over his drive.
McBeth led the tournament in C2 in regulation, 81%, but finished 50th in C1X putting, 75%. He had four two-putts during the final round.
A five-hole par stretch in the middle of the woods slowed McBeth's pace. His lead had evaporated by the time he reached the open holes starting at 13.
The other players on the lead card didn't help keep McBeth sharp. Matt Bell (2nd to 19th), Garrett Gurthie (3rd to 29th), and Eric Oakley (3rd to 14th) all fell at least 10 spots to finish outside the top 10. McBeth's 7-under par round was tied for worst of the top 10 finishers.
Cale Leiviska jumped two spots up off the chase card to finish third.
Heard
"I didn't even know I was 9-under on the last nine holes to be honest with you…I told myself in practice there is no scenario I'm not going for hole 18. The headwind, I just trusted it, and it paid off." – Colten Montgomery, pre trophy.
"On 18, I had a death putt. My goal was to shoot even and unfortunately, I only had two rounds to do it, not three. It was my last chance, I had to drain it. Made it happen." – Brodie Smith, on his Circle 2 putt for par to finish even on the final round.
Statline
WACO was the third time in the past year McBeth took a lead into the final round and did not finish first — 2019 Open at Tallahassee, 2019 CCR Open.
Highlights
2020 WACO Colten Montgomery hole 18 drive
2020 WACO Colten Montgomery hole 15 drive
2020 WACO Paul McBeth hole 5 second shot
---
Montgomery did not have UDisc Live stats available for round 1. ↩