Hokom runner up for the second straight tournament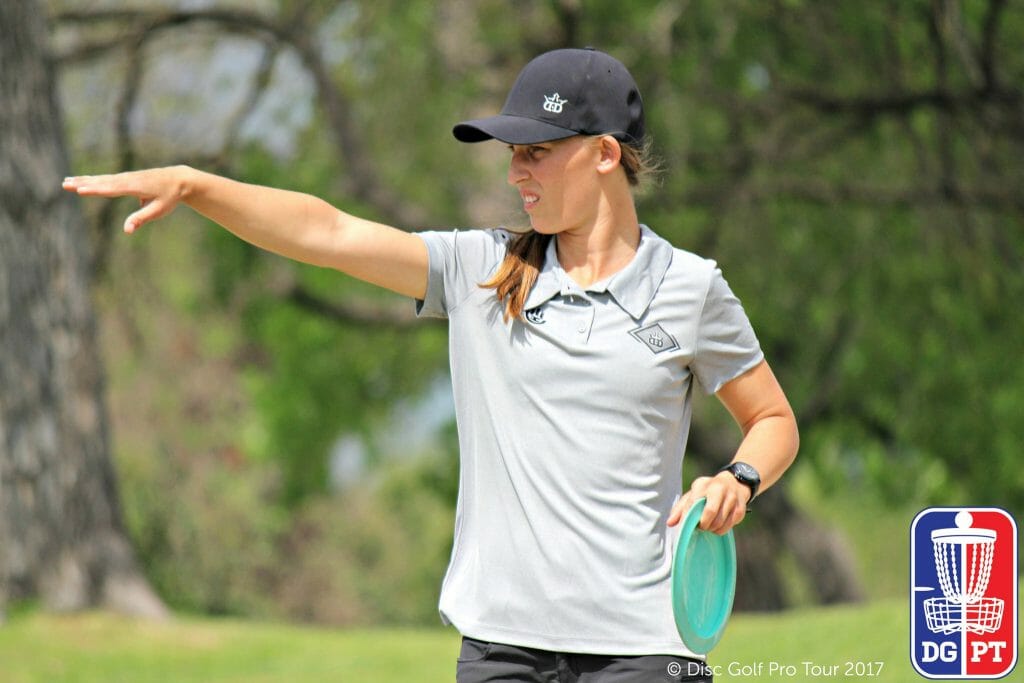 Paige Pierce was victorious for the sixth time in 2017 after taking the win at the Waco Annual Charity Open on Saturday, her second Disc Golf Pro Tour win of the season. Her last season to start off with six straight wins was 2015, a year that also included victories at the Gentlemen's Club Challenge and the Memorial Championship, before of slew of titles at Texas-based tournaments that bears uncanny resemblance to Pierce's upcoming schedule.
Pierce's final round 4-under par 63 was good enough to move her to an 11-under par 190 for the three day event. Keeping things close at the top of the leaderboard all three rounds was Sarah Hokom, who finished in second place for the second straight event. Her final round even-par 67 was enough to keep her well clear of the rest of the field, bringing her to a 4-under par 197 total.
Stephanie Vincent ended up in third after a final round 1-over par 68, finishing at 9-over par 210 overall. Madison Walker and Catrina Allen both matched Vincent's 1-over par 68 final round to finish tied for fourth at 10-over par 211 overall.
While Hokom's final round score suggests little drama to the final round proceedings, a closer look suggests otherwise. Coming into the final day, after a big swing in score to end the second round, Hokom trailed Pierce by just three strokes.
That lead dissipated quickly, as Hokom birdied the first two holes and would take three more on the front nine after a lone bogey on hole 10. The early round run was bookended by signature Hokom forehand drives that ended up inside 10 feet for easy tap-ins and took her to 8-under par overall. Pierce, on the other hand, got off to a slow start, going just one down through the first nine, leaving the two tied at the top.
Two holes into the back nine, though, Hokom's round took a turn. On hole 17 her forehand tee shot turned over early and into the edge of the left side rough, but still within 60 feet for a long look at birdie. Her putt fell just short before taking an unfortunate roll left, down the sloped green and into the dense rough. A visibly frustrated Hokom, with no look at the basket, was forced to lay up for the bogey 4.
Though she lost just one stroke to Pierce, Hokom would go on to play the remainder of the back nine at 3-over par, taking three penalty strokes and scrambling to the green with a chance for par or better none of the four times the opportunity presented itself. Pierce, meanwhile, coasted through the back nine, recording three birdies and no bogeys down the home stretch.
Pierce has made her money on the tour this season with her accuracy. Her 72 percent fairway hit rate leads all Open Women's players who have taken part in both DGPT events, while her greens in regulations percentages (39 percent for circle 1, 58 percent for circle 2) also pace the field. Her victories now include a PDGA Major, PDGA National Tour, and two DGPT events, and she sits comfortably in the lead in the DGPT points standings. Hokom is in second after two events, while Allen is in third.
The Disc Golf Pro Tour resumes March 31 at the Nick Hyde Memorial in Rockwall, Texas.