Our first real look at Disc Side gave us a memorable back-and-forth with Ricky and Simon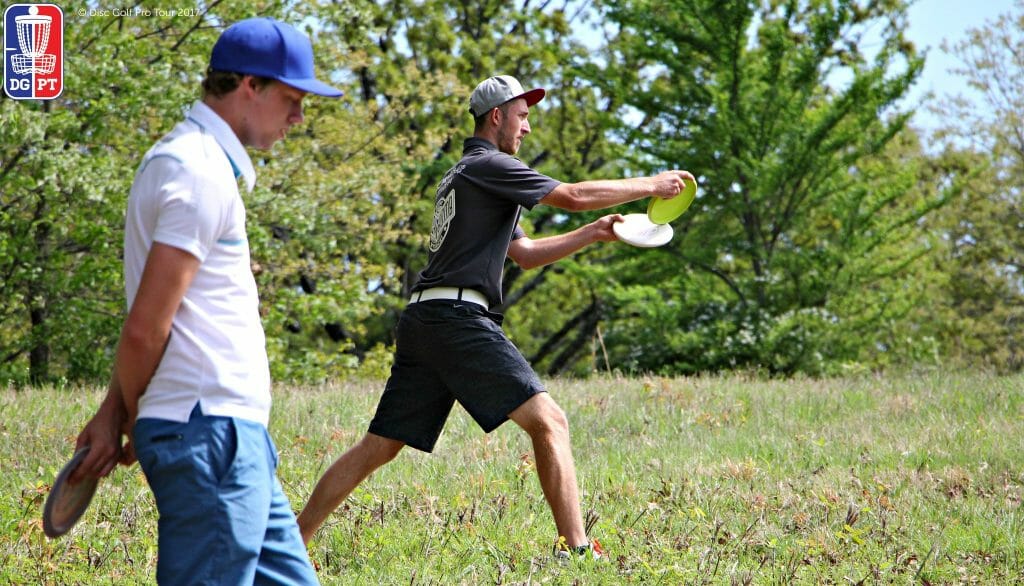 In A Different World without a global pandemic, the Disc Golf Pro Tour is coming off a month-long break and starting the third tour event at The 2020 Jonesboro Open in Arkansas.
This place is the definition of a thrower's course. Don't take my word for it, take it from top player and commentator Jeremy Koling, who stated on the 2017 coverage, "The long throwers are definitely at an advantage out here."
With that said it's not just open fairways for lawn darts. Hilly prairies lie adjacent to extremely thick and tick-filled roughs. Large trees and clumps of woods are perfectly placed throughout to force discs to be seeking missiles rather than mortars. In said different world, the entire disc golf world will be tuning in to see Paul McBeth defend his 2019 Jonesboro title against all the top names in the sport, including Ricky Wysocki who went back-to-back at Jonesboro 2017 and 2018.
Before heading back to the actual April 2020 and landing in the midst of a Bird Box crossed with Contagion reality, fill the flux capacitor with all the table scraps you can find and head back a few years with me. Don't forget those Sports Almanacs. 
Back in 2017 the first time we all saw Disc Side of Heaven will be remembered as the Simon and Ricky battle. It was less of a 1-on-1 battle and more of two superstars doing what they do best in a battle with the course. One shaping long distance drives into perfect position for easy tap-in birdies on the way to his second consecutive Pro Worlds title, while the other went nearly the exact opposite way to nearly the same result. 
The story of the tournament wasn't the player who would eventually win, and probably the world's best player at the time, Ricky Wysocki, but more Simon Lizotte doing Simon Lizotte things. He invented Simon routes right before our eyes as he threw a hole across the opposite direction of everyone else in the field. 
2017 Jonesboro Open Hole 11 Simon Lizotte Drive
Back on hole 8, the easiest hole on the course at only 324 feet with the basket perched just behind a small patch of woods, Simon didn't miss a chance to Simon. The hole was easily birdied by most of the field with a forehand hyzer (or putter anhyzer if you're a Wizard, looking at you JohnE). What did Simon do? Simon Things. He threw a sky roller with a Discmania D Line FD.
2017 Jonesboro Open Hole 8 Simon Lizotte roller
This was all in ROUND ONE!
No need to worry as rounds two, three, and four were no less incredible. Just as Ricky pulled away Simon made an unbelievable final round charge to almost take the win.
Ricky Wysocki was at the peak of his powers and Simon displayed his absolute superpowers. This entire tournament is worth a visit or revisit for those who saw it once and never went back like most of us after a tournament is over. Fans tend to move on faster than the players.
Rarely do disc golf tournaments ever get the Rewatchables treatment,1 lucky for you guys it's all on incredible coverage by Jomez Productions. 
Oh right, Simon also had an ace at this tournament.
Simon Lizotte Jonesboro Open Ace
---
Shoutout to The Ringer ↩