Top-to-bottom, some of the best rounds of golf ever recorded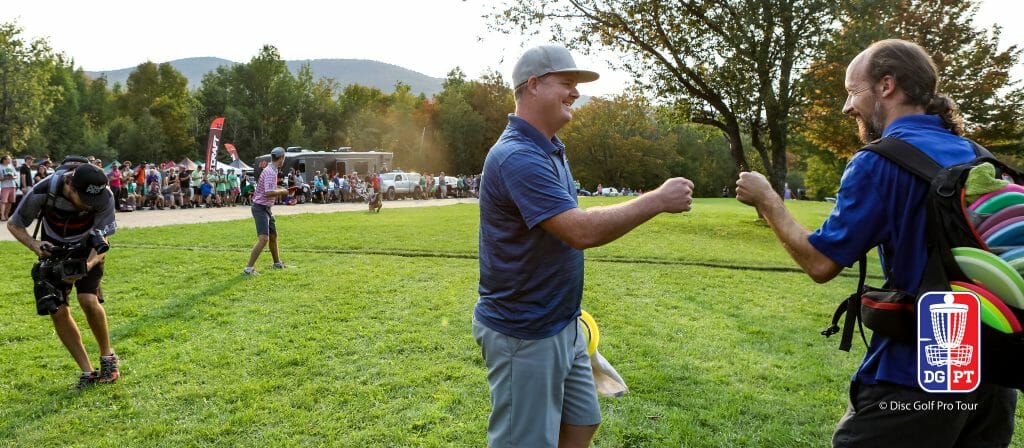 In anticipation of the 2018 PDGA Professional Disc Golf World Championship at Smugglers' Notch Resort, we're throwing it back to last year's Green Mountain Championship in Jeffersonville, Vermont.
The Brewster Ride and Fox Run Meadows courses will have slightly changed for Pro Worlds, but the Disc Golf Pro Tour regular season finale offers us the best look at a relatively new complex on the touring scene.
We'll go ahead and offer a non-apology for having two repeat players featured from the MVP Open throwback in Michael Johansen and Cale Leiviska, because these guys are such a pleasure to watch. You should be thanking us.
To catch-up, Nate Doss and Johansen set the tone of the tournament early by shooting 13-under par 47s during round one at Brewster Ridge. Doss separated himself on the initial play of Fox Run for the second round, where we were also treated to some drama on the chase card with Paul McBeth, whose game looked completely off, withdrawing from the event midround due to injury.
Which is how we get to the final two days, with a round remaining on each course. We get the full display of what Smuggs has to offer — the "birdiefest" of Brewster Ridge where a slightly errant shot can also cause you numerous strokes, and the narrow, bomber fairways of Fox Run that is more reminiscent of Winthrop Gold.
While we'll do our best to sum up the action, you may just want to spend the time to revisit the third and fourth rounds in their entirety, as you get four players all shooting 1052-rated golf or better for 36 holes. Round three may downright be one of the best rounds top to bottom ever recorded. Not only do you see tasty lines being carved through the woods, you also get the jaw-dropping recoveries and Circle 2 putting highlights that forested holes can demand.
And if you want to learn how to throw a mid-range better, this is the best clinic you will find on YouTube.
As we start on hole 1 at Brewster, Doss is leading by three strokes over 4-time defending GMC champion Ricky Wysocki, and four strokes clear of Leiviska and Johansen.  
Doss is slow to start, only going 1-under through five holes, and sees his lead shrink to one. Wysocki continues to put the pressure on like he plans to retain his crown, and goes 7-under par for the front nine and catches Doss by hole 8. Doss is keeping himself around by either pinning a drive next to the basket, or by pulling off massive recovery shots to salvage pars.
At hole 10 though we see a chink in Wysocki's armor, and as he settles for a par, we see the real battle start to come into focus. When Doss gets the birdie, we see who he'll really be battling. It's Johansen, who for the third time in the round cans a putt from outside the circle to take a birdie.
Doss and Johansen would open their back nines with four birdies, MJ adding another Circle 2 putt on hole 12. Every time it looked like Doss was back in command, such as on hole 13, where Doss is in a better than drawn-up position off his drive and Johansen is in trouble from his, Johansen finds a way to return the favor.
Michael Johansen hole 13 recovery
Meanwhile on the card, it's easy to forget how well Wysocki and Leiviska are still playing. They are 9-under and 7-under respectively, and Wysocki is still tied in the lead, but Doss and Johansen are consuming all available energy at this point. Johansen had the audacity to add a fifth Circle 2 putt to his round on hole 14.
Wysocki though picks up a bogey after going OB on his hole 15 drive. Johansen can't get a putt on the same hole. Doss smells blood and pipes his drive 20 feet past the pin for an easy birdie and a two stroke swing on Wysocki.
The lead grew for Doss, and even big shifts in momentum couldn't shake the 3-time world champion. How would you respond to watching two of your lurking cardmates hit these putts on the 17th hole of moving day?
Obviously by serving up a park job immediately afterward.
Doss was the best drive out of a star frame to close the day. Every player would go 11-under par 49, with Johansen shooting a hot round 12-under par 48. The lead was back to three for Doss moving to a vastly different course for the final round.
Fox Run Meadows doesn't set itself up for a player know for placement and woods play such as Johansen. And in the second round that proved correct, as MJ shot four strokes worse than both Doss and Wysocki. So maybe we got the battle to watch wrong.
Doss and Johansen both start slow, 1-under par through four holes. It was at least better than Wysocki who has two bogies and is 1-over for the same stretch. It's Leiviska making the run, picking up two strokes on Doss during the opening.
And on the next hole, it seemed like Doss may be out of gas on the weekend. A bad drive on hole 5 goes out of bounds, and he records his first bogey of the tournament. Leiviska is within one stroke.
But then Doss does the incredible, pulling off the "hero's turkey" as Nate Sexton deems it on the Jomez Productions commentary, birdieing holes 7-9, the only player to do so either round two or four. It was part of a five birdie streak.
Two perfect drives and a chip forehand pinned to the pole on hole 7, the toughest hole to par, lead to the birdie, and a two stroke swing on Leiviska who picked up a bogey. The lead was back to three.
Nothing was over yet though. Johansen would match Doss' birdies on 9 and 10 with Circle 2 putts to pick up where he left off on Brewster Ridge the day before.
And Doss would find another cold streak on the back nine. After he two putts on hole 11, Doss only goes 2-under par for the next five holes, and two putts again on hole 16. Johansen is stacking birdies the whole time, including an outside the circle banger on hole 15 that splits trees to show his putter has not cooled off.
When Johansen gets the birdie on the 16th, Doss' once comfortable lead was back to only one over MJ.
Johansen has control of the box, putting the perfect move on the sloping 400-foot hole 17, leaving him inside 20 feet for an easy deuce. He's been close to breaking before, but Doss again proves he's a world champion by sticking his own big hyzer feet in front of Johansen's.
Danger still lurks on the finishing hole. Both men are safe in the fairway off the tee. Johansen has a long look and needs to park it to keep the pressure on. He buzzes the basket on the approach and flies down the backside of the green, coming to rest near the OB wall. But we've seen him hit this distance all event.
Doss puts any hope to bed by nestling a forehand by the cage.
It was Doss' first major win since 2012, and it was masterful from start to finish.
It also opens up the contender pool for Pro Worlds. It's not all about distance to compete on these courses, and there may be a few names we haven't been considering that will learn how to manage the different tracks.