Has there ever been a card that collectively makes it look this easy?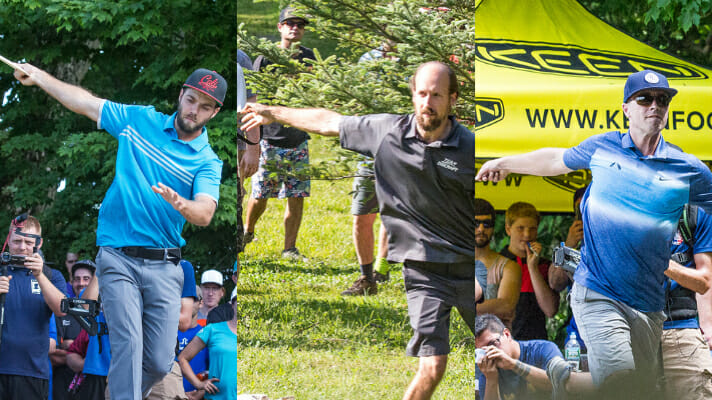 For its first nine years, the different iterations of the MVP Open, nee Vibram Open, nee Maple Hill Open, nee Marshall Street Disc Golf Championship, had a propensity for first-time winners.
The final round lead card of the 2016 Vibram Open was no exception to the rule of new faces. Absent were previous winners and the world's best players, Ricky Wysocki and Paul McBeth, and instead, we were treated to the smoothest card ever filmed: Bradley Williams, Michael Johansen, Cale Leiviska, and Devan Owens.
Going into the last day, Williams held a one stroke lead over Leiviska and Johansen; Owens was four off the lead. What we got to witness was the silkiest round of golf at Maple Hill, with Johansen and Leiviska (who was playing through a recently discovered tick bite and Lyme disease diagnosis) carving backhand lines, Williams doing the same while peppering in forehands and the lefty Owens showing us the unfamiliar routes.
And of course if was a really good round of disc golf that provided both a playoff and some drama.
The magic really starts when the group heads into the forest in earnest for the first time on hole 3, a 365-foot par 3 with a wooded fairway working right before finishing back left at the pin.
Watch the entire card work themselves almost all the way to the basket. Only Johansen wouldn't be able to convert the birdie. At this point, Williams lead was down to one over Johansen and Leiviska.
2016 Vibram Open: Final Round hole 3 Michael Johansen, Bradley Williams
2016 Vibram Open: Final Round hole 3 Cale Leiviska, Devan Owens
Leiviska would make his move over the coming holes, overtaking the lead on hole 5. He'd pad that advantage through hole 10, by which time he'd stretched it to two. Leiviska was able to separate by both puring drives, such as on hole 7, and scrambling out of tough lies, like he did on hole 9.
2016 Vibram Open: Final Round hole 7 Cale Leiviska
2016 Vibram Open: Final Round hole 9 Cale Leiviska
At hole 11, Leiviska again played an approach to perfection, cruising over the rock wall and tight gap into the circle. Unfortunately, he'd clang a short birdie putt off the cage while Williams and Johansen picked up stroke.
2016 Vibram Open Final Round hole 11 Cale Leiviska
Williams and Johansen continued pressing, right on Leiviska's heels, making shots like their drives on hole 13 to keep the Minnesotan within two strokes.
2016 Vibram Open: Final Round hole 13 Bradley Williams, Michael Johansen
Leiviska did have an opportunity to again increase his lead but two-putted on hole 14 when he was the only one with a real look at birdie. He'd come to regret that when on the very next hole both Williams and Johansen would pull within one stroke of first place.
Really though, on hole 15 you need to checkout Owens' flip-up tee shot. Not that Johansen's shot was any slouch either.
2016 Vibram Open: Final Round hole 15  Devan Owens, Michael Johansen
Williams also found himself in position to take control down the stretch on hole 16 as he laced his drive inside Circle 1 out of the hairy fairway. He was not able to convert the birdie putt as he was left with a stretch-out from a knee behind the one tree left near the green.
2016 Vibram Open: Final Round hole 16 Bradley Williams
On the big anhyzer drive on hole 17, Leiviska found trouble off the fairway. Johansen and Williams proceed to shape their drives perfectly for an easy approach and birdies. They both pick up a stroke to make it a three-way tie for first with one hole to play.
2016 Vibram Open: Final Round hole 17  Michael Johansen, Bradley Williams
Hole 18 is well known for its stone-walled, spectator-rich, island green, and sap house backdrop. But even before the treacherous approach on the par 4, you have clear a tree gap and land on the right side of the fairway to get an unobstructed view to the basket.
For Leiviska, he played himself out of contention by not turning his drive enough and having to lay-up before going to the green. Granted he almost threw in his third shot. With both Williams and Johansen in proper positions off the tee, the two finessed putters into the landing area and cleaned up birdies to tie for the lead after 18 and force a playoff.
2016 Vibram Open: Final Round hole 18 Bradley Williams
The playoff started with the smoothest move of all: a class Johansen walk-off with the disc still in flight, well before it finds it's landing spot.
2016 Vibram Open: Final Round hole 1 playoff Michael Johansen
Williams and Johansen were then able to float picture-perfect putter shots into the wooded mouth near the green to push another hole.
2016 Vibram Open: Final Round hole 1 playoff Michael Johansen, Bradley Williams
With hole 2 a wash, it was back to hole 1. Both players got enough distance off the box to leave the same causal approaches we've seen them park all day and just a few minutes prior.
And here is Johansen's first mistake of the day that, unfortunately, gets some added bad luck. Looking straight at the pin, Johansen holds onto his disc a skosh too long, pulling his shot right. And what looks like it will be a long look at a birdie nestled against a rock wall, instead turns into the disc skipping OB over the wall in a wild reaction. You can even hear Johansen say aloud, "Oh weird."
2016 Vibram Open: Final Round hole 3 playoff Michael Johansen
Wait, was that something else moving near the disc when it hit the wall/ground? Was that a chipmunk?
2016 Vibram Open: Final Round hole 3 playoff Michael Johansen chipmunk
In what would go down in disc golf lore, Johansen's shot partially skipped off a chipmunk to go OB. He would settle for a five while Williams would lay-up for the win.
The 2016 Vibram Open remains Bradley Williams' highest profile win. And what was certainly one of the smoothest, collectively thrown rounds of all time (seriously, is there any card of current top pros who make it look this easy?) ended in a decidedly abrupt, but certainly memorable, manner.