Final Round Recap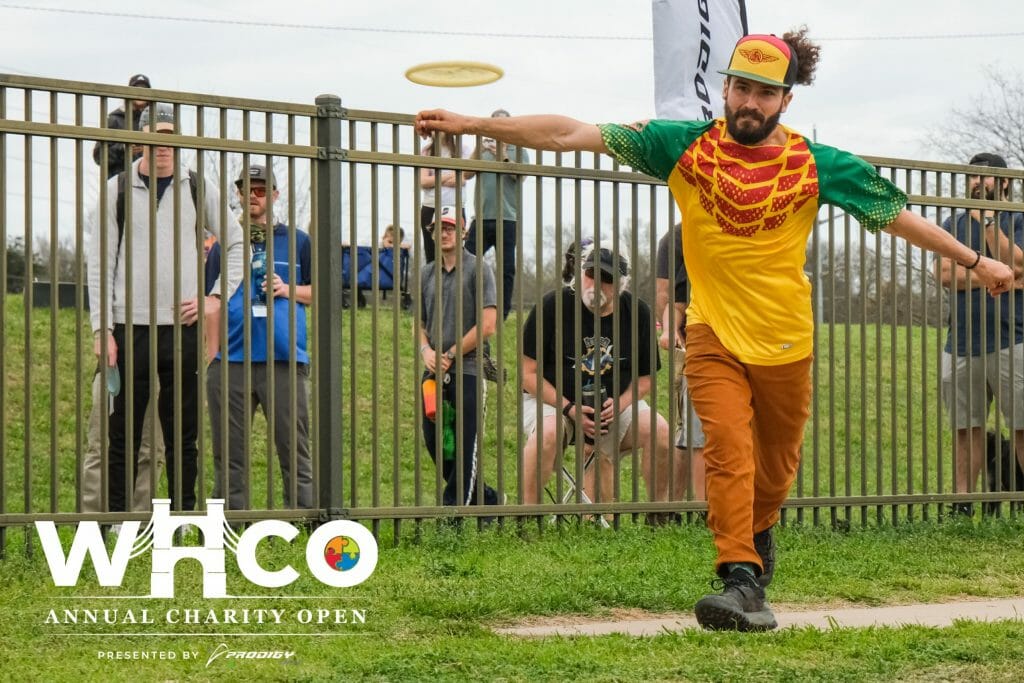 Just one month ago, Nikko Locastro had to withdraw from the Disc Golf Pro Tour All-Stars Event and the Las Vegas Challenge after injuring his hand by accidentally punching a soda machine. At the Waco Annual Charity Open, Locastro's first event back on tour, he sounded grateful just to be playing again. 
From day one, it was clear Locastro was there to do more than just play: he was ready to compete. With the injury not appearing to be a factor, Locastro took home first place with three consistent rounds on the Brazos East course AKA the bEast.
"It means the world to me to be out here. Truly, it means everything to me," said Locastro, after tapping in his final putt to seal a three stroke victory at 26-under par.
Going into the final round, Locastro had just a one stroke lead over a tight field. After seven holes, that lead had grown to six and it looked like he was set to run away with the win. In those opening seven holes, Locastro was parked twice and had a Circle 1 birdie putt on the other five. He was able to convert all five of those putts for birdie and looked unstoppable from the tee and strong on the green.
Everything changed on hole 8 when he missed a C1 putt and took his first par of the round. Cale Leiviska birdied to cut Locastro's lead to five, offering a glimmer of hope for a comeback. Locastro went on to miss four inside-the-circle putts over the next six holes, both in and out of the woods, going 1-over par in that stretch. Over those same six holes, Leiviska did not miss a putt and carded three birdies, slashing Locastro's lead to one. 
Going into holes 17 and 18, two of the most difficult holes on the bEast, it seemed Leiviska had all of the momentum on his side. Teeing first, he put his drive on 17 in the ideal landing spot, looking straight toward the basket for his approach. Following that throw, Locastro put his drive into the ground early. An impressive forehand approach still could not get him to Circle 2 while Leiviska executed a straight backhand shot into Circle 1. 
Ignoring all of his previous misses, Locastro told himself, "Go for it, make it, stop playing around." This self-motivation must have been enough, as he was able to launch a spin putt in from 77 feet and maintain his one stroke lead over Leiviska going into the final hole of the tournament.
At this point, Leiviska was 11-under par and on pace for the best round of the day for the second round in a row. Taking the aggressive line over the water on the final hole, Leiviska still found himself over 100 feet from the basket. With Locastro set up for a tap-in par, Leiviska was forced to run the basket; he ended up with a five on the hole and a 9-under round total. Leiviska was the best player in rounds 2 and 3, but it was not enough to make up for his stagnant 4-under first round. He finished the tournament in second place at 23-under par total.
In 2020, Locastro won The Preserve Championship at a wide-open course that required big distance. Winning WACO this year shows that he can manage the woods as well. But he still feels like he's fighting for respect.
"Don't let anybody count you out," said Locastro after the round. "A lot of people didn't really clap for me out here. And I thought it was a little bit upsetting. I felt like maybe the people didn't want to see me win."
Locastro led the field in finding Circle 1 and Circle 2 in regulation and was second in fairway hits. He only attempted four Circle 2 putts on the weekend and connected on three, all in the first round.
Bradley Williams' bogey-free final round secured him a third place finish at with a 22-under par total for the weekend. It's the Texan's best finish at an Elite Series event since he won the 2016 then-Vibram1 Open at Maple Hill. Calvin Heimburg moved up two spots into fourth place at 21-under par, and Austin Hoop and Paul McBeth tied for fifth at 19-under par total. 
---
now MVP ↩