Virginia pro comes up just short after course record-breaking performance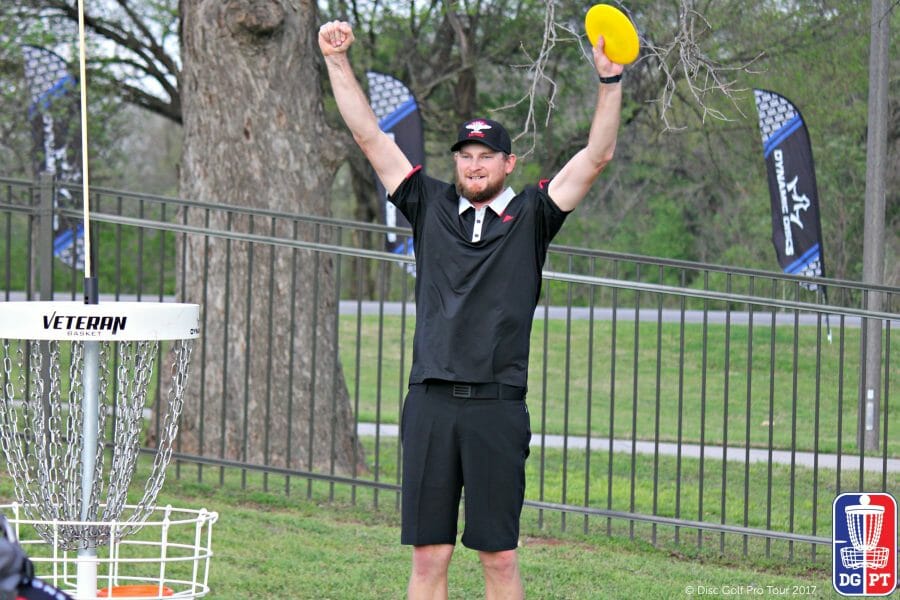 Jeremy Koling's mentality heading into the final round of the Waco Annual Charity Open on Saturday was simple: win the card, win the tournament.
It was a sound strategy, and one that he executed as planned with a bogey-free, 12-under par 55 round. But it also failed to account for one other possibility: a record-breaking performance from the chase card.
James Conrad's 1064-rated 15-under par 52 set a new Brazos Park East mark and pushed the tournament to a playoff, but his first tee shot of extra frames landed out of bounds. That left the door open for Koling, who took yet another birdie to oust Conrad and collect the $2,810 purse.
Conrad's second place showing was his highest of the season so far and netted him $2,070, while Simon Lizotte and Ricky Wysocki battled to a third place tie with 31-under par 170s. Miles Seaborn, whose final round was one off of Conrad's pace, tied for fifth place with Gregg Barsby, the pair's 30-under par 171s earning them $1,080 each.
The victory was Koling's second on the season, his first coming in early February at the B-Tier New Zealand National DG Championship. With this weekend's Texas showdown sporting a stronger field and A-Tier status, though, the win brought greater significance for the North Carolina native.
"I didn't really feel like I had to come out this season and prove anything to anyone," Koling said. "But to myself, I didn't want to not have any wins to speak of this season and [have] people maybe in the back of their minds think, 'Should he have left Prodigy? He did well with Prodigy, why did he leave when he was doing so well?' So in a way, it does kinda take the monkey off the back and kinda keeps the streak alive of having one big win a season."
It also represented Koling's most consistent effort of 2017 thus far. Having sprinkled in 1078 and 1075-rated rounds at the Gentlemen's Club Challenge and the Memorial, respectively, Koling had offset those performances with rounds rated in the 900s at both events. This week, he averaged a shade over 1042 golf and only two bogeys.
"My play this year has been so inconsistent from tournament to tournament, firing off rounds that I'm really pleased with and firing off rounds that are, like, stuff that I don't even know who I am," Koling said. "So it's been a little bit frustrating at times. So that's what I was looking for this weekend, was three consistent rounds."
Though it resulted in the win, the last of those three rounds was marked by moments of that same inconsistency. Koling traded birdies for pars through each of the first six holes, at times puring lines and at others scrambling for recoveries. Still, similar performances from those on his card – Lizotte entered play two strokes behind Koling, but struggled in the woods and was not able to make a dent early, while Wysocki came into play one behind and fell a second shot off the pace through six – kept his lead safe and added to his confidence.
Little did Koling know, though, that Conrad was making moves. Just one hole ahead of Koling on the course, Conrad came out on fire, carding birdies on the first seven holes to tie for the lead. A par on hole 14 – which was playing as the tournament's eighth hole – dropped him one back of Koling again, but an eagle on the tightly-wooded, 519-foot par 5 hole 15 found Conrad matching Koling with half of the course still to play. Another birdie took him to 10-down through 10 and gave him the outright advantage by a single stroke.
"I knew at that point I probably had closed the gap, at least, if not taken the lead," Conrad said. "Then I saw one of the live coverage cameras shift over to our card, and that gave me a good idea that I at least had tied it up or had taken the lead."
Even with the on-course media shifting its gaze to the Virginia pro, Conrad said he remained focused.
"I think I was able to keep it together pretty well," Conrad said. "The disc was coming out of my hand really well yesterday, so I just tried to stay in the same kind of positive mindset I was in and keep it rolling."
He did that with another hot streak, carding birdies on holes 18 through 3. And on that same stretch, Koling began to struggle with the putter, missing consecutive birdie attempts on holes 1 through 3 to fall three shots behind Conrad on the leaderboard.
Hole 4, playing as hole 16, saw Koling get back on track. After laying down a huge roller with a Champion Roadrunner to put him just outside the circle's edge, he converted on the putt for eagle, giving a big fist pump and closing the gap to two after Conrad's birdie.
On hole 5, a 610-foot par 4 that curves around a corner and has water on the left, Conrad made his first major mistake of the round. Faced with a slight turnover line to put him near the basket, he left his long approach without enough juice to bend toward the pin, landing in the water and taking a bogey 5. Koling, meanwhile, put his sidearm approach within tap-in birdie range, and the score was yet again tied.
On the tournament's final hole, which gives players the option of a safer route to the left or an aggressive route over the water, Conrad played safe and cleaned up a birdie. Koling opted to run the water, but left his shot too far to the right for a close enough look for eagle and laid up for the three, pushing the two to a playoff.
"I didn't know what holes we were gonna play in the playoff, but I certainly felt like my chances were much better at playing a hole from the beginning than making a 78-footer into a headwind and maybe the disc lifting and giving me a 25-foot [comeback]," Koling said. "I didn't want to do anything stressful, so that was a pretty clear decision to lay it up."
The holes Conrad and Koling were slated to play – 3 through 6, until a winner was decided – did impact Conrad's approach to the playoff, he said. First on the box on hole 3 – a 558-foot par 4 — because of his hot round, and knowing that Koling had eagled hole 4 earlier, Conrad decided to play a Destroyer off the tee in an effort to give himself a look at eagle and salt away the win in one fell swoop. But it flexed out early, then rolled up and into the out of bounds road that ran parallel to the fairway.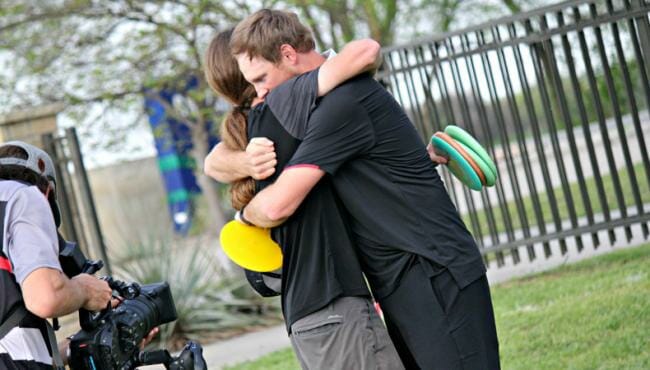 "Had that Destroyer held the turn a little longer, or at least just checked up and not skipped out into the road, I think I would have had a decent chance of taking it there," Conrad said. "I'm happy with the decision I made. I knew Jerm had birdied the following hole — or not birdied, eagled it, twoed it — with a big roller, and I hadn't gotten that one too close yet. So I was just trying to finish it on the first one if possible."
Instead, it was Koling who finished it. After a safe tee shot, he put another signature sidearm approach to within 10 feet. After Conrad's admirable bid to save birdie caught the low side of the chains but didn't stay put, Koling tapped in and thrust two arms in the air to cap the triumph.
After the victory, Koling circled back to his mindset entering the final and heaped praise on the competitor who almost made his words come back to haunt him.
"I felt comfortable that if I shot the hot round on the card I was on that – because of who was on the card, with Simon and Ricky and Gregg and their ability to shoot hot rounds — if I were to beat those three guys, that that should be good enough to hold off second card as well," Koling said. "And I did shoot the hot round on the lead card, and it almost wasn't good enough. James just shot the lights out. One mistake on 17 from shooting 17-down, which is just remarkable."
Aside from the normal accolades that come with a win, Koling's performance reaped additional rewards: He climbed from 12th place to second in the Disc Golf Pro Tour's points standings, where he sits tied with Wysocki. Conrad moved from 21st place to fifth, while Lizotte's third place tie – combined with his second place showing at the Memorial – has him in first place.
The Pro Tour stays in Texas for the Nick Hyde Memorial in two weeks, and Koling will look for consecutive victories at this weekend's A-Tier Open At Temple. But before then, he'll likely take some much-deserved rest.
"For me, the positive stress and all the stresses that come with playing a in tournament — especially when you're in the lead and trying to protect the lead – it's mentally exhausting," Koling said. "It's really relieving, but at the same time it's exhausting. After the tournament is over, I know that a lot people are going to come up and congratulate you and give you high fives and say 'Job well done,' and all that, but honestly in the back of my mind all I wish I was doing was just lying down and sleeping. I really just want to find a bed and be by myself for 30 minutes and decompress and get my bearings, then I can go back and be social. It's a tremendous sigh of relief at the end."