A flurry of action made for an intense final round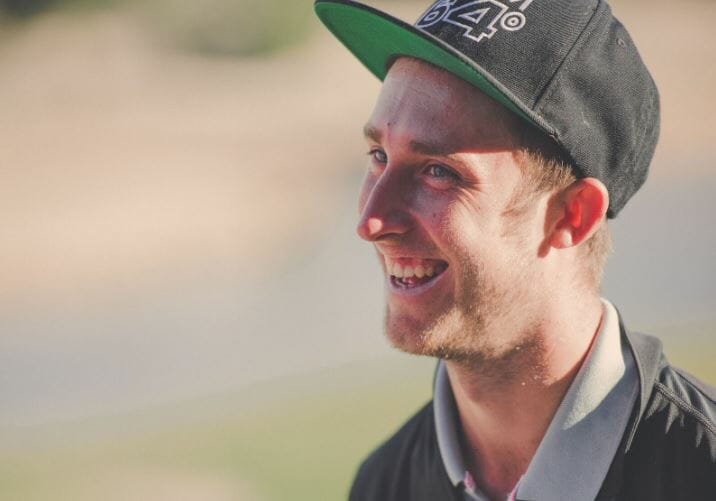 HENDERSON, Nevada – As soon as he turned his back on the rest of the card to tee off for the final round yesterday at the Gentlemen's Club Challenge, Ricky Wysocki seemingly activated a target on his back that rivaled the illumination of the towering neon of the nearby Las Vegas Strip.
The assaults on his lead were numerous and unyielding, with Paul McBeth and Eagle McMahon unleashing highlight reel drives that kept the gallery at a fever pitch. But as that action reached a mid-round crescendo, the reigning PDGA World Champion remained steady and leaned on the lead he had built over the previous three days, his face never showing signs of the mounting pressure or the narrowing of the margin on the scorecard.
In the end, the reliance on his familiar game plan was successful. Despite McBeth throwing an 11-under par 49 and shaving five strokes off the lead through the final round, Wysocki emerged victorious, his 6-under par 54 bringing him to a 33-under par 202 total and a two shot victory for the $3,000 purse.
Eagle McMahon's final round 54 kept him in third place with a 27-under par 208 total, while JohnE McCray tossed and even par 60 to secure fourth place with a 22-under par 213 weekend. Nate Sexton, Cale Leiviska, and Jalle Stoor shared fifth place with 21-under par 214s, while Paul Ulibarri, Bobby Musick, and Austin Turner tied for eighth place with 20-under par 215s.
After the round, Wysocki was just as amazed by the flurry of action in the final round as the spectators were.
"Gave you a show, for sure," Wysocki said with a laugh.
That show was one that certainly racheted up in intensity throughout the round. Though he hedged when asked if he was ever getting nervous – "Ah, not real – I mean, clearly a little bit," he allowed – Wysocki was clear that his repeatable, efficient style was the key to his win.
"I was just glad to have stuck to my game plan the whole time and, you know, not deviate at all," Wysocki said. "Paul and Eagle were making great shots, but it doesn't mean I have to take the aggressive shots like they were doing. I had enough cushion to play my own game."
It wasn't always comfortable, though. From the time their names were called on the first tee of the Wildhorse Golf Club's Innova Course, the hunt was on. Both McBeth and McMahon came out with booming drives, but neither was able to convert on their bids for birdie, with McBeth's try into the wind teetering offline.
Hole 2 saw McMahon begin to heat up with a huge spike hyzer to land next to the basket for a tap-in birdie. McBeth also put his drive – straight down the gap with a midrange – in close range, while Wysocki's drive landed beneath a shrub about 35 feet from the pin. While it looked as if the pair of chasers was about to take a stroke on the leader, Wysocki took a knee, then fell to the ground as he fired his putt toward the chains. He popped back up and sprinted toward the basket before it even hit the chains, confident in the aim that resulted in him matching with a birdie.
The next hole brought an uncharacteristic mistake for the leader, though, as Wysocki missed the island on his drive and went out of bounds. McBeth did the same, while McMahon was able to land safely for his second birdie in a row.
Hole 4 brought a birdie for McBeth, as he was the only one on the card the use the rubber teepad (as opposed to the dirt side) and left his shot clean. He then launched a 500-foot crush on hole 5, but it skipped long and went out of bounds. He missed his par save, while Wysocki took another safe drive and approach to take par and recapture the stroke he lost from the prior hole.
Then, some intrigue.
Faced with a picturesque, but very reachable, island on hole 6, Wysocki again misfired and went into the drink. With McMahon and McBeth both placed safely within birdie range, Wysocki was faced with a 45 foot death putt — the basket was perched mere feet from the water, and a headwind was whipping — from the drop zone. Make it, and he loses a stroke, but stems the tide. Miss, and go for a double bogey swim.
He did what he does, putting his Dagger right in the center of the chains to save par.
"I knew that I had two options: either just to lay up, or go for it, and I had to make my mind," Wysocki said. "There was no half-run, half-layup. That's when you go in the water, so I just think that was a big momentum shift for me as far as playing my game plan, is to only lose one stroke on that hole. Because it could have been a lot worse."
Still, McBeth and McMahon continued to charge. On hole 7 — a 560-foot par 4 with a water carry, an out of bounds green in the front of the pin, and sand trap hazards on either side — McBeth threw a long line drive that came in hot and skipped to 20 feet past the basket. Employing the straddle putt that he said was working better than his standard stance, he hit the chains for eagle, his second on the hole during the tournament.
"It was pretty up there close to full power," McBeth said. "It has to be a golf line because of those greens. If you come in [with] any kind of hesitation, landing on that green it'll stick a little. But if you've got some speed and momentum going on a low line, they'll just glide right across it. I hit it perfect and it looked like it hit the pin from the teepad, but it's hard to tell from that far away."
McMahon also went big, but faded out of bounds and settled for bogey. Wysocki chipped away and took a birdie, but it was clear McBeth was beginning to find his groove.
Hole 8 cemented that sentiment, as McBeth played the wind perfectly to put his drive next to the pin for yet another tap-in deuce. Wysocki, not shifting his stride, took the safe par, but the three hole stretch from 6 through 8 saw McBeth take a stroke on each as he continued to whittle away at the lead.
McMahon took another turn at Wysocki on hole 9, skipping to the 538-foot pin with a PD2. The drive kicked back a little and he converted from 20 feet for birdie, while the rest of the card took their pars. On hole 10, McMahon skied a roller that landed about halfway down the 715-foot fairway, then it rolled all the way past the basket wide left. Another hole, another birdie.
"That kinda was how my round was going, just going all out throwing distance shots," McMahon said. "So it was a lot of fun."
McBeth also took a birdie on the hole, while Wysocki parred. The sequence was becoming familiar, and Wysocki's lead was shrinking. A margin that started at six over McMahon and seven over McBeth was now at five and three, respectively.
Wysocki was able to stop the bleeding with a birdie on hole 11, while McMahon gained another on hole 12. McBeth missed an opportunity there, splashing out on an easy birdie look, to keep the gap at four.
And then, the momentum shifted.
Wysocki played a safe drive on the 368-foot hole 13, a slightly uphill shot where the basket is again protected by a sand trap hazard and OB on the right. McBeth, smarting from his missed putt on the previous hole, stepped up to the tee and crushed his Champion Thunderbird on a right-to-left line, sailing right into the center of the chains for the only ace of the tournament. A shockwave went through the gallery as the shot took Wysocki's lead down to two.
"I was actually trying to put it in the basket, because the hole before I just missed a really short putt," McBeth said. "Basically a gimme in those situations and missed it short, and I knew the only real line on that hole is to go for it…It was run at the basket and play it long, and it just floated in there perfect."
Wysocki, though, showed no ill effects. He continued to take his efficient approach, matching birdies with McBeth and McMahon for the next two holes to keep his lead intact.
"Like I always talk about, [McBeth] switched the momentum real quick," Wysocki said. "That ace — it was a great shot, don't get me wrong. But I knew, in the grand scheme of things, if I stick to my game plan I'm setting the pace."
Even with that mentality, Wysocki wasn't afraid to go for the kill shot. After taking a nice placement drive on the par 4 hole 16, he displayed rare aggression, aiming his approach shot on a rope over the OB green and into the hillside that housed the basket, parking his shot for birdie and, more or less, sealing the tournament.
"I was just paying the odds there on that one," Wysocki said. "If I just three out…I had a good chance of winning. I was well aware of the situation and I just knew that I had two choices when Paul started getting all the momentum. I could get rattled, or just stick to my game plan and know that I've still got strokes to play with."
With the lead still held at two, McBeth simply ran out of chances. The pair each took pars on holes 17 and 18, with Wysocki displaying a familiar fist pump after securing the win.
Though his efforts at the comeback came up short, McBeth said he was leaving Las Vegas with confidence. He attributed his struggles early in the tournament to a lack of confidence in his putting, which made him take riskier lines off the tee in an effort to get closer. After switching to the straddle putt, he grew more comfortable with his short range game, and he expects to take the same approach at the Memorial Championship this week in Arizona.
"To get my putt where it was took 10 years," McBeth said. "But then having a year off of struggling and things changing, it's gonna be a little bit to get it back to that point. Straddle's just easier because it's mostly just arm movement, and then the weight's evenly distributed with my legs."
McMahon, meanwhile, was pleased with how he rebounded from his Aussie Open heartbreak last month.
"Overall it was a positive experience, and I feel like the two best spots are first and third, because second's kinda that awkward waaaaaah," McMahon said. "But I'm happy with third going into Memorial. It's a good way to come back after Aussie."
Sexton, who used the final round to move up from eighth place to fifth, said a lack of familiarity with the GCC courses had an impact on his tournament. The improvement, though, had him looking toward the Memorial – where he finished in second place last year – with excitement.
"I feel a lot better there than I do here," Sexton said. "I made a lot of mistakes here — that I'm sure everybody did — just due to not remembering where the OBs were coming in with just one quick run through. So there were definitely times where I felt I could have played better if I had another practice round."
Wysocki has now won the first two big events of the season, but he heads into the third with a bit of a monkey on his back. Despite his elite level of play the last few seasons, he's never won the Memorial, and his career high finish was fifth place in 2013.
"I think it's something to do with putting too much pressure on myself," Wysocki said. "I call myself a local there compared to anywhere else I go because I spend the winter there, so I think it's kinda like the hometown crowd, a little bit of me feeling like I have to play well because I know the courses so well. So I think it's a little bit of everything, so I'm looking to getting that out of my head and starting fresh."
The Memorial, which serves as the first event of this season's Disc Golf Pro Tour, begins Wednesday.