Experience prevails in pressure-packed final round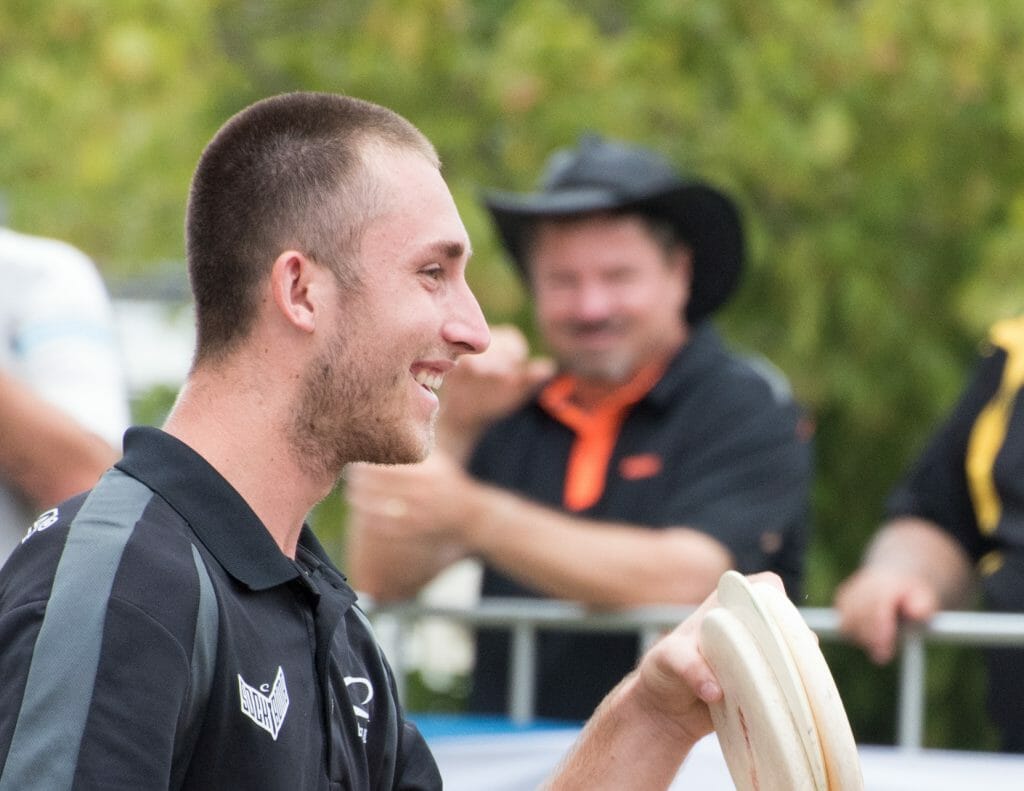 As the holes ticked away during the final round of the Aussie Open, Eagle McMahon clung to not only a slim lead, but also a slim margin for error. By hole 5, the three shot lead he held over Ricky Wysocki at the beginning of the day had shrunk to two. By hole 12, the gap had narrowed to one stroke.
Wysocki, meanwhile, continued to pile up birdie after birdie, turning the screws until his young rival was ready to break.
"I had a feeling it was gonna come down to 18 like it did, and I knew it's the possibility of a two-stroke-swing hole," Wysocki said. "I was lucky enough only to be down one going into that hole, and I threw first, and me throwing first and getting it right next to the basket – I'm inside the bullseye — I think put a lot of pressure on Eagle."
It was pressure that resulted in McMahon leaving his drive out of bounds. And as quickly as the disc left his hand, so did his dream of winning his first PDGA Major.
Wysocki converted his birdie putt to put a bow on a stunning comeback victory, his 16-under par 49 contributing to a 48-under par 212 total and a one shot win over McMahon, whose 12-under par 53 on the day left him in second place at 47-under par overall. Paul McBeth finished strong with a 14-under par 51 final round to leave him in third place with a 38-under par 222, while Manabu Kajiyama's 34-under par 226 was good for fourth. Philo Brathwaite's 31-under par 229 rounded out the top five.
Wysocki's bogey-free, 1096-rated round was only one off the Mundaring DiscGolfPark course record he established earlier in the week. It was highlighted by a stretch of 13 consecutive birdies from holes 3 through 15.
"We knew it was gonna have to be a birdie fest to win," Wysocki said. "We knew one of us, whoever wanted to win, had to shoot almost perfect because the other person was probably gonna do that."
McMahon did his best to keep pace with separate runs of six and four straight birdies on the day. His birdie on hole 16 gave him some insurance, increasing his lead over Wysocki to two strokes with two holes to play. And even on hole 17, when he put himself in difficulty by sailing his drive out of bounds, he recovered to save par with a 45 foot putt.
He took a one shot lead into hole 18, his first PDGA Major victory waiting for him 311 feet down the fairway. That lead evaporated as soon as his drive landed out of bounds for a second straight hole, just outside the back right side of the island green. A run from the drop zone was unsuccessful, and a Wysocki birdie putt left McMahon seeking sanctuary in solitude as he found a quiet place deep in the course to digest what had happened.
"It was a choke on the last hole," McMahon said. "I had it. All I had to do was park a 310-foot hole uphill with an overstable disc. That's all I needed to do. Nerves got the better of me, and that's the main thing I'm kinda struggling with in my game right now is dialing back the nerves. It's just something that's really hard to do. It was so close I could taste it, but then in the snap of your fingers it was over and you were in second place. It just happened so fast."
Still, McMahon was able to find the silver lining in the struggle.
"The conclusion that I came to is that Ricky is just annoyingly good," McMahon said. "I mean, I averaged [a] 1065 [rating] and that didn't cut it. I mean, what more can you do? I played incredible."
The result was one that showed the importance of experience. Wysocki, who won a PDGA Major in 2011 at the age of 18, has worked for years on elevating his game consistently to the level that was on display in Australia. A round in which each player pushes the other to the breaking point is now one where he thrives.
"I've been in his spot before, and it's really hard to get over the hump of that first tournament," Wysocki said. "I kinda knew that, and I knew in my head that he's a young player, and I knew that my patience – if I focused and played to the best of my ability – my patience is gonna prevail in the end. I'm not saying he's a bad player because clearly he's unbelievable. He's got great talent, but it's a lot of pressure to get that first Major win and I knew that coming down the stretch."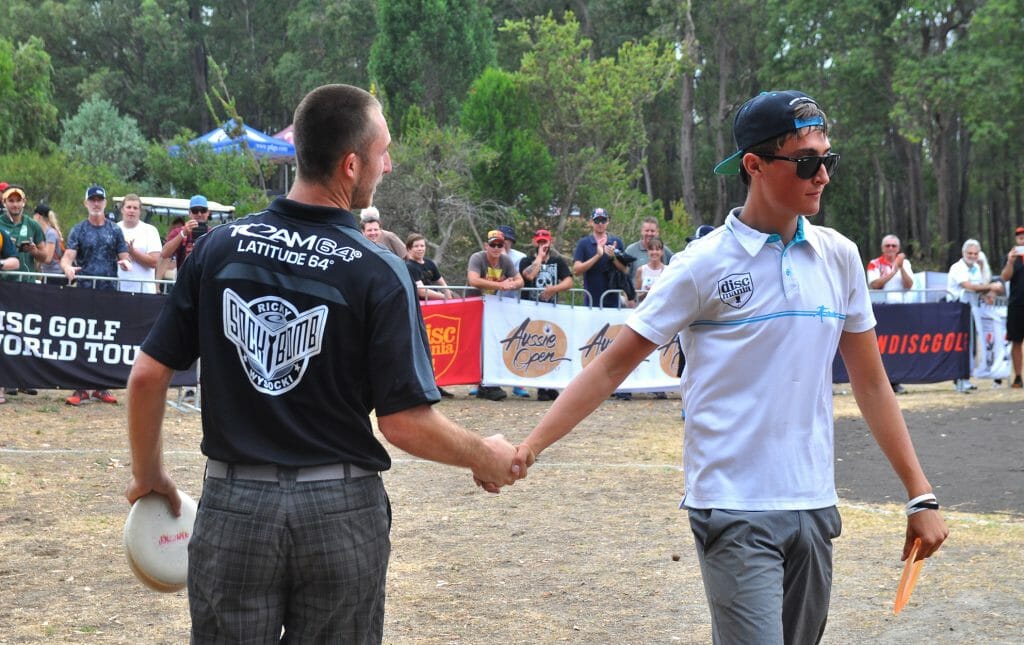 While Wysocki gets to enjoy the spoils of his third Major win in six months, McMahon is now left to pick up the pieces after a second disappointing Major finish in a row. His more experienced cardmates, though, expected him to bounce back.
"That's how Rick was early in his career," McBeth said. "You can see where Rick's at now, and he'll probably take it the same way and just move on from it and use it as fuel. He'll definitely learn a lot from it."
Wysocki shared that sentiment and said McMahon could take solace in the fact that plenty of others had shared his experience. But he also cautioned the young pro to not take anything for granted.
"That's disc golf, and all the top players have been in his spot before and I'm sure he'll come back stronger than ever," Wysocki said. "Sometimes you've gotta re-spark that momentum that you know you have inside you…I actually heard him talk about how it's gonna be easy in a few interviews, and nothing's easy. No matter what sport you're playing at the professional or top level, nothing's easy and you've gotta fight for everything, and if you don't you're not in the right attitude. I think this is gonna give him a little wake up and show him that there's nothing easy. You've gotta fight for everything and there's nothing else to it."
Just an hour after the event ended, McMahon said he was ready to move forward.
"I want to take it as a learning experience," he said. "Take it as a learning experience, and then just try to forget about it as soon as possible. As soon as I forgot about USDGC everything was fine. It'll be a similar scenario here. I just want to get out and play the next tournament and keep on moving."
McBeth was also looking forward to the next big event – the PDGA's National Tour kickoff at the Gentlemen's Club Challenge in Henderson, Nevada, in February – after a week in which he struggled early but finished with a solid showing that included his second eagle on the course's 1,230-foot 16th hole.
"It was really just knocking off some rust," McBeth said. "I just mainly couldn't get the putter going, really, and then driving-wise I went out of bounds too many times early…Finishing the tournament the way I did is a very big confidence boost leading into the rest of the year."
Wysocki hoped starting the season off in dramatic fashion would send the message that his stellar 2016 would roll into the new year.
"If there was any question, I'm still 100 percent focused on playing great for the next ten years of my career, or however long it is," Wysocki said. "I'm just glad to come out this year and really make a statement and show people I'm still gonna be around. There's a lot of young guns coming up, but I'm still here and I'm feeling as good as ever."