McMahon still leads after memorable round 2 battle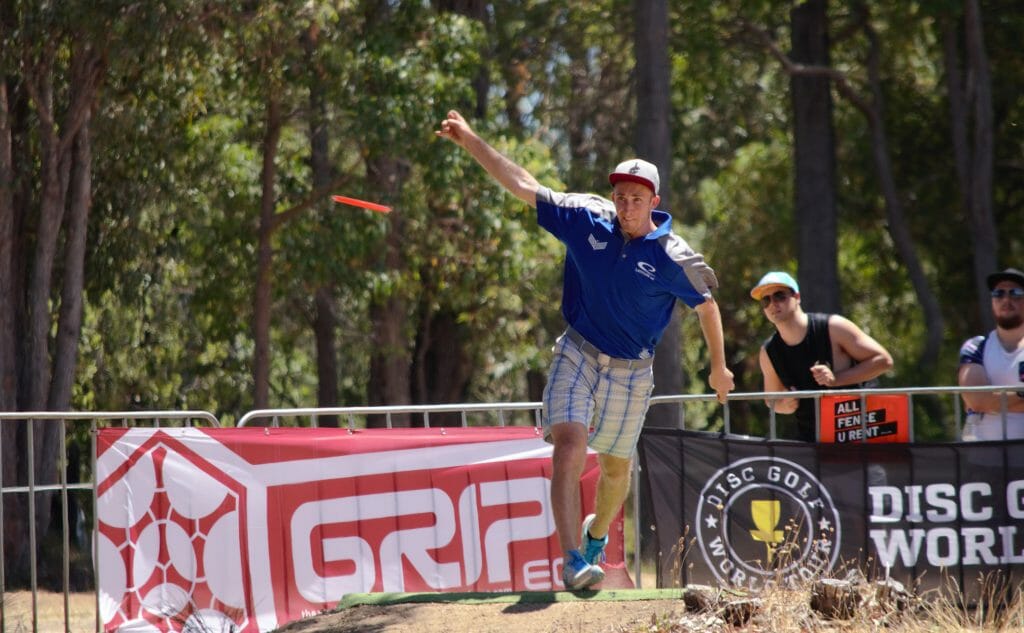 For someone who had just shot a near-perfect round, Eagle McMahon sounded conflicted.
"Extremely bittersweet right now," McMahon said minutes after the second round of the Aussie Open came to a close yesterday. "I don't even know how to feel because I just shot the best round of my life, and I lost a stroke to a person who just absolutely shredded. So did I."
That's what happens when you come up against a buzzsaw in the form of a world champion.
Ricky Wysocki obliterated the Mundaring DiscGolfPark course record with an incredible 17-under par 48 during the Aussie Open's second round, just notching McMahon's 16-under par 49 in a back-and-forth thriller. McMahon still leads with a 28-under par 102 total, though, as Wysocki lurks a mere three shots behind with a 25-under par 105 total heading into today's third round.
Paul McBeth, who improved on his round one performance but still struggled to score consistently, is in third place with an 18-under par 112 total, while Japanese champion Manabu Kajiyama settled into fourth place with a 15-under par 115 total. Pasi Koivu rounds out the top five at 13-under par.
RELATED: Pierce Doubles Aussie Open Lead In Round 2
The tournament has effectively become a two horse race, but early in the round it looked like one might run away from the pack. McMahon began the day with five consecutive birdies, coming hot out of the gates in a stretch where Wysocki only answered with three of his own and McBeth shot even par. Relying on pinpoint accuracy and consistent putting, McMahon appeared to be pulling clear of the field.
"I thought at that point, 'I'm destroying everyone,'" McMahon said. "But when Ricky hit the eagle, that's kinda when the momentum turned."
That eagle came on hole 6, a 190-meter (653-foot) par 4 that sports a slight right-to-left bend and OB in the middle of the fairway. After spending the entire round second on the tee, Wysocki said he knew it was time to push the pace and chose to throw a roller in the hopes of outdistancing McMahon.
"He threw a great shot and he was about 100 feet short, so I had to do something to give myself a look because he'd been birdieing and birdieing," Wysocki said. "I figured a birdie was probably gonna push, so I told myself, 'Alright, I'm at least gonna give myself a chance to gain a stroke.'"
His drive ended up roughly 70-feet from the pin, and he promptly drained the putt to scrawl a 2 on the scorecard to McMahon's 3. McMahon then hit a tree on the approach to hole 7, causing him to relinquish another stroke after Wysocki took an easy birdie.
From there, it was game on. While McMahon still held a four shot cushion, he and Wysocki traded birdies for the next 10 holes. McMahon flipped the script and hit his own long putt to seal the deal on hole 12, while Wysocki landed on green after green as the temperature rose. Both were playing unconscious, and McMahon was still trying to make sense of the chaos after the round.
"I don't even know if I was thinking because the heat was just getting in my head," McMahon said. "I think I was just pretty much dead out there, just playing disc golf at an extremely high level. I don't even know what's really going on right now."
The drama ratcheted up as the two approached 13-under par, the previous course record held by Paul McBeth and Simon Lizotte. McMahon and Wysocki tied the feat at hole 14, then quickly established their own record at hole 15. After subsequent birdies on 16 and 17, they entered the final hole poised to make history together, just as their predecessors had.
Wysocki, still first on the tee, left his backhand drive wide right, but stuck the putt from circle's edge. McMahon – who admitted he felt some pressure in the moment – missed his putt, leaving Wysocki to savor the feat, and an 1102-rated round, alone.
"It definitely is crazy, but I can attribute a lot to Eagle," Wysocki said. "The way he was playing, I knew I had to keep it going. There was no letting up, and if I did I was gonna lose a stroke. And if I want a chance to win, I'm gonna have to continue that."
An exhausted McMahon – who also found out his last putt kept him from his own 1100-rated round –was dismayed that he played so well but ceded ground in the standings. Still, his game plan remained intact.
"Just shred," McMahon said. "That's what the tournament's gonna come down to, pretty much — hitting everything if you want to get ahead. My goal the next two days is to not back down, because I know Ricky's right on my tail and he's not letting up. You're never safe with him because he can drop a putt from probably 200 feet down the fairway, so I have to be on my toes the entire event."
Wysocki, meanwhile, said he appreciated McMahon's recent emergence as a consistent challenger.
"It's cool to be able to compete with someone new, actually," Wysocki said. "It's been the same few people the last few years, and now there's someone new coming in. So it's almost enjoyable to be battling with someone new."