Walker still in second, while heat impacts Allen's play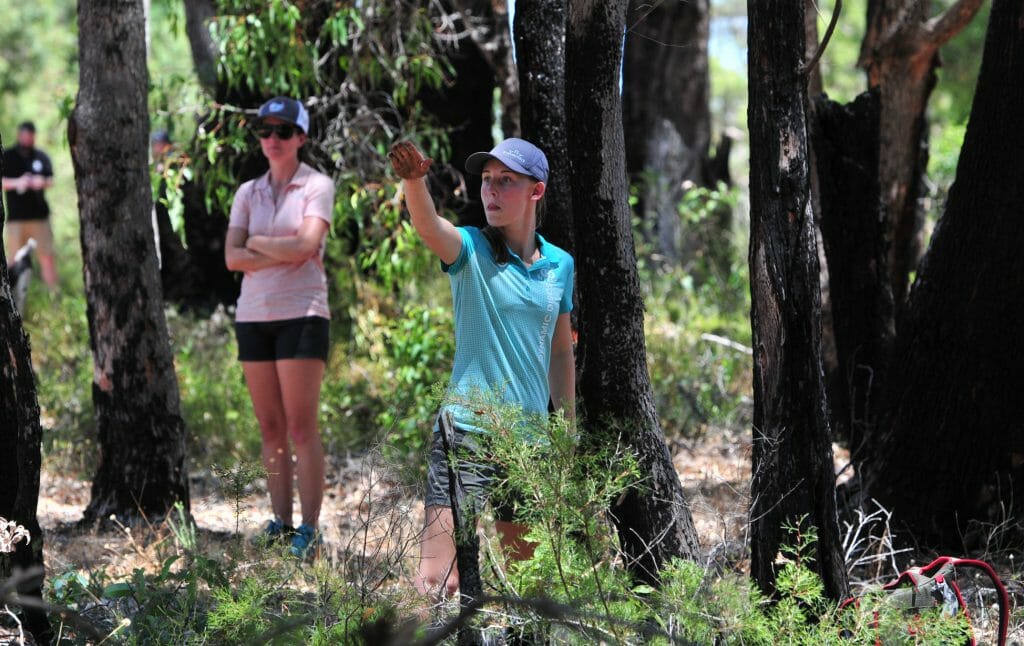 PERTH, Australia — Paige Pierce is in no mood to let up, despite stretching her lead further after the second round of the Aussie Open yesterday.
In conditions that might have appeared milder, but may have even been more challenging because of the rising humidity as the region builds towards tropical thunderstorms, Pierce threw a 1-under par 64, bringing her to a 4-under par 126 total. Her lead over Madison Walker, whose 5-over par 70 brought her to an 8-over par 138 total, stands at 12 strokes. Jennifer Allen, who battled the elements and ended the day in some distress, is in third place with an 11-over par 141 total, while Des Reading is in fourth at 12-over par.
RELATED: Wysocki Shatters Aussie Open Course Record
Though Pierce missed some putts and went OB on a couple occasions, she was still satisfied with her performance. She also remained flexible, changing her game plan from a lay-up on the final hole after carding a birdie on hole 17.
"I wanted to capitalize on the momentum I'd built," Pierce said. "So on the long walk up to 18 I thought, 'You know what? I'm going to go for it.' And it worked out. I birdied that, too."
Pierce also revealed that she has another goal in this tournament besides the win.
"I want to get one of those USDGC spots," she said. Currently sitting equal to ninth in the field overall, and with three of the players ahead of her already qualified, the achievement is well within her sights.
While Walker finally shook off her jet lag – "I feel normal again," she said — her play was similar to that of Thursday's. She stayed in bounds, threw accurate upshots, and didn't have to test her putting too often. She attributed her two extra throws to a couple of spit-outs.
"If I could take them back, I'd have shot the same as yesterday," Walker said. "The round itself seemed like a mirror of yesterday's. The holes I struggled on today I did well on yesterday, and vice versa."
Even with her consistent performances, Walker is realistic about her chances of closing the gap on Pierce.
"On this kind of course I'm always going to struggle to hang with Paige," Walker said. "She throws her drives 100 feet longer than me. But also, on 300 to 350-foot upshots she can throw with control and penetrate to the basket, where I am having to take risks and throw hard from that distance."
Walker was one of three women to score 70 for the round. Allen and Reading did the same, both maintaining the gap on second place. For Allen, the day served as a mental reset.
"I realized I'd put way too much pressure on myself to control my shots," Allen said. "So today I decided to just throw the Frisbee and enjoy it."
The strategy worked for the first nine holes as she held pace with Pierce and Walker. But then, after four-putting hole 10 following a good drive, she felt the wheels slowly come off.
"I really started to feel the heat and was struggling to concentrate," Allen said. "The last six holes were awful."
Allen finished the round with breathing difficulties, needing some first aid assistance at the end of play. After resting, cooling down, and rehydrating, she took a valuable lesson that visitors to Australia often learn the hard way: Once the air temperature starts to exceed the body temperature, it becomes impossible to drink as much fluid as you are losing. Rehydrating overnight and in the morning prior to the round becomes crucial.
"I probably started the day slightly dehydrated and went downhill from there," Allen said.
Reading, a Texas resident, is acutely aware of playing in the heat.
"I've had heat stroke before, so I'm very conscious of it," she said. "Yesterday I felt some early symptoms and tried to take corrective action, but it was a bit too late. Today I was much more prepared."
Reading also said she managed the course better, staying in bounds everywhere apart from one hole.
"I enjoyed the course," she said. "It's well-designed and has much more elevation change than what appears on video."
While Reading remains in contention, the title is nearly out of reach for the rest of the field. Germany's Christine Hellstern is 34 shots off of Pierce's lead, while Australian Champion Cassie Sweetten slipped to eighth place overall.