After a slow start, the four-time world champion rounded into form late. That could mean trouble for the rest of the field this season.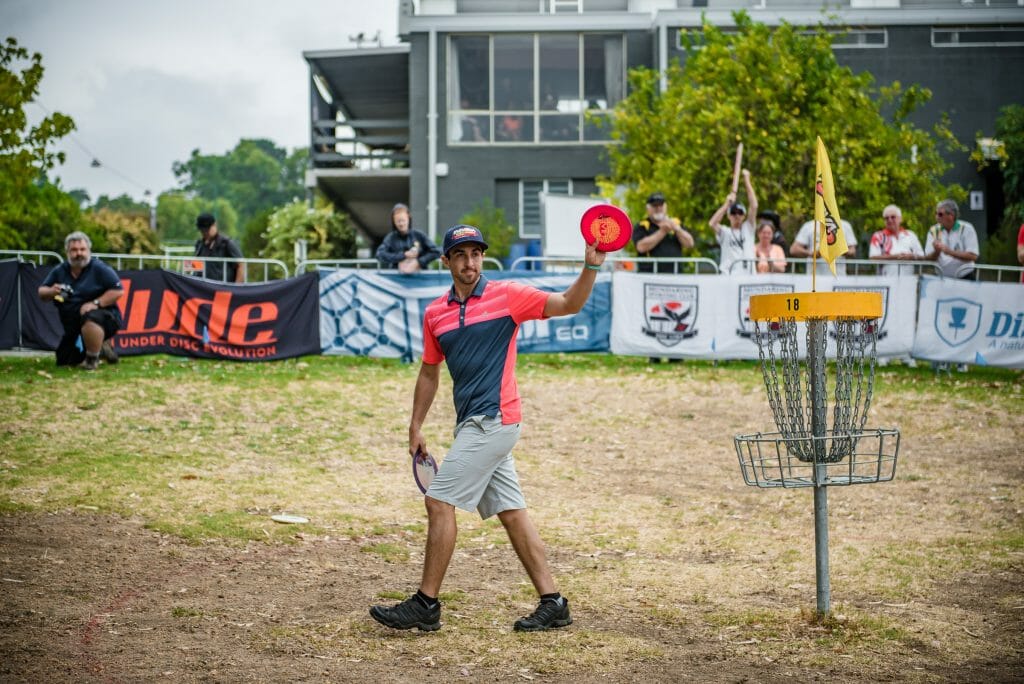 Last week I speculated as to what the Aussie Open could mean for the rest of 2017, especially for Paul McBeth and Ricky Wysocki. Now that the epic duel between Wysocki and Eagle McMahon is over, what can we make of McBeth's third place performance?
Taking a look through the scoring data, McBeth committed more mistakes than we're used to seeing through the first three rounds, but still finished a single stroke off his 2015 performance at the event. He went out of bounds three times each in both rounds one and three, but only totaled two OBs the rest of the tournament. Those eight penalty strokes were exacerbated by his two-putting five times throughout the first three rounds. He avoided putting more than once on every hole during the final.
As both McMahon and Wysocki struggled through round three after a blistering second round pace, McBeth missed his opportunity to capitalize. He only managed to hit 39 percent of greens with a chance at a birdie or better in the round, a steep drop-off from his average of 68 percent through the other three rounds. For comparison's sake, Wysocki rarely had to putt for birdie or better from outside the circle during the event, racking up green and bullseye hits and two-putting only twice through 72 holes.
Mundaring DiscGolfPark's hole 14 — a downhill, 771-foot par 4 that played as the second most difficult hole at the event — proved to be particularly challenging for McBeth. He went OB off the tee and missed a par-saving putt in round 1. In round 2 everything went fine until he was at the circle's edge, while in round 3 an out of bounds approach inflated his score once more. That hole encapsulated the tournament for McBeth: When one aspect of his game was on point, another was just slightly off.
Admittedly, we're talking about small issues here, but at the highest level the margins for error are significantly decreased. Clean up half his out of bounds strokes, and a few of those missed putts through the first three rounds, and he's right there with Wysocki and McMahon at the end.
While the relative inaccuracy in all phases might be due to it being his first event of the season — after the tournament, McBeth said he was knocking off some of the rust — it was encouraging to see him regain midseason form during the final round. The only real blemishes on his fourth round scorecard were a solitary penalty stroke and an unfortunate bogey five on the difficult par 4 hole 12, which was merely the result of McBeth attempting to claw back any and every stroke he could to get back in contention.
Still, there were plenty of fireworks from the four-time world champion.
While he is still seeking his first major since 2015, McBeth certainly put on a show trying to capture that title. With Simon Lizotte taking his time coming back from injury, it was up to someone else to wow the eyes, and McBeth certainly delivered. Perhaps the most intense example of this was when he used every inch of distance and accuracy he had on the par 5, 1,230-foot hole 16, eagling it twice in rounds two and four.
Round 2:
Round 4:
All those skips and long putts weren't quite enough to catch up with Wysocki and McMahon, who averaged 1067 and 1065 golf over the four rounds, to McBeth's average of 1046. Still, there's no shame in 1046 golf that gets eclipsed by two other great players who were completely on fire. Players on hot streaks have in the past been able to best McBeth, even in the midst of his most dominant season (see the 2015: Memorial Championship, Ledgestone and Hall of Fame Classic), and Wysocki and McMahon are capable of going off like this at any big event. The same goes for any of the other top pros, for that matter.
There's a lot of be said for a player with McBeth's talent, though, using every ounce of it in an attempt to mount a comeback — his 14-under par final round was his best of the event — rather than just giving in to the deficit. If the gap could have been closed in rounds two or three, a great three-way finish would have ensued. Regardless of whether he regains his über-dominant pre-2016 form this season and goes back to crushing his opposition with impunity, we can confidently assume McBeth will keep treating us to a multitude of visual delights this season. In other words, keep your eyes peeled for a highlight-filled season — the first National Tour event is just around the corner.