The season officially kicks off with the first PDGA Major of the year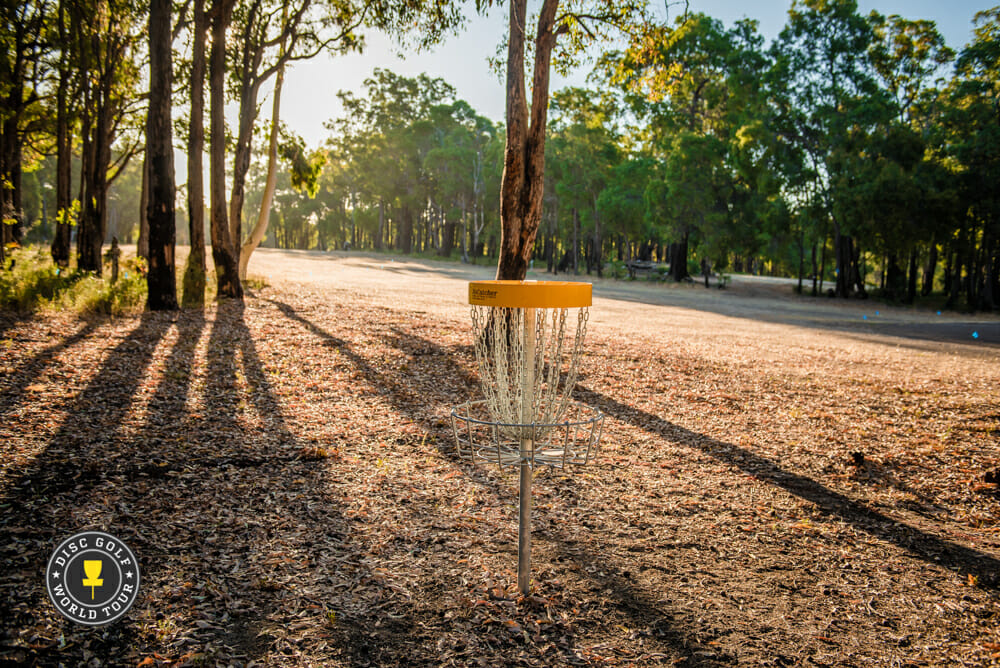 The 2017 season already kicked off with some reasonably-sized events over the past few weeks, but it really begins in earnest this week down under. The Aussie Open will take place for the second time at Mundaring DiscGolfPark in Perth, Australia, and like its 2015 iteration finds players jumping into the season feet first as a PDGA Major. Unlike two years ago, though, it is also now part of the Disc Golf World Tour, which is beginning its second season.
Despite its presence right at the end of disc golf's relatively low-key offseason, news regarding the Aussie Open has flowed since December, when it was revealed the tournament would be the first Disc Golf World Tour event to include a women's division. More recently, we've seen players forced to miss the event due to injury, financial reasons, and visa issues, with 2015 Aussie Open Champion Paul McBeth nearly sidelined by travel delays. (He made it.)
But worry not: There are still plenty of high-level pros in both the Open and Open Women's divisions, including a pretty stellar round one feature card to watch on the recorded coverage.
Analysis
There are some clear favorites heading into the event. McBeth and Ricky Wysocki — who are the only top 20 men's players in this year's field who made the trip to the southern hemisphere in 2015 — are the easy picks to duel it out for the Open title, while Paige Pierce is the favorite in the Open Women's division.
While looking back at McBeth and Wysocki's prior Aussie Open scores can be instructive, it doesn't seem particularly useful in this case: In 2015, Wysocki was had just switched sponsors, moving from Prodigy Disc to Latitude 64, making for an unsettled bag. And, despite his solid 2014 season — which saw him finish second at the Pro World Championships — he wasn't coming off a year filled with big wins and unprecedented (for him) levels of momentum like he is now. Likewise, McBeth is in a much different place than he was in early 2015. At the time, he was in the throes of a four-year world championship run where he would finish out the season with a Major Grand Slam, an athlete at the height of his potential.
Two years later, the tide has somewhat shifted. It's Wysocki who has to defend the world title now, and after an injury-plagued 2016, all signs point to McBeth being back to full strength. Sure, we could have a lengthy discussion on the merits of the Aussie Open as a Major — especially in terms of the relatively shallow fields — but the significance of PDGA tournament designation and depth of competition matter not when there's a chance to see the two best men's players in the world square off. One will likely come away from the event primed for another great season, while the other may have to spend some time figuring out how to get back on top.
Rounding out the Open field, we can expect some combination of Philo Brathwaite — who is coming off a win in Thailand last week — Jeremy Koling, Eagle McMahon, Gregg Barsby, and Manabu Kajiyama battling it out to finish in the top five.
It's Pierce's first time competing in Australia, and she is joined in the Open Women's division by a few other notable players, including Des Reading, Jennifer Allen (who competed in the 2015 Aussie Open), and Madison Walker. 2015 Aussie Open Women's Champion Valarie Jenkins did not make the trip this year.
On the surface, this one appears to be Pierce's to lose. She enters the event with some renewed enthusiasm for tournament play after a 2016 season plagued by sponsorship issues. Allen seems to be a good choice to push Pierce on the lead card, given the length of the Mundaring course and her proclivity for throwing discs really far. Max-distance and distance golf lines are two different concepts, though, and Pierce has the distance-plus-accuracy combination to keep herself out in front.
The significance of this event for Pierce, Wysocki and McBeth shouldn't be understated. Pierce has the chance to prove that fresh starts matter; Wysocki can demonstrate that 2016 wasn't an aberration; and McBeth can put all memories of last year's struggles – by his standards – behind him.
Aside from those three players, we'll be following how Koling performs in his Innova debut, or if he will even debut at all: He's been battling illness and has not been at the course since Monday. It'll also be noteworthy to see how Walker acclimates to the time change and weather, as she was one of the last top professionals to arrive in Australia.
Tournament and Course

The event begins on Thursday morning in Australia, but because it is on the other side of the international date line that means a Wednesday evening tee off for followers in North America. There will be four rounds — one per day — at the Mundaring DiscGolfPark.
The course plays through a ball golf course, but uses available trees and elevation to challenge players. The par 65, 9,875-foot track boasts multiple par fours, and one par five, that require both placement and power off the tee.
If you're interested in seeing the course in advance, you can view the final round from the 2015 Aussie Open here, and other video pieces—including a course fly-through—from The SpinTV.
2015 Aussie Open Results
Open Top 5
Paul McBeth – 39-under par 221
Simon Lizotte – 33-under par 227
Ricky Wysocki – 31-under par 229
Nate Doss – 27-under par 233
Dave Feldberg – 24-under par 236
Open Women's Top 4
Valarie Jenkins – 7-over par 267
Jennifer Allen – 28-over par 288
Christine Hellstern – 58-over par 318
Tiia-maria Tiistola – 71-over par 331
Forecast and Coverage
The four-day event will be characterized by hot and windy conditions in Perth. High temperatures in the mid-to-upper 90s — possibly exceeding 100 degrees — in the early afternoon hours are what's in store for Thursday, Friday, and Saturday. Wind speeds on those days will be in the upper teens and at times more than 20 miles per hour. Those with later tee times will perhaps be most affected by these conditions. Things change a bit on Sunday, with a small chance of rain in the morning and a high temperature of around 80 degrees, though it will remain windy throughout the afternoon.
Next-day video coverage will be available via The SpinTV, with videos filmed and edited by Jomez Productions. Follow PDGA Live Scoring for updates and the Disc Golf World Tour scoring and media pages for video and other information — especially Instagram and Facebook, where the tour is most active.
Need something to do while you wait for that video coverage? Catch up on our Australian disc golf culture feature "Having A Go": Everything You Need To Know About Disc Golf In Australia, or check out our Aussie Open preview podcast from this week with 2015 second place finisher Simon Lizotte.