Leatherman, Johnson, Schusterick also card victories in a busy weekend before 2017's first Major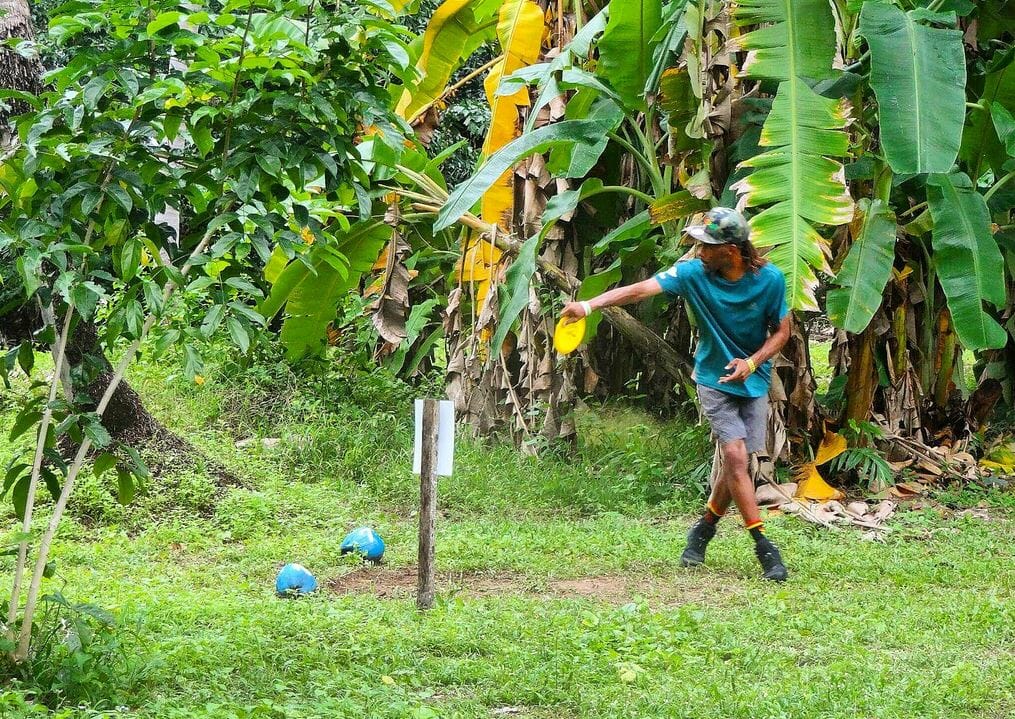 The offseason took a pause this weekend, with top PDGA pros from coast to coast – and even in the Far East – shaking the winter cold off their games.
In what was serving for a few players as an Aussie Open warm-up, Philo Brathwaite took home a comeback victory at the C-Tier Hyzenbrownie Open at the Laem Sor Beach Disc Golf Club in Koh Samui, Surat Thani, Thailand. A small field of 31 was highlighted by the appearance of a handful of other American pros – Ricky Wysocki, Nikko Locastro, and Gregg Barsby also made the trip – with the traveling partners not only dominating the event, but also putting on a clinic at a local high school and taking in the country's traditional sports.
On the course, which was located on a small island in the Gulf of Thailand, Locastro tossed a 1080-rated, 12-under par 42 during the tournament's second round to enter the Final 9 with a two shot margin over Wysocki. Brathwaite lurked a mere three shots off the lead, then vaulted over both Wysocki and Locastro to win the event by one shot. The 1018-rated Brathwaite averaged an unofficial 1051-rating throughout the tournament.
Back in the States, Catrina Allen picked up where she left off from last season, averaging 984-rated golf over two rounds to take the Open Women's victory at the B-Tier Maricopa Meadows Open in Maricopa, Arizona. Seppo Paju, meanwhile, shot a tournament best 11-under par 71 to in the final round to top the Open division.
Allen's 2-over par 166 total was good for a 17-shot victory over Vanessa Van Dyken, who was playing in her first American event since last year's Memorial Championship. Trina Lettig's 31-over par 195 brought her to third place, while Tina Stanaitis came in fourth place after her 35-over par 199 showing.
Paju entered Sunday's second round in a fourth place tie after carding a 5-over par 87 Saturday. His hot final round, which was unofficially rated at 1021, brought him to a 6-under par 158 overall and vaulted him over Arizona pros Preston Johnson and Jeremy Herr, who tied for second place with 3-under par 161s. Paul Ulibarri came in fourth place after a 2-under par 162, while his brother Pete and Eric Oakley tied for fifth place with even par 164s.
Working east, Zackeriath Johnson closed with four consecutive birdies and a 23-under par 139 total to win Forth Worth, Texas' Chili Bowl III B-Tier. Johnson's scorching finish was good enough to best Texas native Miles Seaborn, who finished in second place with an 18-under par 144 performance. Nate Perkins threw a 1022-rated final round to jump from the chase card and to a 10-under par 152 for third place, while Emerson Keith finished in fourth with a 9-under par 153 total. Devan Owens, who was originally slated to play in Australia, finished in fifth place with an 8-under par 154. Mansfield, Texas, resident Vlora Poshka was the lone competitor, and thus the winner, in the Open Women's division.
Out in Live Oak, Florida, 2015 PDGA Rookie of the Year Chris Dickerson took the Open victory at the B-Tier Suwannee Open, while 2015 United States Women's Disc Golf Champion Hannah Leatherman emerged victorious in the Open Women's division.
Though Dickerson's 2-under par 60 in the final round was his lowest performance of the tournament, he had built enough of a lead over the first two rounds to give him a three shot win over Lance Brown and Matt Dollar, who both ended the tournament with 15-under par 171s. Zach Melton's 13-under par 173 found him in fourth place, while Josh Childs rounded out the top five with an 11-under par 175 total.
After struggling in the second round and entering the final round two shots off the lead, Leatherman tossed a blistering 55 to end the tournament with a 7-under par 179 total to take the win. Jessica Hill's even par 186 was good for second place, while five-time PDGA World Champion Elaine King ended up in third place with a 2-over par 188 total.
In additional action, Will Schusterick took down his first event of the season with a one shot victory over Nathan Goodwin at the C-Tier Frostbite Open in Opelika, Alabama.
Additional reporting by Ultiworld Disc Golf Staff Writer Alex Colucci. This article was updated on January 23, 2017 at 7:45 a.m. PST to correct the standings of the Chili Bowl event.