Winthrop Gold bites McMahon hard, while Locastro and Wysocki stay in the mix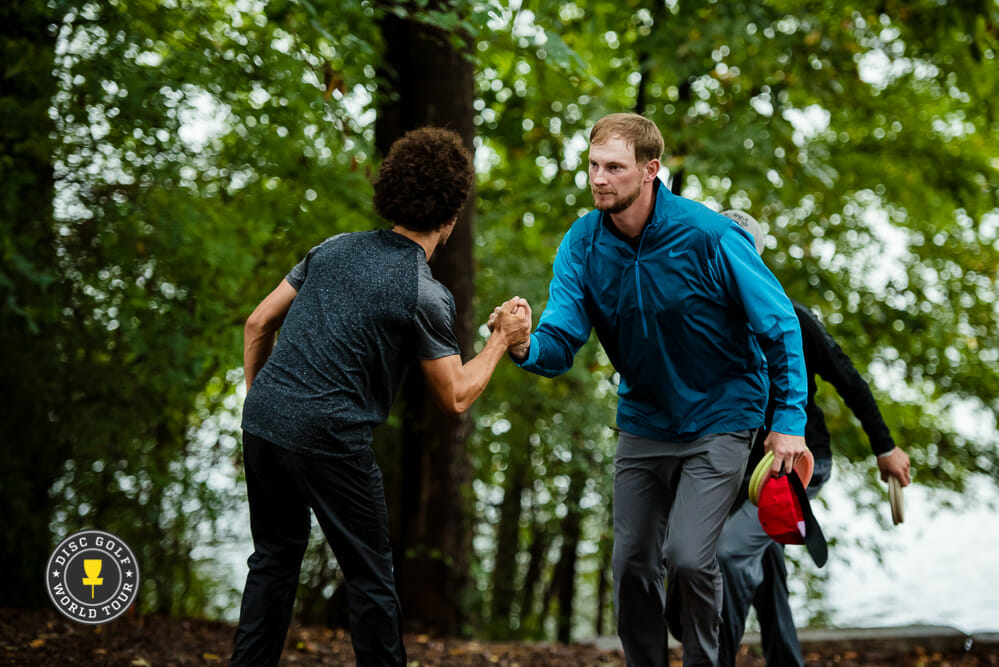 Ultiworld Disc Golf's coverage of the 2016 United States Disc Golf Championship is presented by Savage Apparel Co.; all opinions are those of the authors. Please support the brands that make Ultiworld Disc Golf possible and shop at Savage!
ROCK HILL, S.C. – The hallowed grounds of Winthrop Gold resembled an amusement park more than a disc golf course yesterday, as the United States Disc Golf Championship's third round provided a roller coaster ride from start to finish that provided more drama than most events pack into an entire week.
When all was said and done, North Carolina native Jeremy Koling emerged from the fray with the lead, as his 6-under par 60 paved the way to a 17-under par 180 total score and a four shot lead over Nikko Locastro, who fired off a 5-under par 61 to move up two spots on the leaderboard and into second place.
Ricky Wysocki, despite struggling early, finished on a high note with a hole 17 ace to end up at with a 4-under par 62 for the day and a 12-under par 185 total. And Eagle McMahon, who entered the day with a four shot lead over Koling, encountered constant adversity on his way to a 7-over par 73 that dropped him to an 8-under par 189 total and into a fourth place tie with Michael Johansen.
Koling – who started out hot with five straight birdies to quickly take the lead from McMahon before relinquishing it again during a mid-round lull – said controlling his emotions on a day like yesterday was as important as controlling his shots.
"What I was trying to do today was I just was just trying to eliminate unnecessary strokes," Koling said. "A couple times I probably could have been a little more aggressive, but I just chose to play smart and not turn a bogey into a triple bogey. Bogeys, they happen, and there's nothing to get too upset about. Obviously you're not trying to get bogeys, but they're there, they happen – especially in these conditions – and inexplicable things happen at this course, where you see really good looking shots. [Then] you either hit a curb or skip and roll, or there's spit outs.
"We saw a little bit of everything today," Koling continued. "We saw a hole-in-one – so many different things can happen – so just trying to stay as even keel as possible, even through the down stretch, was really important for me so that I could get a little bit of energy coming into the last couple holes and try to get a couple birdies."
On a day when the weather were supposed to be the main story – and it certainly played a role, as the course was doused with rain all morning – lead card competitors were treated to a break in the storm for most of their round, with a few showers interspersed throughout the afternoon. Instead of Hurricane Matthew taking center stage, it was the cruel mistress that is Winthrop Gold that decided to steal the show.
And she started her performance early, as McMahon's uphill attempt at birdie on hole 1 stood up and rolled past his initial lie, leaving him with a 90-foot comeback putt to save par. He missed long and then – perhaps battling some nerves – missed his bogey save low and took a 5 to start play. Koling, meanwhile, canned his birdie from the edge of the circle for a second straight day and lopped three strokes off McMahon's lead.
Hole 2 found Koling taking yet another stroke with his second straight birdie, and before anyone had a chance to blink McMahon's once-cushy margin had disappeared.
While Winthrop decided to let up on McMahon for a bit, it turned its gaze to Locastro on hole 3, rejecting his dead-center birdie putt with a vicious spit out. The Missouri product, known for his competitive fire, shook the chains in anger, eliciting a command from Koling to calm down. The two exchanged some words, but no courtesy warning was issued and players moved to hole 4 with a bit of tension on the card.
"Here's the thing: We're all very competitive, and I was upset after my spit out on hole 3," Locastro said. "I feel like I deserved that birdie. It went in and out of the middle of the basket, it's documented on camera, and I was a little upset. I rattled the chains, I slammed in my putt. But to me, I don't believe that I went overboard there. I'm trying to control my emotions to the best of my ability, and I know that if I just stay out of my own head, let the shots flow, just let them fly, [I can] stay comfortable, stay confident, stay in the game zone."
Koling said during the round that he "absolutely should have" called a courtesy warning on Locastro, but afterward talked about the importance of not letting those situations impact his game.
"There's definitely been times in my career when I've let something – a temper tantrum, or a really incredible shot – change the way that I've felt, and all of a sudden I was no longer in control of my body and my shots became errant," Koling said. "So when you see something that affects you emotionally, your ups or downs or whatever it is, the best thing that I have found for myself is just to try to go back into your little focus mode and try to blank out."
Plus, he had more to worry about than emotional outbursts. After piling up those five straight birdies, Koling missed the mando on hole 7 and bogeyed to drop two strokes to McMahon, who hit a long birdie putt to shift some momentum back in his favor and tie the score. McMahon then eagled hole 10 to take another two strokes, and by the time Koling tapped in his par putt on hole 12, McMahon had resumed control and re-established the four stroke lead he had lost early.
Then, disaster.
After throwing a signature long roller off the tee on hole 13 – the infamous "888," which was playing in the short pin position at 803 feet – McMahon's lie near the road sported a bit of a low ceiling. He still took the aggressive line over the parking lot to run the green, but his shot was too low and was rejected by the curb to land out-of-bounds. His next shot also hit the curb – as did a third – and by the time his fourth shot from that lie finally landed in bounds he had piled up three penalty strokes. He went on to take a 10 on the hole and throw the scorecard into upheaval.
"I realized I was still right in the tournament, but after that it's really hard to recover," McMahon said. "It's really hard to recover from something that big."
McMahon's misfortune resulted in Koling – who bogeyed the hole – taking back control with a two shot lead, which he then went on to pad with three birdies in the last four holes.
"To see somebody else go through that, you feel for him, because you know how quickly that can be you," Koling said. "And it's been me in the past – not necessarily at a Major championship while leading with only 18, or less than 30, holes to go, but situations where you think you've got the shot and you go for it and something inexplicable happens. And so you see stuff like that, and your heart goes out to the person. Part of you realizes the situation is changing in terms of the scores, but it's not like a fist pump moment at all. It's definitely a time when you have to stay calm because you throwing a really good shot or you throwing a really bad shot can affect you just as much as seeing someone else throw a really good shot or a bad shot."
Koling had to dial in that mentality again on 17, when he landed safely on the island and then watched Wysocki can his hole-in-one.
For Wysocki – who got a world champion bounce to stay in bounds on his approach on hole 18 to finish the round clean – the finish re-opened his path to the championship on a day in which he otherwise struggled to find his groove.
"I definitely felt like the last two holes I had some good rhythm going, and I got some good luck as well," Wysocki said. "So I'm glad to keep that rolling, and I feel like I've got a lot of momentum going into tomorrow, which is what I want."
He's not the only one who has it, though. Locastro closed with three birdies on the last four holes, as well, and – as the 2009 USDGC Champion – has experience in his back pocket.
"When I see the basket I need to make that putt tomorrow and just buckle down. No fear, full animal mode, just play like I want it more," Locastro said. "I gotta be more hungry than these guys, that's what it comes down to. Playing against the world's best – world class players – so if I'm more hungry I believe that I'll win."
Koling, meanwhile, is knocking on the door of his first Major championship in his own backyard. The significance of the moment was not lost on the Charlotte native, and he said he would rely on the same relaxed mentality – he spent much of the third round singing to himself and others on the card – that has driven his rise to the top of the leaderboard.
"If I get too serious, then I have to sometimes do something silly to just bring myself back to earth, because that's why the game is fun for me," Koling said. "I'm in position to have people come out and watch what I do, and they get enjoyment out of that, and I get enjoyment out of them being there, and that's a pretty amazing thing. I try to appreciate that. I try to take it serious, too – I mean, I've gotta stay focused in the moment – but sometimes being focused for me means being silly and having fun and just goofing off a little bit."
Still, he'll have to battle the conditions – which have caused tournament officials to take hole 17 out of play today due to anticipated flooding of Winthrop University's lake – and a determined McMahon, who was relishing his opportunity to attack from the chase card.
"Honestly, that's a breath of relief for me," McMahon said. "I can play really aggressive without knowing what everyone else is at and just do my own thing. On this course, anything can happen. I still have a shot at it, for sure."
The lead card tees off at 12:30 p.m. today.