A shortened event doesn't take away from the accomplishment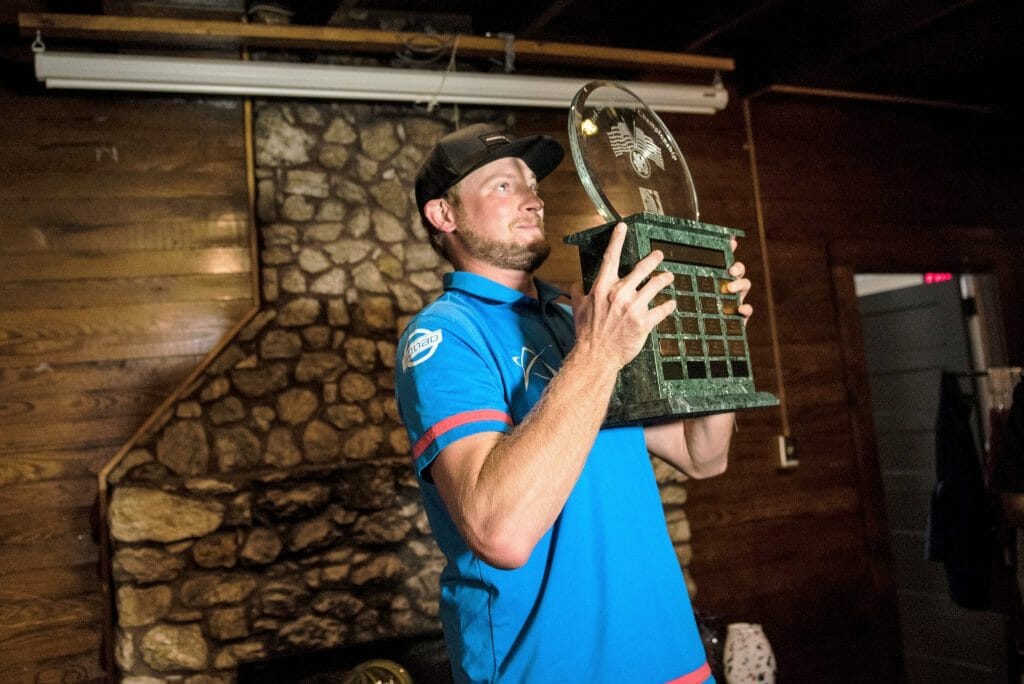 Ultiworld Disc Golf's coverage of the 2016 United States Disc Golf Championship is presented by Savage Apparel Co.; all opinions are those of the authors. Please support the brands that make Ultiworld Disc Golf possible and shop at Savage!
With the United States Disc Golf Championship coming to an end after weather washed away its final day, let's be clear: Jeremy Koling's victory at the event, while accomplished in a truncated time frame, should bear no asterisk, neither in record books nor the minds of spectators.
That does not mean followers of the sport have not made that suggestion. While fellow competitors have showered the new champion with accolades in person and on social media, fans have taken to message boards to suggest that Koling's win would carry that qualifying symbol. Even Koling himself, while waiting for the tournament's fate to be decided Saturday morning, knew people might suggest the victory was somehow invalid.
That assertion not only disrespects Koling, but it disrespects others who play the game.
Everyone – save those who dropped from the event early – tackled the same USDGC. None of the ropes were moved for certain competitors, and all of the pin placements were consistent. Everyone chose their own lines, executed their own shots, and created their own destiny.
Koling did that better than anyone else in Rock Hill last week. He started by playing the first round 27 points over his current 1023 rating, then came out on the second day of play and announced his intentions to improve on that by hitting a tremendous outside-the-circle putt for birdie on the first hole. He then went on to card consecutive 1062-rated rounds, employing a deft mix of rollers and his signature forehand to consistently keep his shots between the ropes. On the rare occasions that he did color outside the lines, he recovered well: The largest number he penciled in on his scorecard during the tournament was a bogey 6.
And he expected those bogeys to come. It was all part of a sound mental strategy that found Koling managing the ups and downs of Winthrop with aplomb. More than any well-placed drive or long putt, it was his play between the ears that was most impressive. Sure, he occasionally slapped his leg or scolded himself, but those moments of frustration were quick to pass. Case in point: He followed up every bogey he carded in round three with a par, and on several instances in the first two rounds bounced back from bogeys with birdies. Simply put, he never went on tilt.
While it is a fair argument that competitors may have played differently had they known the event was going to end after three rounds, everyone on that course was working with the hand they were dealt. Koling did not somehow have extra knowledge or an inkling that Saturday would be canceled. He still played aggressively on the back end of round three, closing the day with birdies on three of the last four holes and adding to his lead.
Still others may dismiss Koling's achievement because this Major event ultimately featured only three rounds of play, and most events of this scale have four – or even more – chances to hit the track. I'd remind those who present this as evidence against Koling's accomplishment that there is precedent for a three-round Major, though, and it happened just this year: Ricky Wysocki won the European Masters in Stockholm, Sweden, which was a three-round event from the jump.
Instead of marking Koling's victory with a symbol that has a long-standing record of being associated with tarnished sports icons – Major League Baseball's original (untarnished) home run record bore the mark, but more fans refer to the recent performance enhancing drug-fueled records when discussing asterisks – I suggest another piece of punctuation: an exclamation point. For a player as gregarious and humble as Koling, it seems to be the more appropriate way to accent the biggest win of his career.