Tears, celebrations, and broken curses highlighted the new United States Disc Golf champion's memorable day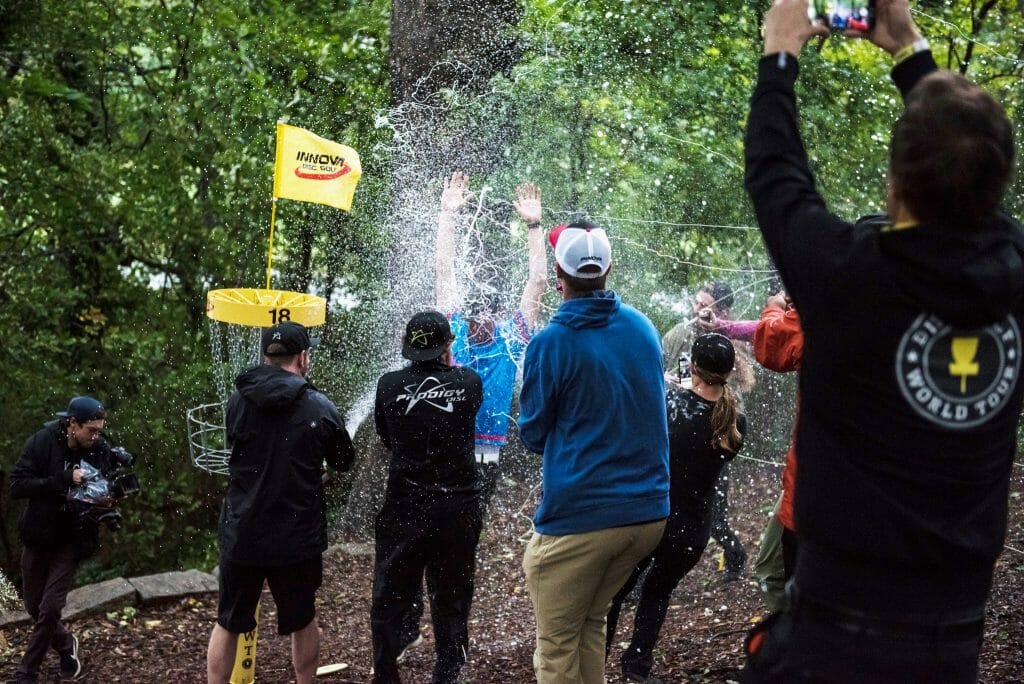 Before the third – and, ultimately, final – round of the United States Disc Golf Championship, Jeremy Koling got lost in a daydream.
"I had this incredibly vivid image of me tapping in – playing the last hole with a cushion, and playing it conservatively and tapping in – and having the fireworks go off and throwing my hands in the air and falling there, then crying on the ground," Koling said. "That was how I envisioned that, at that moment, going to the third round. I was like 'Holy moly, this is real.' I really, truly believed that somehow, some way, it was gonna happen. And I've never truly had a feeling like that before."
Since he was trailing Eagle McMahon by four strokes at the time, though, Koling said he had to snap himself back to reality.
Little did he know that – although it didn't play out exactly as he originally fantasized – he'd still get to make that tap-in, he'd still shed plenty of tears, and he'd still be crowned the United States Disc Golf Champion.
****
Koling's Saturday morning, at least early on, played out exactly as you'd expect it to for someone sitting on a four shot lead on the eve of his first Major victory. After spending Friday night trying his best to relax and balance his nerves with his confidence, he woke up around 4:00 a.m., unable to sleep and ready to attack the final round at Winthrop Gold. Knowing he needed to rest more, he tried to distract himself with social media and games on his phone, then fell back asleep for a few more hours.
When he woke up, that's when things got interesting. News emerged that tee times for the final round would be postponed an hour, as USDGC and PDGA officials assessed the course conditions after torrential rains had soaked the region for much of the prior 12 hours. Koling, working on less than excellent sleep, embraced the delay.
"I knew that it was gonna be an exhausting, slow – just physically and mentally exhausting round," Koling said. "I needed as much energy as I could possibly have, so I was kinda happy to see that it was postponed a little bit."
When word trickled out that times might be pushed back two hours, though, Koling worried that play would not finish before dark, as threatening skies shielded the sun. And when it was announced that the final round would be pushed back to Sunday, that worry grew into confusion. He thought about his fellow players – both domestically and internationally-based – who would have their travel plans interrupted. He thought about the volunteer staff who would need to try to book hotel rooms for another night, and eventually how the evacuations from nearby Hurricane Matthew might affect those plans. And, finally, he thought about the possibility of the final round being canceled.
"Of course, sitting on a four stroke lead you feel somewhat confident, but four strokes can be – we've seen, just in the previous day alone, four strokes can be lost on any hole," Koling said. "I certainly wasn't strutting to the finish line, by any means. I was confident with my game plan. I felt like I had an incredible opportunity to go out there and prove I could do it in four rounds and go to sleep on a lead and come out the next day and still shoot a really good round, and not play defense and go out there and attack the course the way I had been the previous rounds. But then all of a sudden they're gonna make this a three-round event.
"That was when the idea of that happening – that was when it was really getting bizarre in my head," Koling continued. "That was when kind of the roller coaster started. Like if this happens, how do I get to feel about this? Everyone's gonna get to have their own opinions about this, about what this means, whether the event is tainted, whether the win is tainted, so on and so forth."
As fellow competitors took to social media to voice their concerns about the postponement, Koling's head continued to swirl, he said. Still, he tried his best to do what he had done successfully throughout the tournament up that point: buckle up, hang on, and take things one step at a time.
"It was a whirlwind of emotions for me, because I'm like, 'I want to play that last round,'" Koling said. "I want to finish a four-round event, but if they decide to finish it right now I will accept that position. As a competitor, I did everything I could to get that lead, to put myself in the best possible position to win the event. [The] best possible position you could put yourself in is with a four stroke lead, or more, and I'd successfully done that. I'd played the course better than I've ever played it for three rounds, and to that point I felt like, for many people, [the win] wouldn't be validated. But for me, what can I possibly do differently?"
Still, Koling knew he had to come to an acceptance with the situation, even before the final decision was made.
"If they want to make that call and cancel the last round – thus making me my first Major champion, and for the rest of my life the [2016] USDGC champion – then go me," he said. "Honestly, [it would be] the greatest day of my life, maybe."
****
When it started to become clearer that Saturday's postponement would evolve into an official cancellation, Koling still continued to weather the ups and downs that had become emblematic of the weekend. He received a cryptic text message from PDGA Media Manager Matt "Marty" Gregoire, who simply offered his congratulations. When Gregoire did not respond to Koling's return message, Koling sent yet another message in return.
"And I was obviously very, very anxious, so I was, in capital letters, I said, 'MARTY, CONGRATUALTIONS ON WHAT!??' All in caps, exclamation point, question mark, question mark," Koling said. "Two messages, and then I called him."
Gregoire again offered his congratulations over the phone, but would not specify what for, instead advising Koling to keep an eye on his email in the next few minutes.
"That was him telling me without actually officially telling me," Koling said. "But [I told myself] I'm not gonna go crazy about this. I'm just gonna be calm and sit here and wait."
And that's when the next call, from good friend and teammate Paul Ulibarri, came in. Ulibarri had spoken with USDGC Tournament Director Jonathan Poole, and it was official: The tournament was over, and Koling was the USDGC champion.
"What ensued from there was about 10 to 15 minutes of me crying on the phone with one of my best friends on the road, and screaming and yelling and jumping up and down, completely blown away," Koling said. "Relieved, excited. It wasn't lost on me what it meant to the players who wanted that last chance for a shot at the title. But again, what could I have done differently?"
For Ulibarri, delivering the call to one of his best friends – the two partnered up to win the USDGC Doubles competition the weekend before the main event – was a special moment.
"I called him and I said, 'Hey champ, how are you doing?''' Ulibarri said. "And I go, 'Congratulations.' And he goes, 'No way!' And I'm like, 'Yep, it's over. They canceled the final round,' and he pretty much started crying and he was really emotional. It was a really cool thing to be a part of, honestly."
There was still the matter, though, of a celebration. With the circumstances as they were, Koling knew he would not be enjoying the moment in the fashion he envisioned before round three, instead taking in the moment between the four walls of a bedroom.
But that did not last long.
He received a call from Poole, who asked him to come down to the Winthrop course's pro shop for an impromptu trophy presentation. And in the background, Koling's friends were planning something even more magical.
****
When the initial announcement that the final round had been canceled was released, it originally stated that there would not be an awards ceremony. Cody Bradshaw – a Virginia-based disc golfer who in the recent past has become a close friend of Koling's – did not know of Poole's plans for the pro shop celebration, and initiated a plan of his own with Koling's friends via Facebook messenger.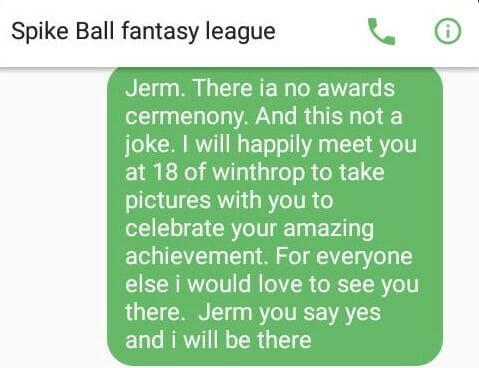 "I said, 'Jerm, I'm not joking here,'" Bradshaw said. "I said, 'There's not gonna be an awards ceremony, but I'm gonna be at hole 18 in an hour waiting for you so I can celebrate with you on actual hole 18.'"
Others in the group chat – including Paige Pierce, Madison Walker, Zach Melton, and James Conrad – raced around Rock Hill to gather champagne, silly string, and flower leis to give Koling the dream celebration they thought he deserved.
Once Koling arrived at hole 18, he re-enacted the scenario he had daydreamed about – a lay-up putt, then a tap-in to seal the deal – and was swarmed by those closest to him.
"I had heard that they wanted me to recreate the last putt, and I thought they were gonna cheer and surround me and maybe lift me off the [ground]," Koling said. "I had no idea what they had planned, but I shouldn't be surprised, because those are my best friends in the world and they're so thoughtful."
Pierce, having collected her own hole 18 memories after her three world championship victories, did not want her friend to miss out on the euphoria.
"He really deserves it," Pierce said. "Having won a Major championship and just kind of being announced over the internet, that's nothing we've ever seen before. I was really upset for Jerm – I don't know if Jerm was upset, but I was upset – because having been in that moment before, it's seriously the magic of that final tap-in, the crowd going wild, especially in your home town – I feel like he missed out on that. For Cody to throw that idea out there, it was the best thing I could have ever been a part of. It was so awesome."
In the mad rush of being enveloped with friends – and champagne – Koling closed his eyes, so he missed out on some of the action. Luckily, there is video of the celebration for him to look back on. And he already has.
"Oh my gosh, it just brings me chills because that is the coolest damn celebration that I've ever seen," Koling said. "The champagne goes everywhere. It was explosive. It was amazing."
****
Now a couple days removed from the memorable Saturday – one that went from uncertainty, to elation, to celebration – Koling said the fact that he is the United States Disc Golf Champion is finally starting to set in. And while he admitted there was some uncertainty for him about what the title means for his future and how he will build upon it, he said he was not going to focus on that. Instead, he would relish the accolade.
"One of the things that's really cool about Paul McBeth is he doesn't ever feel like he's the true champion unless he backs it up and does it a second time," Koling said. "Him and I look at things differently. For me, this is a relief. No matter what I do for the rest of my life, I can finish my career knowing that I've won every level of event that you can possibly win."
Koling now owns victories through every tier of event, and with his 2008 Am Worlds title is the only player to win a Major as both an amateur and a professional. And with the pro Major in his pocket, he exorcised a demon for both him and Ulibarri.
"We've called it the Am Worlds curse, and Paul Ulibarri [who won in 2006] and I have been going back and forth trying to figure out who was going to be the first person to break the curse," Koling said. "Paul was actually really happy for me, for multiple reasons, but for the main reason that I broke the curse, so now he can finally win his first Major. It's one of our jokes."
But Koling wasn't the only member of his family – both disc golf and actual – who had a good day Saturday. He also found out that his sister and her husband completed their six month hike of the Pacific Crest trail from Mexico to Canada on the same day that he was crowned the USDGC winner.
"So when I got on Facebook and I saw my sister posting pictures of it, she's gonna hate to find out that on the day that she accomplished probably the biggest thing in her life, her brother totally one upped her," Koling laughed. "'He's the ultimate thunder stealing one-upper.'"
Aside from anyone else, though, Koling reflected about what the victory means for him, both as a person and a professional disc golfer.
"It validates many of the decisions I've made in my life to continue pursuing this game," Koling said. "…I've had an otherwise – I'm not gonna say unsuccessful season – but I've had a somewhat underwhelming season in my own eyes. And to know that I can go from having a season that didn't quite meet my expectations to the ultimate high in the same season, it further validates that this game is about peaks and valleys at times. And when things seem like they're at their absolute worst, you have to know and trust that things get better.
"Sometimes you're the man, and sometimes you're not," Koling continued. "And right now, I feel like I'm the man."