Weather, travel concerns led to organizers' final call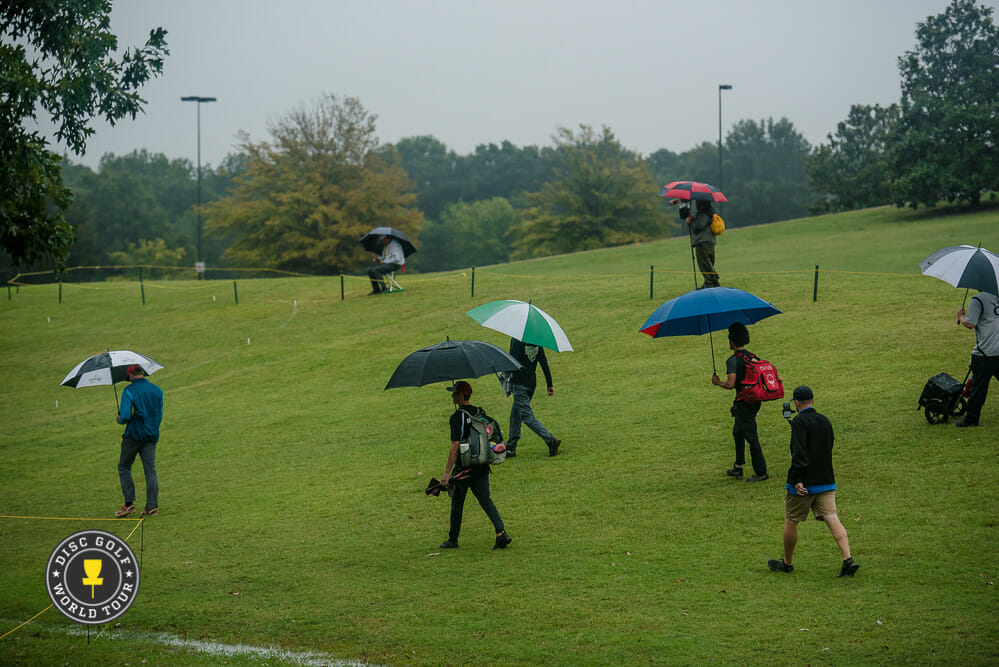 Ultiworld Disc Golf's coverage of the 2016 United States Disc Golf Championship is presented by Savage Apparel Co.; all opinions are those of the authors. Please support the brands that make Ultiworld Disc Golf possible and shop at Savage!
ROCK HILL, S.C. – Faced with treacherous weather conditions as a result of Hurricane Matthew making landfall roughly 180 miles away on the South Carolina coast, United States Disc Golf Championship Tournament Director Jonathan Poole said the original decision to postpone today's final round was a safety matter. With high winds anticipated and numerous old oaks on the Winthrop University Gold course, the possibility of injury due to falling limbs made pushing the event back "an easy call."
It was the full cancellation, though, that proved to be more difficult.
Ultimately, Poole – along with his staff at the USDGC and that of the PDGA – considered the numerous pieces in play and decided to pull the plug. The tournament would end, and Jeremy Koling would be crowned the winner of the USDGC.
"Probably the most important thing that people need to keep in mind is sort of two-fold," Poole said. "There are travel plans that can't be undone without tremendous expense…The bigger point, though, relates to hotels and the impact the hurricane has had. Most people's hotel rooms, their reservations end today. There's nowhere for those people to go. We're really at the mercy of a number of factors."
Poole also pointed to the fact that canceling the event could help other residents of South Carolina, who were evacuating to the inland areas and in search of lodging.
"Our state is in a state of emergency," Poole said. "Not only are we keeping our players safe, we're making room for people who have nowhere to go."
Still, as a longtime event director and – first and foremost – fan of the sport, Poole expressed disappointment with the circumstances and sympathized with players who did not get to finish the tournament.
"Obviously the players – I spoke to Nikko [Locastro] just a while ago, he wanted a chance to compete down the stretch," Poole said. "Obviously we all wanted an opportunity – not as the tournament crew, but as fans, we wanted to see – we don't want this. But we are very happy for Jeremy. Jeremy earned it, especially in the way he played yesterday. We're proud to have him as the United States champion."
Poole said the majority of players applauded the decision, and a scroll through social media served as confirmation, with Alex Geisinger, Nate Sexton, and Paul Ulibarri among those expressing their support.
For Locastro, who was looking for his first Major victory since the 2010 Japan Open, the decision stung.
"All players should have had a chance to compete in a scheduled four-round event," Locastro said in a text message. "Think for a second that the Super Bowl got canceled after the third quarter. The circumstance is an unsettling feeling. Going into the last round four strokes behind is striking distance to win my second USDGC. This was the closest I have been to winning a Major in a few years.
"I will move forward regardless of opinions over this topic," he continued. "Training starts this winter."
Eagle McMahon, who was eyeing an improvement in the final after faltering during yesterday's third round, said he was conflicted about not being able to finish the event.
"From where I was sitting I was still in attacking range, and even more so for Ricky [Wysocki] and Nikko," McMahon said. "I think Ricky's game plan was playing safe until the last day because he knows he can make a move on this course. So there's a lot of disappointment there. There's so many different emotions for me, so I can't put all my focus onto one. I'm also looking back how I could improve last round, [and that] makes the last round hurt a little more. But it's also rewarding because I got fourth at the USDGC, so that's also a really good finish."
Despite the inner conflict about his play, McMahon said organizers made the right decision, one that was in the best interest of the players.
"Continuing it on Sunday would have definitely been a major problem for a lot of the competitors because it would've forced a lot of them to DNF because they have families and jobs they need to get back to," McMahon said. "Calling the event was definitely the right call, in my opinion."
Poole agreed, and he praised those involved with making the decision for handling it with the greater good in mind.
"It's just unusual circumstances," Poole said. "I'm proud of our team. I'm proud of the communication between the PDGA and our team. I feel like this is the best decision for the greatest number of people."