Professional disc golf is coming back.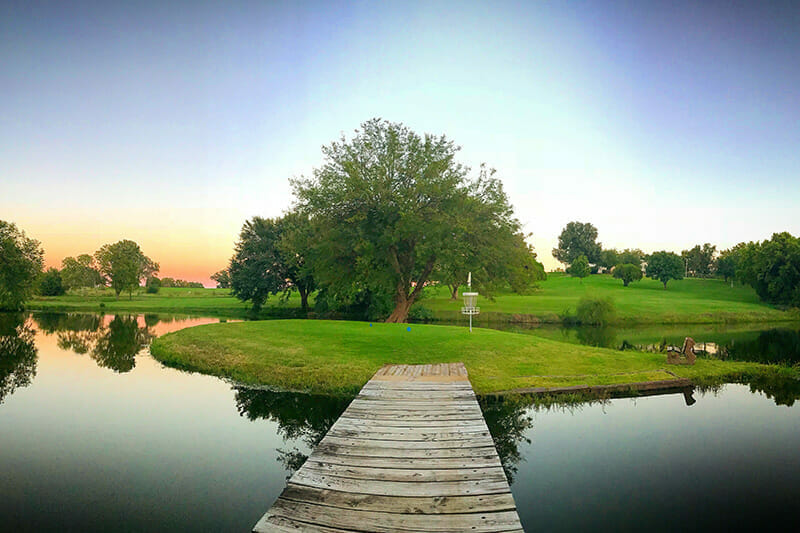 The Disc Golf Pro Tour is preparing to resume its 2020 season in late June, bringing back professional disc golf ahead of even its own schedule.
The Tour will restart on June 26th at a newly created tournament in Emporia, Kansas: the Dynamic Discs Open. That tournament, run by DD's Doug Bjerkaas, the TD of the Glass Blown Open, will kick off an extended midwest leg of the tour, which will not go back west. The originally scheduled Portland Open and San Francisco Open have been canceled, "in order to stay in alignment with government guidelines which limit movement and gatherings in San Francisco, CA, and Multnomah County, OR, creating uncertainty that each of the respective events could run as scheduled," per the DGPT.
Following the DD Open, the Tour will head to Minneapolis for another new event. The Preserve Championship–hosted by Airborn Disc Golf at Cale Leiviska's new complex–will run from July 3-5. Following that, all future events are scheduled as planned and the Jonesboro Open is rescheduled for early October, after the Green Mountain Championships in Vermont and before USDGC and the Pro Tour finale.
"We wouldn't be restarting if we didn't think we could do so responsibly," said DGPT CEO and Tour Director Jeff Spring. "Touring professionals have already begun traveling to events that are happening with PDGA sanctioning. We feel that by restarting the tour, we can provide resources and best practices for the touring professionals as well as set an example for other events to follow."
The Pro Tour has been in constant contact with the PDGA as they've prepared to resume play, and, as reported last week, all Pro Tour events will be PDGA sanctioned. "We've been working closely with the Pro Tour on getting this schedule up and running," said PDGA Communications Manager Steve Hill. "They're providing a very useful platform right now and they're operating in states where we're allowing sanctioning. So we're on the same page in that regard. We're excited to have them back, and we think players and fans are going to be excited too."
The Pro Tour held two events this season, the Memorial and the WACO Annual Charity Open, before suspending play on March 13th, including canceling the final round of WACO.
Event Health and Safety Protocols
Given the ongoing COVID-19 pandemic, the DGPT is establishing policies to minimize the risk of disease transmission.
The Tour will begin by operating events in Phase I, which includes the following protocols:
No spectators allowed
Players will compete in threesomes instead of foursomes
There will be strict enforcement of social distancing for players, staff, media, and volunteers
Baskets and common surfaces will be disinfected throughout the round
The player field will be reduced (approx. 30 fewer players, though event dependent)
Only one person is allowed inside the circle at a time
DGPT Tour Director Jeff Spring said on The Upshot podcast that if players break social distancing rules, they will be disqualified from competition.
All events will be presumed to operate in Phase I, and can only move to Phase II (limited spectators, foursomes, social distancing encouraged but not enforced) if local regulations allow for 50+ people to gather in one location. A move back to normal events in Phase III is not expected until a vaccine is developed and new COVID-19 cases are near zero nationwide.
"We feel like the number one thing that we are considering is creating responsible policies that are aligned with state and federal guidelines put in place by medical experts," said Spring.
Events will be confirmed or canceled six weeks in advance.
Contact Tracing & Player Travel
One of the biggest challenges for the Tour is establishing safe measures for players outside of events.
Touring pros will be asked to establish a "travel group" up to six people that have close contact with one another and will be asked not to have contact with other players.
"We don't want players interacting with people outside of their groups," said DGPT Media Manager Mahmoud Bahrani. "This allows us to contact trace."
The Pro Tour will be providing optional COVID-19 testing to players, which will be required in cases where a player shows symptoms associated with COVID-19 or has come into contact with someone known to be carrying the virus. The testing regimen is less robust than those announced by other professional sports, including the PGA Tour, which will have players tested both at home before tournaments and again upon arriving to the tournament city.
Any players or staff entering states with mandatory 14-day self-quarantining for visitors who have been to certain states or international destinations will be expected to abide by local regulations. Currently, Kansas — the home of the DD Open in under a month — has self-quarantining rules for people entering the state who have recently been to Maryland, New York, New Jersey, Connecticut, Massachusetts, Rhode Island, Illinois, or any international destination1.
Similar rules currently exist in other states that will be featured on Tour, including Kentucky (Idlewild Open, August 7-9), which asks that all travelers from out-of-state self-quarantine for two weeks. These regulations change frequently and may not be in place later this year.
Media Plans
Media teams will also be affected by the changes to events, as all camera operators will be required to maintain social distancing from both players and one another. Tournament layouts may be altered in order to create enough room for multiple camera operators to capture tee shots on opposite sides of the tee box. Fewer cameras will be allowed during Phase I.
"We're going to go through each course two days before an event and mark out exact filming locations," said Bahrani.
The Pro Tour has not specified precise media plans yet but has said that live coverage — which is produced by the Tour itself — will continue as usual. External media partners like Jomez Productions have not been confirmed as returning to the Tour at this time.
A Full Season Planned
Even as the DGPT loses two events in SFO and the Portland Open, the addition of the two new events to kick off their restarted Tour means that a full 11 events are scheduled for 2020 as was initially planned.
The Memorial (Feb. 27 – Mar. 1, Arizona)
WACO Annual Charity Open (Mar. 12-13, Texas)
Dynamic Discs Open (Jun. 26-28, Kansas) [Replaces San Francisco Open]
The Preserve Championship (Jul. 3-5, Minnesota) [Replaces Portland Open]
Great Lakes Open (Jul. 24-26, Michigan)
Idlewild Open (Aug. 7-9, Kentucky)
Ledgestone Insurance Open (Aug. 13-16, Illinois)
MVP Open (Aug. 28-30, Massachusetts)
Green Mountain Championships (Sept. 3-6, Vermont)
Jonesboro Open (Oct. 1-3, Arkansas)
Tour Championships (Oct. 16-18, North Carolina)
The Tour also plans to hold seven of its nine Silver Series events.
---
or on a cruise ↩