Big putts and a big bird put a bow on a tremendous 2016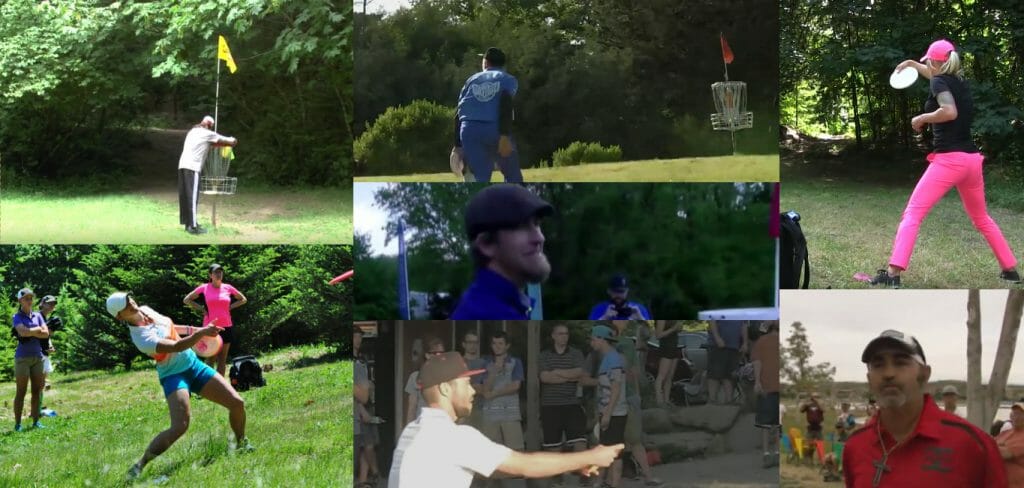 There's still plenty of disc golf left this season, but with the 2016 PDGA National Tour wrapping up with a dominant Paul McBeth win at the Brent Hambrick Memorial Open, it was time for a retrospective.
Starting in March and lasting all the way until McBeth's stunning BHMO turnaround, disc golf fans were treated to plenty of highlights throughout the National Tour season. Whether it was veteran names re-establishing themselves (or making a stink), or clutch, dramatic putts, there were huge performances that managed to keep us glued to screens both during and after the events. Since there were seven NTs, we'll take a moment here to countdown seven times we were thirsty for more disc golf during 2016.
7) Cam Todd's Throwback Glass Blown Open Win
When Cam Todd came out tied for the lead during the first round of April's Glass Blown Open, it seemed like another hot start that might melt away. When he battled weather to stay atop the leaderboard during the second round, it looked like he might have a shot at a Top 5 finish. But did anyone really think he would outduel the world's current two best players – Ricky Wysocki and Paul McBeth – to take his first National Tour win in 12 years?
"I kind of felt that day they were trying to keep up with me," Todd said of the young guns after the tournament. "At the same time, I can't keep up with them because, as far as their ratings and their skill, I have to play my game. And I know exactly how to play my game, so I can never judge it by someone else's game. So I just play the course and shoot it like I know how to shoot it."
And he returned to the same courses at Worlds and came in 5th place as a capper on a fantastic renaissance season.
6) Hokom's Return From Injury
When word broke that Sarah Hokom would miss a couple of NTs with a shoulder injury, the initial diagnosis had her returning in time for the Beaver State Fling in early June.
She wasn't actually able to return to play until almost three weeks after that at the Vibram Open, but she did so in fine form. Sporting her recognizable submarine-style sidearm, she shot out to the lead after the first two rounds before fading to 3rd place overall.
Still, she retained her championship confidence and a refreshed spirit after the downtime.
"I wouldn't say surprised, I know what I'm capable of," Hokom said after taking the Vibram lead. "This is a course that I am very familiar with and really enjoy playing. I was happy that the mental side of the game wasn't as trying as I thought it would be. It does appear that having that little bit of time off to relax and reflect did help me to have a better mental strategy out on this course."
Hokom went on to the win the non-NT Silver Cup and Majestic and currently leads the Disc Golf Pro Tour's points standings.
5) McCray's Memorial Countdown
The National Tour season kicked off with a bizarre moment during the final round of the Memorial Championship in Scottsdale, Arizona. On hole 16 of the final round, veteran pro JohnE McCray began to count down Paul McBeth as the latter took too long to return from a bathroom break.
When McCray got to 30 seconds, he asserted that it should be his turn and that McBeth should be skipped, while others on the card advised that it was a simple time warning. McCray protested, stating "I guess rules don't apply to everybody." McBeth then calmly walked past McCray's shoulder and onto the teepad to park his drive, while McCray continued to fume and left his next shot too far away from the pin.
McBeth went on to win the tournament, and McCray issued his side of the story after the internet did not take kindly to the situation. Just an odd one all around.
4) Williams Goes Texas-Sized On Way To Surprise Vibram Victory
After managing his way to the lead card for the third day of action at the Vibram Open, Texas native Bradley Williams had a shot at sole possession of first place as he lined up a 70-foot birdie putt on Maple Hill's 18th hole. With a long, floating push to the chains, Williams secured that birdie, thrust his fist into the air, and galloped toward the pin to collect his putter and the lead heading into the final round.
"A lot of times on putts, I'm known for not giving it all I've got, and I just wanted to make sure I went out with a full attempt at the three," Williams said after the round. And he took that same mentality into the final, where he outlasted Michael Johansen in a playoff for his first career NT victory.
3) Allen Vs. Pierce In Beaver State Fling Playoff
Catrina Allen swept the National Tour points series this season – her 2nd place finish at the Vibram Open was scrapped from the totals – and in most cases dominated the events. But at the Beaver State Fling, Paige Pierce closed a four shot gap in the final round to force a playoff with Allen.
It didn't last long.
Amazing putt for the win by Catrina Allen (@catrina44184)! Congrats to Paige Pierce as well. What a battle! #2016BSFpic.twitter.com/SK8KnywQvk

— PDGA Live Scoring (@pdgalive) June 12, 2016
Allen's 50-footer was arguably her biggest of the season, and she said after the event that it was one of the only playoff-clinching putts she could remember in her career.
"[Pierce] had a 25 or 30 footer, I could have just laid up and made her make it," Allen said. "Like I said, I just went numb and went through my routine and could hear [sports psychologist] Bob Rotella in the back like, 'Just give it a chance,' and kind of just went into my routine and it was in. And it was the best feeling I've had in disc golf."
2) Wysocki's 'Great Big Putts' For Masters Cup Win
As they have been wont to do this season, Wysocki and McBeth got their showdown on during the final round of the "Steady" Ed Memorial Masters Cup in Santa Cruz, California. Playing on the DeLaveaga Park Golf Course instead of the customary disc golf track, the dynamic duo traded volleys for much of the day, including nailing back-to-back putts from greater than 80 feet on hole 9 before coming into hole 18 tied for the lead.
And that's where Wysocki showed up with another one of his signature – in the words of Gregg Barsby – "great big putts."
With Wysocki's raptor-legged sprint to the basket followed by a missed McBeth putt, it was one of many steps the big-armed Latitude 64 player took on the way getting the monkey off his back and unseating McBeth from the world championship throne later in the season.
1) The Albatross
This is likely the biggest disc golf moment not just of this year, but of this decade. When Philo Brathwaite tossed a 400-plus foot Destroyer shot for albatross at the Beaver State Fling – and perhaps more importantly, when Central Coast Disc Golf filmed the feat – it immediately went viral. ESPN played the clip on SportsCenter, various mainstream sports websites picked up the clip, SB Nation turned it into a LeBron James/Steph Curry bit, and Daniel Tosh spoofed it on Comedy Central. It brought disc golf into the cultural mainstream with a shot of tremendous skill, both on behalf of the player making the throw and the media capturing the flight. If anything captures the energy of disc golf's current standing and its future possibilities, it's this 1:26 piece of footage.