Wysocki, Allen collect National Tour series points crowns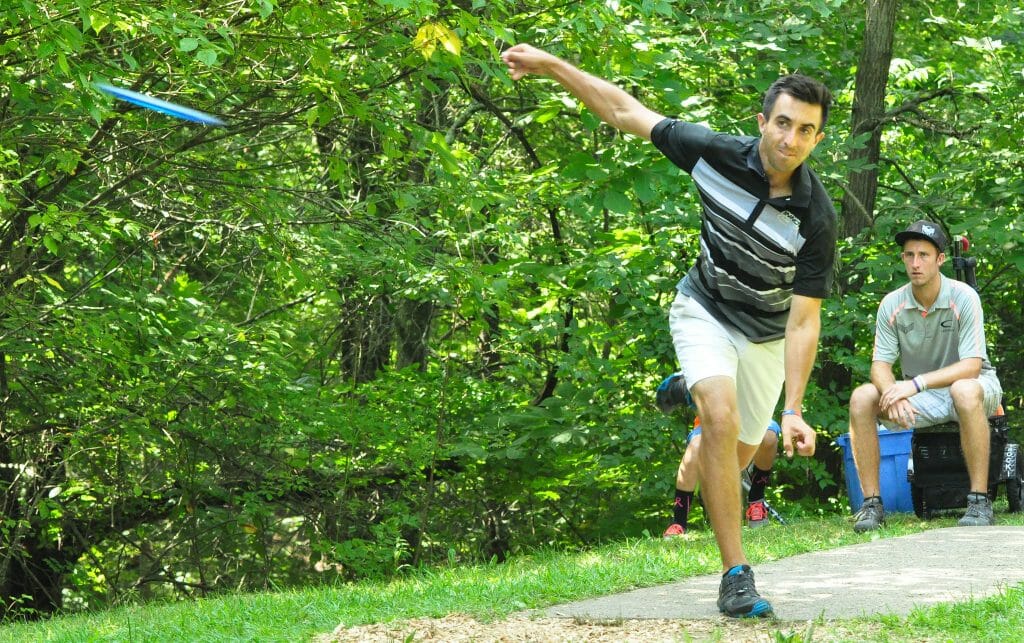 Paul McBeth bookended the PDGA National Tour season with victories, as he flew past Ricky Wysocki midway through the third round of the Brent Hambrick Memorial Open in Columbus, Ohio, yesterday before cruising through an easy Final 9 for the win.
McBeth's 36-under par 236 gave him his second National Tour victory on the season, after he opened NT play back in March with a victory at the Memorial Championship in Scottsdale, Arizona. Wysocki's 25-under par 247 brought him to second place on the weekend, while Nate Sexton's 24-under par 248 landed him in third. Chris Dickerson tossed a 10-under par 71 during the third round to secure a spot in the Final 9 and ended up in fourth place overall at a 22-under par 250.
The tournament marked the second blowout victory in a row for a resurgent McBeth, who – despite winning his last two events by a combined 23 shots – says he is still not back in his 2015 form.
"I'm still just fighting to get where I want to be," McBeth said. "I feel like there are a lot of mistakes that I shouldn't be making that I wouldn't have been making last year, whether it's mental or just [physical] errors. There's still some room for improvement, but it is good knowing I'm back on the winning side of things and competing week in and week out."
McBeth's blistering 15-under par 66 during round three actually found him ceding two strokes to Wysocki within the first three holes before chasing him down for a tie after hole 15. Play completely shifted from there, with McBeth carding birdies on seven of the final 12 holes to Wysocki's one.
"I knew I caught [Wysocki] and passed him, but I hadn't been paying attention to the score that final round so I didn't know how close it was until there were four holes and we had a small backup and I looked at the scores," McBeth said. "I knew I was beating him by 10 on the round, so I knew I had a pretty sizeable lead at that point."
By the time the third round ended, McBeth had preserved that 10-stroke swing, turning the Final 9 into more ceremony than necessity. He added four more shots to his lead for good measure, though, and walked away with an 11-shot win over his main rival.
McBeth said he put himself in better position than he noticed Wysocki did for himself.
"I probably was just giving myself more opportunities than [Wysocki] was, and when he did give himself a slight opportunity he wasn't making his long putts like he normally does," McBeth said. "He made a few, but he was not really giving himself the opportunity to keep it too close."
The victory was McBeth's third straight at the BHMO, and he attributed his success there to familiarity with the course's equipment.
"I think these baskets, the baskets are the same ones I grew up on. They're really crappy Mach 3s," McBeth said with a laugh. "A lot of people are timid to putt on them, but I feel like I'm at home with them."
McBeth has now played five of his eight rounds since the World Championships at or above his PDGA rating of 1055. Wysocki, meanwhile, has played five rounds below his 1047 clip during that same stretch.
For the BHMO, Wysocki bucked his recent trend and played the first two rounds above his rating. He led for 69 of the 90 holes played in the event, but went cold late.
"I got out of my rhythm, and Paul found his rhythm in the final round," Wysocki said. "I've always said if I play up to my potential, and he plays up to his potential, I'm gonna win. But this week he played up to his potential…I'm looking forward to the next tournament, where hopefully we can both play up to our potential. And if that's the case, I know I'll be the winner."
Despite not taking home the BHMO title, Wysocki was victorious in another, perhaps larger, sense: His second place finish more than secured his place at the top of the PDGA National Tour standings.
Wysocki won three NTs this season – the Kansas City Wide Open, the Masters Cup, and the Beaver State Fling – and never finished lower than 6th place at any event in the series. Using the PDGA's method of assigning points for a player's five best finishes out of the first six NTs and then adding the total from the BHMO, Wysocki ended up with 576 out of a possible 600 points and pocketed a $2,000 bonus.
"I feel like this season is showing all my progress throughout the years and what I've worked toward, to this moment – really just being this consistent and having chances to win almost every tournament I play," Wysocki said.
In FPO, Catrina Allen dusted the BHMO opposition, carding a 6-over par 278 for the weekend to beat her nearest competitor by 20 strokes. Sarah Hokom's 26-over par 298 found her taking home second place, while Valarie Jenkins's 30-over 302 was good for third.
The win made it a clean NT sweep for Allen, as her lowest finish – 2nd place at the Vibram Open – was scrapped from her series points total. Her six victories on the rest of the circuit brought her to 600 points and netted her a $1,000 bonus.