Pierce's hot final round not enough to challenge for FPO title.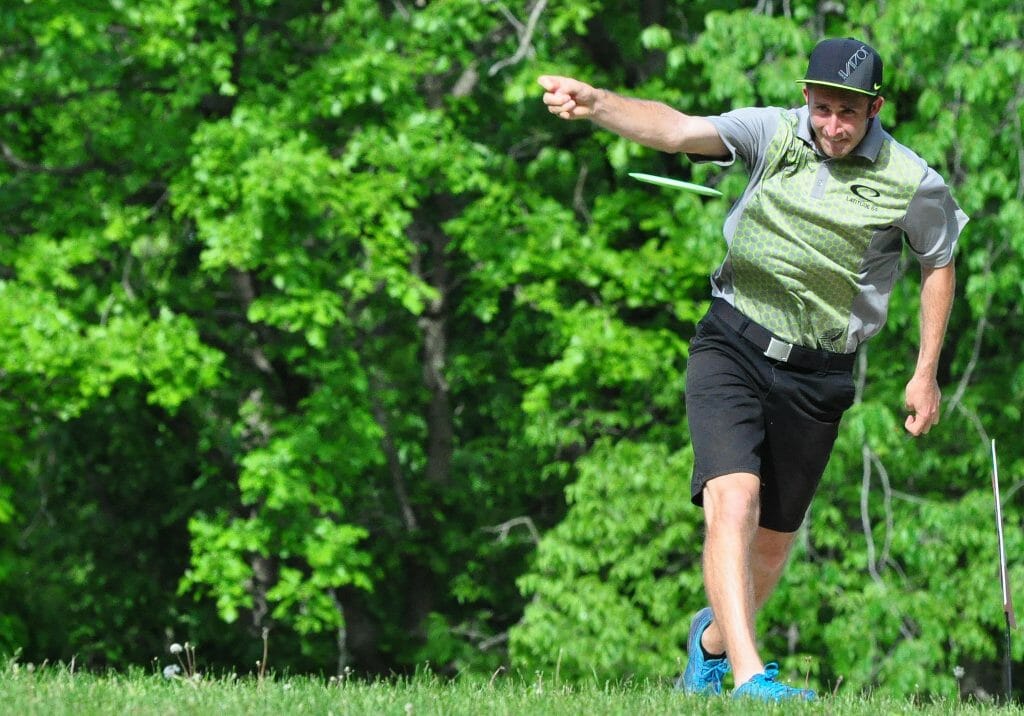 The rain has become routine on the Professional Disc Golf Association National Tour, with the final round of the Kansas City Wide Open mired in another Midwestern storm that caused a delay in play for the second straight week.
None of that mattered to Ricky Wysocki, though, as he parlayed his two stroke lead into a seven shot victory, throwing a five-under par 56 to bring him to 27-under par 160 for the weekend, besting Benjamin Wiggins (-20) and JohnE McCray (-19) in the process. Nate Doss and Cam Todd tied for fourth place at 18-under par, while four others tied for sixth at 17-down.
Catrina Allen, meanwhile, continued to assert herself as the game's top female disc golfer, as her three-under par 184 gave her an 11 shot victory and her tenth consecutive Women's Open win. Paige Pierce (+8) bounced back from Saturday struggles to finish in second, while Valarie Jenkins (+10), Liz Carr-Sypien (+13) and Jennifer Allen (+16) rounded out the top five.
And while the weather may have watered down the fairways, Wysocki said the concurrent running of the Konopiště Open – which took NT mainstays Paul McBeth, Simon Lizotte, and Nate Sexton away from Kansas City for the weekend – did not do the same to the level of competition at the tournament. Or the leaderboard, for that matter.
"[It was] obviously a little different without Simon and Nate and them there, but it's pretty much the same, it doesn't change my mental approach," Wysocki said. "There were a lot of great players there and I think it would've probably been the same result if they were there because I played pretty solid."
That mental approach was something Wysocki said he leaned on as the skies opened and conditions worsened.
"I'm always serious, but it's really just bearing down and grinding it out, knowing that if I play my best I'm going to win the tournament," Wysocki said. "I just had to convince myself mentally that I'm going to flip the switch and play my game and play it out."
An hour-plus lightning delay hampered play in the Men's Open division, but Wysocki said he made adjustments to make sure the accompanying moisture did not impact his performance.
"When it's raining I always like to have a fast routine so that by the time I dry my disc off and have a grip on it, I'm throwing while I have a grip on the disc," Wysocki said. "I'm not going to sit there on the end of the teepad and line up my shot and wait for my disc to get soaked."
Allen, who did not have to contend with the weather but, like Wysocki, led the entire tournament, said she played well despite being inconsistent on the green.
"I didn't putt well this weekend," Allen said. "I definitely three-putted twice this weekend and I probably missed like – I would say I'm not exaggerating – four to five putts in the circle every round."
Allen said the struggles were not a mechanical issue, as she found the basket with plenty of ease the prior weekend.
"I putted very well at the Glass Blown Open, so I don't think it's my putt or anything," Allen said. "I just think I can be honest and say I wasn't as mentally there this weekend as I was [before], on the putting green anyway."
Finding ways to continue to improve her game, then, has driven her to not become content during the stretch of success.
"I'm not just like, 'Oh, I'm over this' and [wanting to] find something else to do," Allen said. "I'd like to, eventually, be good enough that, when there's not a women's field at all, I can still go out and cash with the men."
But before she can do that, she will need to keep holding off Pierce. The defending women's world champion made a late charge in Sunday's final, shooting a hot round of 50 to bring her up from third place and within 11 shots of Allen. While that margin sounds large, consider this: Pierce took a 12 and an 8 on two holes during Saturday's round that effectively added those 11 shots to her total.
The finish left Pierce ready to reclaim her position atop the leaderboard.
"I don't think I'm ever chasing Catrina," Pierce said. "I played with her one round, she did not play hot at all, and she'll tell you the same thing. If I don't have those two holes, I'm right beside her. I don't feel like I'm ever chasing her, it's just two bad tournaments in a row."
Pierce will look to get back on track when the National Tour picks up again in two weeks at the "Steady" Ed Memorial Masters Cup in Santa Cruz, California.