Johansen, Owens, and Williams knotted at the top, while Hokom holds steady in FPO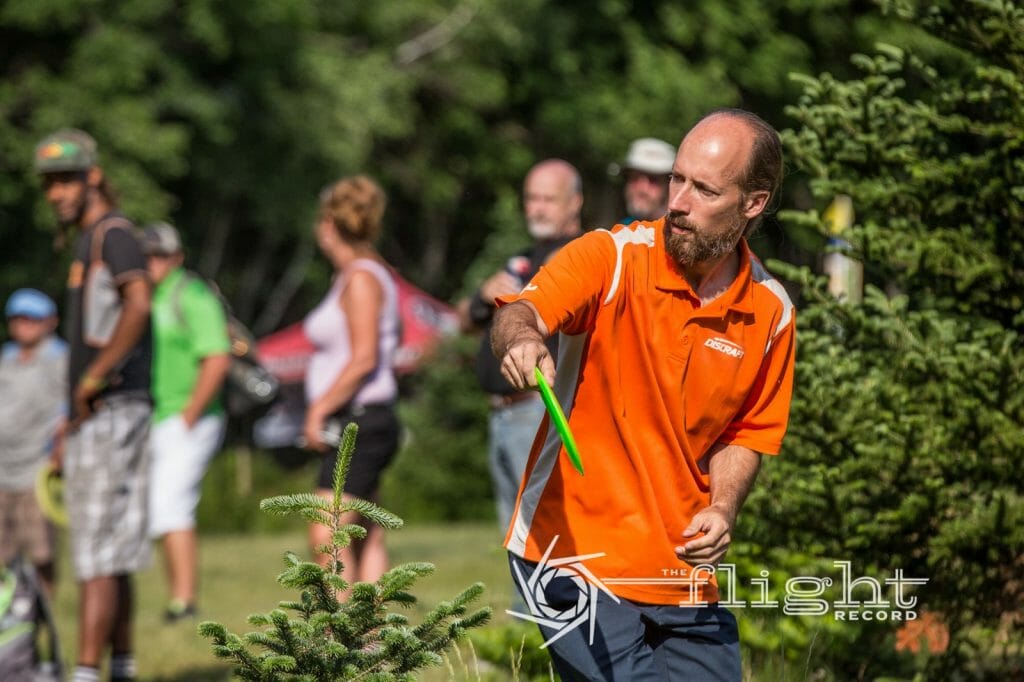 There's a reason certain expressions become cliché.
A storm of birdies on Maple Hill's final six holes vaulted a trifecta of players to the top of the leaderboard on day two of the Vibram Open, as Michael Johansen, Bradley Williams, and Devan Owens put proof to the adage about finishing being most important. Highlighted by three consecutive deuces for Johansen, five for Williams, and a whopping six for Owens, the leaders now sit at a 14-under par 106 at the tournament's midway point. Cale Leiviska and Nate Sexton are one back at 13-under, while Alex Geisinger's 18th hole bogey drove home the importance of closing, dropping him to sixth place at 12-under par.
Paul McBeth, meanwhile, carded an uncharacteristic 1-over par 61 to drop into a tie for 10th place, while Ricky Wysocki sits tied for 14th after his 6-under par second round.
Sarah Hokom added to her lead in the Women's Open division with a 3-over par 63 to bring her to a 3-over par 123 total, while Valarie Jenkins and Catrina Allen are tied for second place at 7-over. With two days remaining at a course that can vex the game's best, though, the old cliché that powered the Round Two storyline looms large.
"With three holes to play somebody told me I was in first place, and I just kind of laughed at them because we're not even to the weekend yet," Leiviska said before taking a post-round dip in one of Maple Hill's ponds. "We still all have so many more lines to hit. No one's leading this tournament yet, everyone's just in position."
And Johansen had to scramble a bit to get into said position. The North Carolina native, who is playing in his first Vibram Open since a fourth place finish at the 2010 iteration of the event, was perfect when not landing on the green in regulation, converting for par on eight of eight scrambling opportunities. That ability to scuffle, combined with deadly putting – 80 percent on five putts from 10-20 meters, and 100 percent from 10 meters and in – led to Johansen's bogey-free hot round of 9-under par.
While Owens and Williams were also strong from close range with 89 percent Circle 1 putting, the pair leaned on accuracy down the stretch, landing on the green a combined 11 times in the last six holes.
Leiviska, though, tried to buck the trend by starting hot with a 70-foot birdie putt on Hole 1. He kept a clean sheet until back-to-back bogeys on 13 and 14 sought to derail his round, then answered with a 90-foot anhyzer spin putt for birdie on Hole 15. The recovery demonstrated the veteran savvy of a player with three Top-5 finishes and plenty of good vibes at Maple Hill, including a first place finish at the 2012 Vibram Open.
"It's definitely my style, with all the tight wooded shots off the tee where I throw midranges and I'm able to throw clean, straight shots," Leiviska said. "I have a lot of experience, but it's also what we look forward to every summer. Just to be on this property and to be able to be around all our friends, it's a pretty special weekend. Playing is just a bonus because we all love being here so much."
Hokom, who called the Vibram Open the best tournament of the year, continued to play well after returning from a shoulder injury. And while the ailment kept her out longer than she had hoped, she said her play thus far was not unexpected.
"I wouldn't say surprised, I know what I'm capable of," Hokom said. "This is a course that I am very familiar with and really enjoy playing. I was happy that the mental side of the game wasn't as trying as I thought it would be. It does appear that having that little bit of time off to relax and reflect did help me to have a better mental strategy out on this course."
She'll need that focus to combat a Maple Hill venue that, Jenkins admitted, can wear players down over the weekend.
"It's grueling in the sense of the mental side," Jenkins said. "You can throw the same shot all four rounds, and then by a matter of an inch or two get one bad kick here or there. That can tend to add up if you let it get to you."
Still, with two rounds remaining to shave four strokes off the lead, Jenkins – who has won at Maple Hill twice in her career – remained positive after falling only one stroke off of Hokom's Round Two pace.
"Absolutely, it's realistic to make up [a four shot deficit] in one hole out here," Jenkins said. "You never know how many strokes you need to be comfortable out here having the lead, especially going into that last round. I'm feeling pretty confident."
Round Three Coverage
The SmashboxxTV team will live stream the men's lead card beginning at 2:45 p.m. EDT, and you can tune into the action at Ultiworld Disc Golf's front page. Play-by-play and live scoring are available through @PDGALive on Twitter.
Prodigy Disc Video continues to roll out post-produced action, as Friday's lead card can be viewed on the brand's YouTube channel.