Johansen, Leiviska one shot back, while Allen and Pierce leapfrog Hokom in FPO before today's final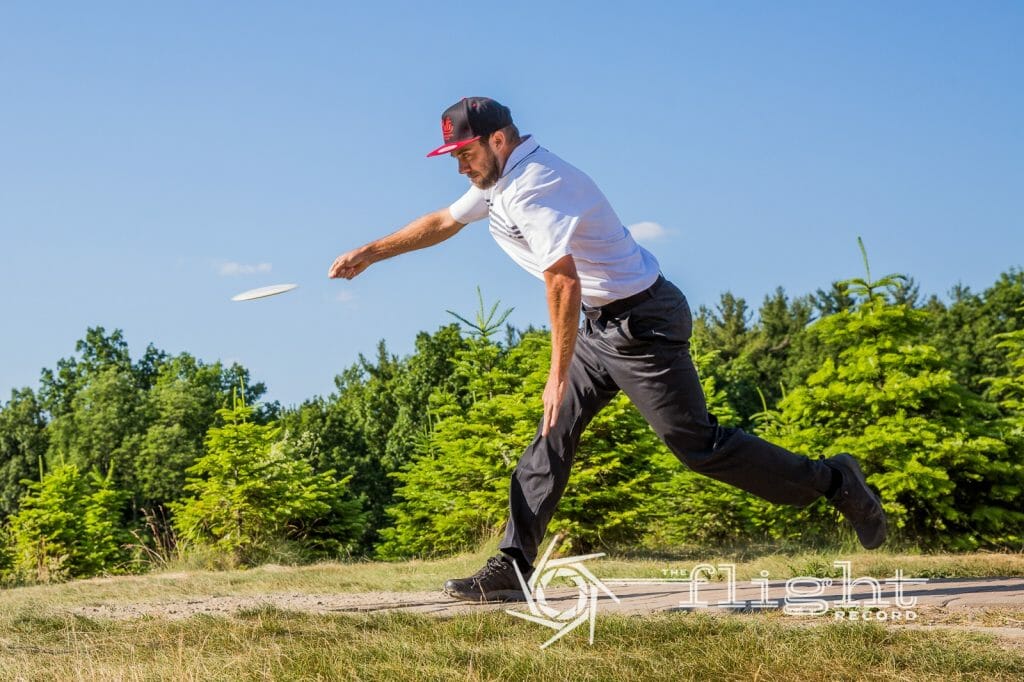 As he stood on the edge of the 18th green at Maple Hill yesterday, roughly 70 feet stood between Bradley Williams and a birdie putt for sole possession of first place. With an opportunity ripe for the taking, the Austin, Texas, native lined up his shot, then channeled his vision inward.
"I took a glance at the gallery, and then I looked inside myself and I was assessing how I felt," Williams said. "I thought I could get the nose up and have some hyzer on it. Then, for an extra bit of strength and confidence, I was just thinking about all the people back home in Texas who support and root for me, and I was like 'Do this putt for them, give it all that you've got.'"
A decisive crash of the chains and an understated fist pump later, and Williams walked away from the Vibram Open's third round with a 22-under par 158 total and a one shot lead over Michael Johansen and Cale Leiviska heading into today's final. Devan Owens' 18-under par 162 total will find him on the lead card for the third straight day, while Ricky Wysocki's hot round of 10-under vaulted him up the leaderboard, into sixth place and on tomorrow's chase card.
Moving Day also brought a shake-up to the Women's Open division, as Paige Pierce shot a 1-under par 59 to lead the round and take a share of first place, which she now shares with Catrina Allen. The top ladies both sit at an 8-over par 188 for the weekend, while Sarah Hokom looms one throw back at 9-over.
Williams' long putt on 18 was the cherry on top of another strong closing performance, as he birdied four out of the final five holes one day after hitting six out of the last seven in Round Two. He's now made 90 percent of his putts from within the 10 meter circle on the weekend and 36 percent from 20 meters.
"A lot of times on putts, I'm known for not giving it all I've got, and I just wanted to make sure I went out with a full attempt at the three," Williams said.
While he boasts 91 wins over a professional career that spans nearly a decade, Williams heads into the final round with a chance at his first PDGA National Tour victory. His top NT showing came at the 2010 Masters Cup, where he placed second, and he has never finished better than fifth place at the Vibram Open. Still, he said he planned to do his best navigating the roller coaster that is Maple Hill.
"How the course plays out, my emotional level is like a wave, and sometimes it's at critical moments where it can cause bad shots," Williams said. "But I know there are tons of holes that I'm confident at, and if I stay patient and push through on the holes that I'm going to do good on tomorrow, hopefully I'm more aware of those moments before they happen."
With the venue presenting its own danger, the rest of the field ensures that Sunday won't be a walk in the park for Williams, either.
"There are a lot of great players out here that are known to put up good numbers," Williams said. "I'm just hoping that I can stay consistent and finish right, and hopefully win it."
He'll have to hold off Johansen, whose bogey on Hole 18 broke a 35-hole streak of clean play that dated back to the same hole during Round One. The North Carolina-based veteran continued his strong putting and added a 110-foot throw-in to save par on Hole 10 after finding trouble on the approach.
As far as strategy heading into the final, Johansen was adopting a similar mindset as Williams.
"Just stay in the game and keep playing," Johansen said. "It's one of those courses where you can't really go out and say 'I need to shoot a number' or something. You've just got to let it come to you because there are a million ways to shoot a good score on a course like this. Every hole can snap up and grab you, so you just kind of have to play steady as she goes and work on to the next hole no matter what."
That approach was in stark contrast to Wysocki, who specifically mentioned a score he was aiming for as he seeks to erase a six throw deficit.
"Today I put myself in position," Wysocki said. "I'm pretty sure the leaders aren't going to be coming to me. I have to really be able to repeat the same score [from today] or better for tomorrow. I think if I shoot in the 40s – I know how it is playing with the lead, it's a lot of pressure. I think that if I post a great score, like a 49, 50, I think that I'll have a chance. I'll do all I can do. I struggled the first two days, which put me in a bad spot."
Down the leaderboard, a throw-in for eagle on Hole 18 wasn't enough for Paul McBeth to climb the ladder, as his third round 5-under par left him tied for 11th place. Another tour stalwart showed signs of rounding back into form, though, as Will Schusterick threw a 9-under par 51 to move up into 9th place. He said the performance was one off of which he hoped to build.
"Honestly, any next hole that you can play can be a new mental mind frame going into the next couple months," Schusterick said. "It only takes a good shot, or a good feeling on a putt, or the way that, for me personally, I see something…I really feel like it takes me to the next couple weeks, or the next couple months, from that one shot or that one hole."
The battle for the Open Women's crown took a turn back toward the 2016 standard, as Pierce and Allen ascended to the top for a final round showdown.
Allen, who struggled in Round Two with four bogeys and a triple bogey, cleaned up her play to shave three shots off of her previous sheet.
"This course… it's a matter of not getting the kick, or getting the good kick [off the trees]," Allen said. "I stuck to my game plan again today and got through. I didn't make any big mistakes."
With a prospective victory garnering her a sixth consecutive National Tour title, Allen – like Williams and Johansen – warned of avoiding the sting of Maple Hill.
"Every hole has you on edge," Allen said. "There's O.B. and water and elevation, and lots and lots of trees…It'll just crush you."
Final Round Coverage
The Open Women finale tees off at 9:00 a.m. EDT, while Open Men – which will again be streamed live by the Smashboxx TV team and shown on Ultiworld Disc Golf's front page – takes the stage at 2:00 p.m. Play-by-play and live scoring are available through @PDGALive on Twitter, and Prodigy Disc Video continues to roll out post-produced action, as Saturday's lead card can be viewed on the brand's YouTube channel.