Sudden death win marks Texas native's first PDGA National Tour victory, while Pierce knocks off Allen for Maple Hill three-peat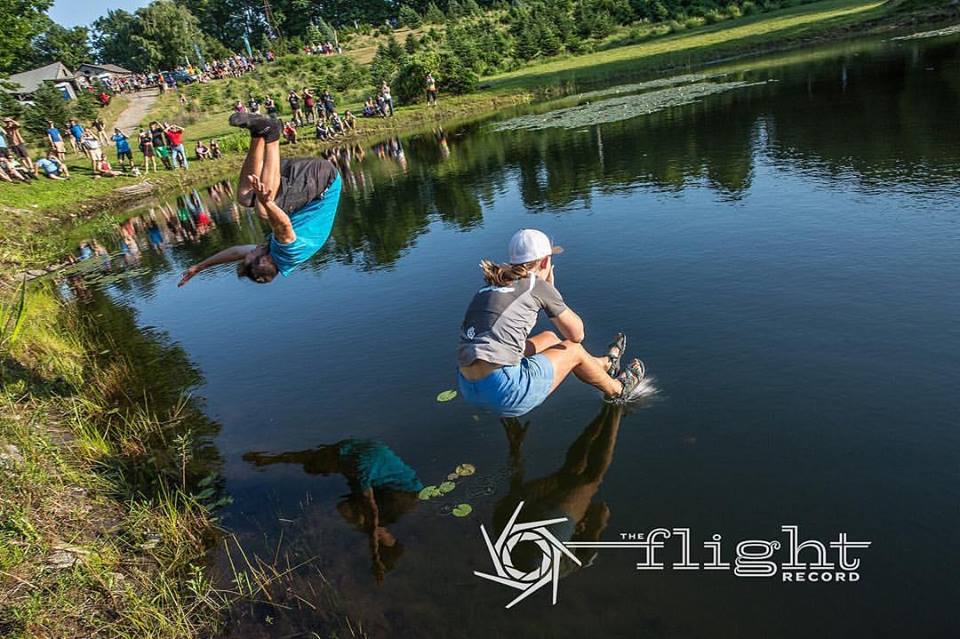 After four days in Leicester, Massachusetts, 72 holes of disc golf just weren't enough to settle the Vibram Open.
Instead, 75 was the number of choice, as Bradley Williams bested Michael Johansen on yesterday's third playoff hole to bring home the win and claim his first PDGA National Tour victory. The 29-under par 222 performance garnered the Austin, Texas, native $2,500 in prize money and the distinction of being the first Open Men's winner of the newly-minted Disc Golf Pro Tour, while Johansen's 28-under 223 netted him $2,000. Cale Leiviska's 27-under 224 brought him to third place, while Ricky Wysocki and Drew Gibson rounded out the Top-5.
Another Texas golfer took top honors in the Open Women's division, as Paige Pierce held off a late surge from Catrina Allen to finish at a 5-over par 245 for the weekend for her third consecutive Vibram Open title. Pierce's performance, which was her first NT victory of 2016, saw her taking home $1,500 in prizes, while Allen pocketed $1,250. Sarah Hokom, Valarie Jenkins, and Madison Walker comprised the rest of the top handful of women.
For Williams, the win was the culmination of a clean weekend that saw him only go out-of-bounds once on the notoriously tight fairways of Maple Hill, while also ranking as the top player in hitting greens in regulation.
"I was stunned," Williams said. "I didn't anticipate it going down quite like it did, where I had a chance to lay it up for the win. Very stunned, very emotional, but now that I've calmed down a little bit and it's soaked in, just looking back over the weekend I played a solid game and I put myself in contention, and I'm just happy that it worked out the way it did for me."
And it almost didn't happen.
Leiviska played well out of the gates for the final round, carding birdies on four of the first eight holes to quickly capture the lead as Johansen and Williams struggled to find a rhythm. The latter pair chipped away, though, and by the time competition reached Hole 15, Leiviska was left clinging to a two shot lead.
That margin was whittled down to one by Hole 17, where Leiviska pulled his drive too far right off the tee, leaving an opening for Johansen and Williams to tie.
"I'm assuming that, being the champion and well-composed player that he is, that at that moment [Cale] either got a bad wind read, or possibly had been experiencing some nerves like we all go through," Williams said. "I've thrown some bad shots this weekend, missed some putts because I was rattled mentally, and I'm guessing one of those two things happened. As soon as it happened, it was a far enough flex to the right to where I was like, 'This is an opportunity. This is the only way that you're really going to have a chance, is that you need to get a stroke here and then maybe something will go your way on 18.'"
Both Williams and Johansen birdied Hole 17 while Leiviska answered with a par, sending the three tied heading into the hallowed 18th Hole at Maple Hill, where the gallery is virtually on top of the pin. Leiviska again struggled off the tee, and Williams and Johansen both parked approach shots to dispatch Leiviska and send the action to a two-man, sudden death playoff.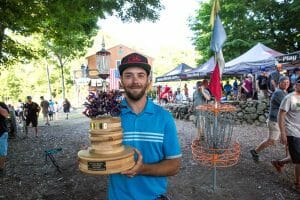 The situation was familiar for Williams, as his best NT showing prior to this weekend came at the 2010 Masters Cup in Santa Cruz, California, when he rode a late throw-in and a Top of the World tap-in to force a playoff with 12-time PDGA World Champion Ken Climo.
"At that point in my career in disc golf, I was just happy to make $1,000," Williams said. "So after I had thrown a sidearm and gotten it to within a distance that I was going make the putt, I was like, 'Dude, you just made $1,000 playing Frisbee golf. Well done.' I wasn't even thinking about the playoff or trying to win the tournament."
It showed, as Williams lost the playoff on the first hole after misjudging the landing spot of Climo's drive, believing it was close enough for an easy birdie. Thinking he needed to park his shot to have a chance at extending the playoff, he "overcommitted" off the tee, pulling the disc right and hitting a tree.
Climo, it turns out, was not in line for the deuce, and Williams could have played it safe to keep the round going. And he reflected on that sequence of events as he prepared for his playoff showdown with Johansen.
"It was something that I thought about going into Hole 1 today," Williams said. "I was like, 'We're not going to make that mistake again. You're going to see where Johansen lands, and you're going to throw the shot you need to throw to put yourself into contention to push the hole.' That's how it happened, so once I got through Hole 1 I looked at my caddie and was like, 'We got through Hole 1 in the playoff, that's a step forward. Let's go.'"
On he went to Hole 2, where he and Johansen traded pars before trekking back to Hole 1, as the Vibram Open's playoff format dictated that those two holes be played in succession until a winner was decided. But as Williams took his run up and went into his swing, a spectator across the fairway yelled, breaching not only disc golf etiquette, but also – and more importantly – his concentration.
Ironically enough, the distraction found him looking back once more at that 2010 playoff in Santa Cruz.
"I knew that I heard the yell in my swing, and some people might freeze up and not follow through on the shot," Williams said. "And I realized, [since] I'm already going through my swing, 'You better follow through to get over this lake.' Then I over-follow through with a  bottom-stamped white Destroyer – just I like I did against Climo – and I was like, 'There it goes, to the right, where you don't want to be.' I was like, 'You've got to be kidding. You're going to do it again? You're going to make the same mistake you did before?'"
After finding that his shot ended with an awkward lie behind one of the Maple Hill Farm Christmas trees and that Johansen was relatively safe, Williams thought the déjà vu would be his undoing.
"I was like, 'This sucks. This is probably not going to end well for me,' and Michael Johansen has thrown it absolutely perfect," Williams said. "I really thought it was over, honestly."
As Williams debated how to play his shot over the trees, though, Johansen's upshot caught a bad break and skipped over a rock wall and out-of-bounds. What was going to be an aggressive Williams approach to extend the playoff became a routine shot.
"It was like, 'OK, I don't need to take this risky shot any more, I can lay it up to the mouth [of the green] and maybe have a putt and then see what he does,'" Williams said.
Johansen could not convert a par save on his in-bounds throw, leaving Williams with an easy putt to clinch the win and punch his ticket for the traditional pond jump victory celebration. The fashion in which it played out, though – with Johansen making an error more than Williams applying the pressure – left the latter feeling conflicted after the final chains stopped dancing.
"Honestly, I didn't consider that it was the first Pro Tour," Williams said. "I knew it was my first National Tour win, but I was really still in disbelief that Michael's shot had gone out of bounds. I was like, 'I don't know if this is fair.' It just didn't seem right, you know? It didn't seem like I threw a fantastic shot, or made a dramatic putt, or did something special. I do think that I played well all week, but in that moment I was just stunned."
Still, he didn't plan on letting that feeling linger.
"In the short term I would say it's a little less satisfying, but in the long term, heck no," Williams said. "I've been working hard this year, and now that I have a National Tour accolade in my career book, I want to go forward from here. I want more challenges. I want more opportunities to compete at the highest level."
The win, and that attitude, mark the high point of a roller coaster span of two seasons for Williams that has seen a sponsor change – he went from Prodigy last year to Hyzer Bomb this season – and a three-month PDGA suspension for unsportsmanlike conduct, for which he is still on probation.
Once a player with a bad reputation, Williams now said he is changing his stripes.
"I've been working harder on my game, obviously, but I've been working more on trying to be a better role model and to have better composure out on the course – which I'm still not even a 1000-rated level-headed performer," Williams said. "Hopefully this weekend I've raised the bar for myself a little bit and maybe drew in a few more supporters and fans of my game out here. But that's something that I really want to work better on. I just want to be a likeable, respectable steward of the game, and to contribute as much as I can while I get the chance to play."