The Disc Golf Pro Tour's is back in Texas for a second season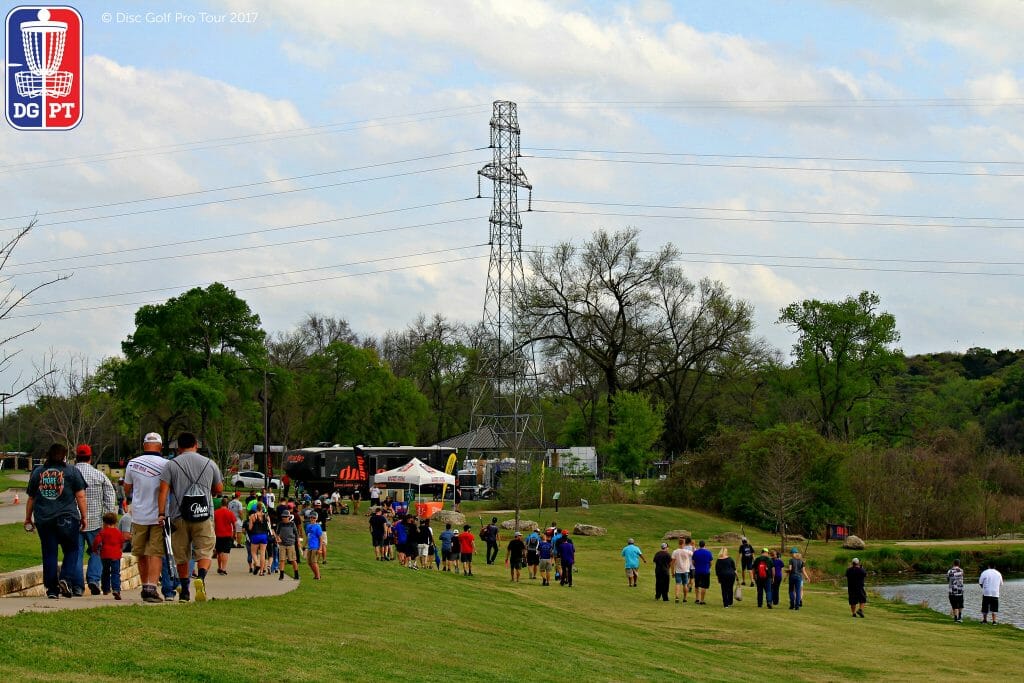 After an eventful opening to the season in Las Vegas and Arizona, the pro scene heads to Texas for the second Disc Golf Pro Tour event of the season, the Waco Annual Charity Open. Last year it provided plenty of highlights, with Paige Pierce and Sarah Hokom battling through the first two rounds, to the playoff between Jeremy Koling and James Conrad in the Open division. This year, we will get to see if two early season trends persist.
Storylines
Before the Las Vegas Challenge, we speculated as to when the reign of Paul McBeth and Ricky Wysocki in the Open division might be challenged, if it would happen in 2018, and who might step up to present that challenge. We didn't have to wait long to find out, as Eagle McMahon and Simon Lizotte have come storming out of the gates each grabbing early wins, while McBeth and Wysocki haven't been their usual consistent selves.
In the Open Women's division, the questions to start the season were centered around Paige Pierce and if she would dominate like she did in 2017. Early returns have been great for Pierce as she's collected two wins where, by the final round at The Memorial, few in the division were remotely close to her lead, and at the LVC, she made an impressive comeback after a subpar first round.
The first two events kicked both of these narratives into high gear. Now, it's time to see if they persist on a different style course from those at the LVC and The Memorial. Brazos Park East has trees and lots of them on the back nine. On the more open courses in the first two events, Pierce's distance could make up for her accuracy, but now accuracy will be more of a premium.
In the Open division, McMahon is not in attendance, and Lizotte should arrive in time for his 2:40 p.m. tee time after weather-related travel delays, but McBeth and Wysocki are there and have had ample time to practice. Wysocki finished third last year, and McBeth opted to skip the event. Lizotte could certainly carry over some momentum after his Memorial Championship win; given his talent and his third-place finish here last year, the missed practice time shouldn't factor in. Additionally, strong performances from Koling and Conrad in 2017 demonstrate that this event could be yet another place where the rest of the field can challenge McBeth and Wysocki.
Venue and Course
Brazos Park East (Thursday, Friday & Saturday): Open, Par 67, 7,949 feet; Open Women, Par 67, 7,669 feet.
All three rounds of the event will be played at Brazos Park East. The course, nicknamed The Beast, features some picturesque views of the Brazos River to go along with a more open front nine, and a densely wooded back nine. An added wrinkle is that this event will start on hole 7 for logistical reasons, rather than hole 1. That means it ends on the difficult hole 6, which features a long water carry spanning nearly the full length of its usually windy fairway.
The Open Women's field will play three shorter tees on holes 8, 16 and 5. At last year's event, all three holes had very low Greens in Regulation and birdie percentage rates during each round. The adjusted layout should spur increased scoring opportunities throughout the field.
If you're looking for more, here's a course preview with James Conrad and Peter McBride, courtesy of Central Coast Disc Golf:
Past Waco Annual Charity Open Winners
How To Follow
You can follow along with the live coverage of the Open feature and lead cards on the Disc Golf Pro Tour YouTube channel at 4:00 p.m. eastern time, Thursday through Saturday. Expect footage of the feature and lead Open Women's cards interspersed into the broadcast, and post-produced full round coverage of those cards to appear on the DGPT YouTube channel sometime after the event.
Jomez Productions and Central Coast Disc Golf will provide next-day post-production video, with live scoring and statistics available via UDisc Live.
Extended Forecast
A much warmer tournament is in store compared to those out west earlier this season. The wind will also show its teeth throughout the event, testing the top players on The Beast. With strong southerly winds expected Thursday and Saturday, the finishing hole 6 may play particularly difficult. The drivable, 492-foot par 4, will play directly into a headwind, much like last year. On Friday, the difficult upshot to a peninsula green on hole 5 may play directly into a headwind as well. Afternoon thunderstorms are possible Saturday.
Thursday:
9 AM: 54° with a southerly wind around 10 mph. Gusts up to 20 mph are possible.
3 PM: 75° with a southerly wind around 20 mph. Gusts up to 30 mph are possible.
Friday:
9 AM: 62° and humid. Southwest winds around 15 mph can be possible.
3 PM: 82° with a westerly wind around 10 mph.
Saturday:
9 AM: 63° with a southerly wind around 10 mph.
3 PM: 82° with a southerly wind around 15 mph. Gusts up to 25 mph will be possible. A few thunderstorms can't be ruled out either.