A new season brings new questions.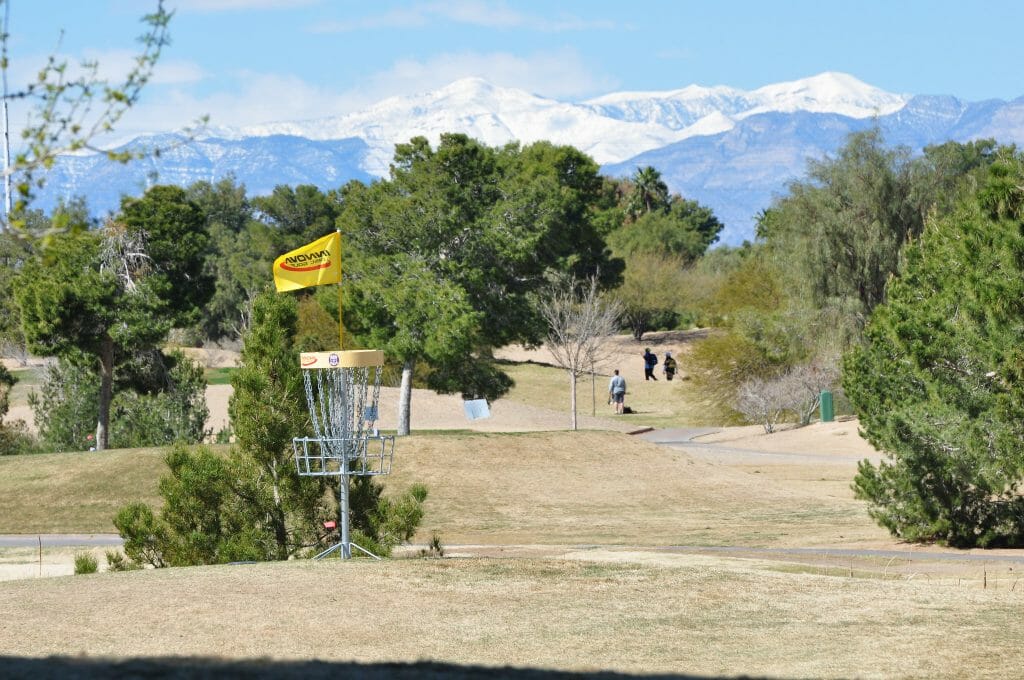 In its second year as a PDGA National Tour event, the Las Vegas Challenge not only kicks off the prestigious tour but also marks the start to the professional season. 189 players have descended upon the Wildhorse Golf Club in Henderson, Nevada, including defending winners (and defending world champions) Ricky Wysocki and Paige Pierce, who each headline their respective division's first round feature cards.
But it's not just the play on the course fans should be excited about. New developments in disc golf media mean fans everywhere should prepare to be more connected to how the events are unfolding than ever before. We can expect next-day post-production video of both the Open and Open Women's feature and lead cards. There will be live scoring with advanced stats for the first time at an NT. The PDGA is already on site bringing viewers as-yet-unseen access of the days before a premier event.
In short, it seems as if there was ever an optimal time to be following the professional side of the sport, it's right now.
Storylines
For the last half-decade or so, since Paul McBeth started winning world championships and Ricky Wysocki has come into his own, they have been the dominant forces atop the Open division. The pair trade wins, only occasionally getting picked off by any number of talented but less consistent competitors who manage to put everything together for a weekend. Two oft-asked questions remain: when will a player step up and consistently challenge Wysocki and McBeth for wins? And, of course, who will it be?
Nate Sexton, Simon Lizotte, Nate Doss, Jeremy Koling, Josh Anthon, James Conrad, and Michael Johansen have all collected impressive wins over the pair in recent years but have yet to do it regular basis. One thing all those players have in common is that their player ratings are over 1020: some have been well above that mark for many years, while others, like Conrad, have only recently surpassed the benchmark. That begs two more questions: who amongst the group of talented young players are poised to surpass 1020 first? And how quickly can any of them move up to challenge for wins themselves?
Austin Turner, Grady Shue, Kevin Jones, and Anthony Barela are all just a few strong performances and ratings updates away from reaching it. All but Barela are committed to full time touring this season and likely beyond. None have yet hit their ceiling, and watching them make their way there should be as intriguing as seeing any battle between Wysocki and McBeth for the win.
In the Open Women's field, many of the same questions come to mind, but with their own nuances. Pierce was clearly the strongest player throughout last season. For all her success in her pro career, highlighted by four world championships, there's still at least one thing she's missing: back-to-back world championships. For all her consistent winning since 2011, the Open Women's field can still be viewed as one with four exceptional talents at the top. Indeed, all three women–Valarie Jenkins, Catrina Allen, and Sarah Hokom–have alternated winning worlds with Pierce since her first seven years ago. Despite that, 2018 feels like one that is primed for Pierce to set herself apart.
And just below that dominant top four are a set of players trying to reach their own level of consistency and prove they belong in the conversation about who has a chance to win week in and week out. Lisa Fajkus, Jessica Weese, and Jennifer Allen have all found themselves on lead cards at times in recent years but have yet to get there with regularity. When will it be their time to make the jump?
As with all things disc golf, it isn't likely that we will know the answers to any of these questions after any single moment or victory, but perhaps this weekend can be the start of a trend. Could the time be right?
Venue and Courses
Wildhorse Golf Club will again host this early season event, now for the third consecutive year. Mere minutes from the world-famous Las Vegas Strip, all three courses that were used in 2017 are again in play for the Open and Open Women's divisions. Significant improvements were made to the teeing surfaces on each course with the local club installing turf tees on all 54 holes. Hole-by-hole maps, including adjustments to each hole from the 2017 layouts and statistics on how each hole played according to par, can be seen in the links below.
Disc Golf Values Course (Thursday): Par 58, 7,124 feet — The shortest of the three courses checks in with a 294-foot triple-island par 4 on hole 6.
Innova Course (Friday, Sunday): Par 61, 8,582 feet — The course that will host two rounds, in including the final on Sunday, provides the most balance between the need for distance and accuracy. Hazards and out of bounds can be found here in abundance, so control is the name of the game.
Adidas Terrex Course (Saturday): Par 62, 9,074 feet — The longest of the three courses clocks in with three holes measuring in at over 700 feet, with the 1,000-foot par 5 12th as the highlight. Players will have to tackle this beast as they try to make a move before Sunday's final round.
How To Follow
We can expect even more next-day tournament footage from Jomez Productions this week. They're covering both the Open and Open Women's feature and lead cards during all four rounds of the event.
PDGA media, who have already been quite active on the ground in the days leading up to the event, are on hand providing live updates during all four rounds through their Facebook page, Twitter, and Instagram with the hashtag #2018LVC. Live scoring will be available for both pro division via UDisc Live.
Check back in here at Ultiworld Disc Golf for recaps from all four rounds.
Extended Forecast
Thursday: Given the potential for very strong wind as the day goes on, almost every hole will play harder the closer we get to later tee times. A secondary hazard due to the wind may be blowing dust. This may reduce visibility at times and cause discomfort in the eyes and skin of players and spectators.
7 AM: 34° with a slight southeast wind.
1 PM: 56° with a strong southwest wind. Sustained wind speeds up to 30 mph will be possible, with gusts potentially exceeding 40 mph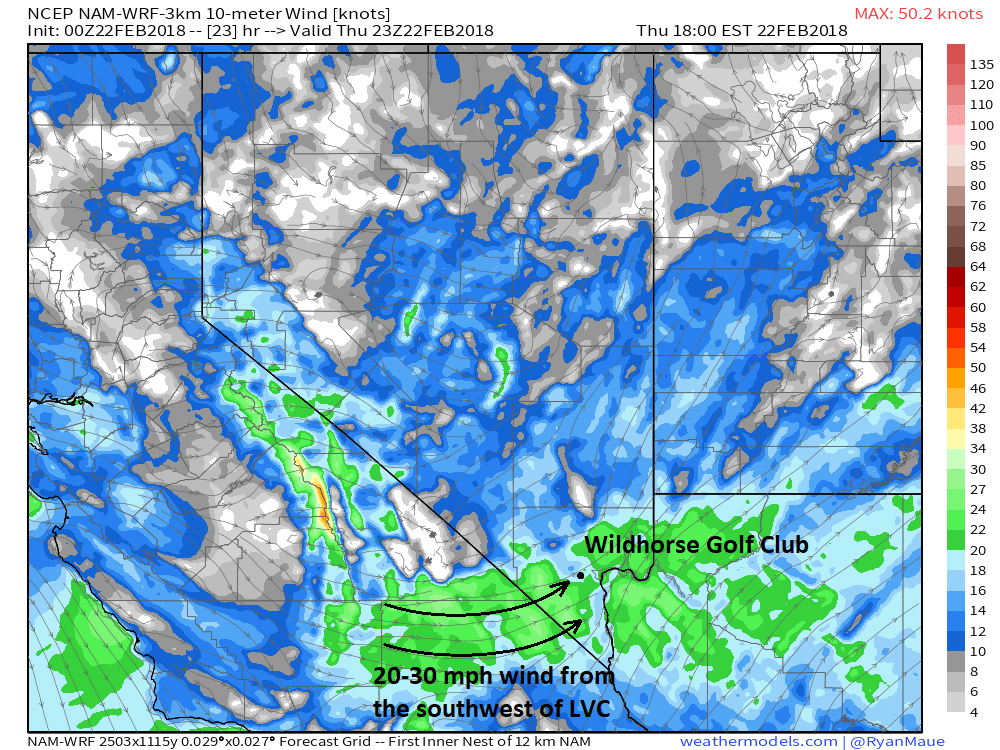 Friday: Temperatures won't quite be so cold in the morning compared to Thursday. Winds will shift more out of the northwest thanks to an overnight cold front. Afternoon highs will top out in the low 50's.
7 AM: 40° with a west wind around 10 mph.
1 PM: 50° with a northwest wind around 15 mph. Gusts up to 25 mph will be possible.
Saturday: A colder start is forecast Saturday. Wind won't be nearly as much of a factor as earlier on in the tournament. Highs will warm back into the mid 50's.
7 AM: 36° with mostly calm winds.
1 PM: 53° with southerly winds between 5 and 10 mph.
Sunday: Sunday will arguably be the nicest day of the tournament with warmer temperatures forecasted. Wind will be present, but not as much as Thursday and Friday.
7 AM: 40° with a northwest wind around 10 mph.
1 PM: 57° with a northeast wind around 10 mph.
Past Winners
| | PDGA Tier | Open | Open Women |
| --- | --- | --- | --- |
| 2021 | DGPT | Eagle McMahon | Paige Pierce |
| 2020 | A-Tier | Nate Sexton | Catrina Allen |
| 2019 | National Tour | Calvin Heimburg | Paige Bjerkaas (Shue) |
| 2018 | National Tour | Eagle McMahon | Paige Pierce |
| 2017 | National Tour | Ricky Wysocki | Paige Pierce |
| 2016 | A-Tier | Philo Brathwaite | Jessica Weese |
| 2015 | A-Tier | Paul McBeth | Paige Pierce |
| 2014 | A-Tier | Nikko Locastro | Catrina Allen |
| 2013 | A-Tier | Dave Feldberg | Catrina Allen |
| 2012 | A-Tier | Nikko Locastro | Valarie Jenkins |
Prior to 2018, this event was known as the Gentlemen's Club Challenge. The 2016 event was the first year it was held at Wildhorse Golf Club, but the layout has been altered each year since. Between 2004 and 2016, this event was an A-Tier played at Sunset Park in Las Vegas.