Everything to know about 2017's final PDGA Major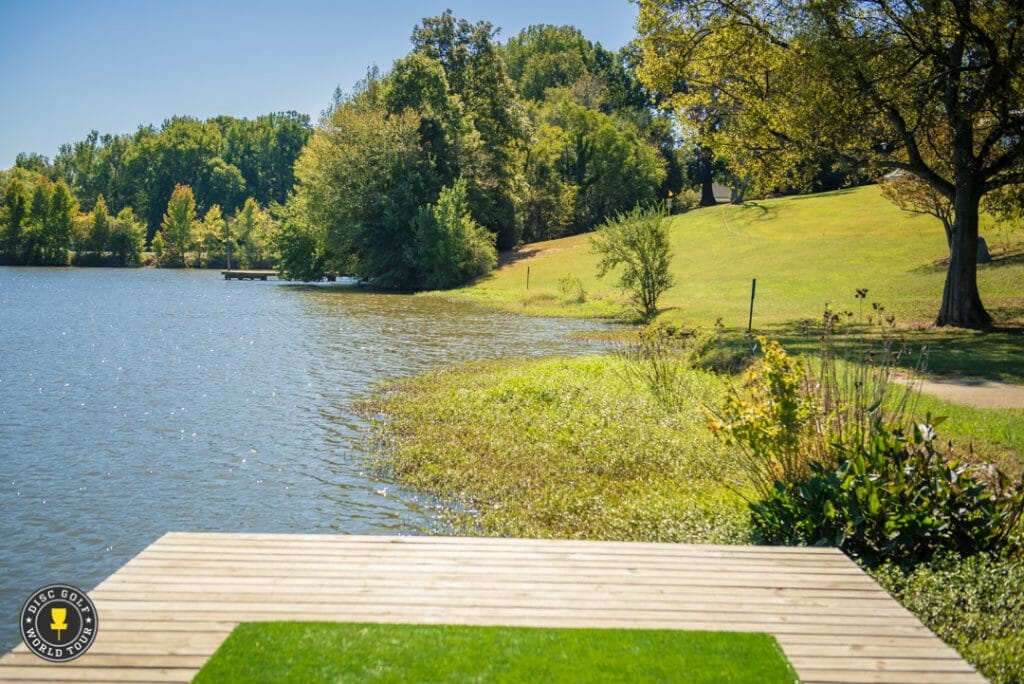 Ultiworld Disc Golf's coverage of the 2017 United States Disc Golf Championship is presented by Savage Apparel Co.; all opinions are those of the authors. Please support the brands that make Ultiworld Disc Golf possible and shop at Savage!
Fall leaves cover the fairways as an unspoken electricity fills the air. Winthrop Lake calls like a siren, tempting all those who dare to flirt with its depths. And, of course, there are the ropes. Strung with the care of holiday trimmings but carrying the danger of a booby-trapped basement, those seemingly innocent lines of yellow and red twine represent the mere inches that can separate heroism from heartbreak.
The United States Disc Golf Championship is back, as the sport's best descend upon the sleepy college town of Rock Hill, South Carolina, for their annual dance with the devil that is Winthrop University's Gold Course.
Storylines
With 103 players set to attack this PDGA Major over four rounds from today through Saturday, it's anyone's guess as to who will emerge victorious at disc golf's version of The Masters. There are obvious contenders, but the USDGC has never yielded a back-to-back winner, which does not portend positivity for Jeremy Koling's prospects as he aims to follow-up on last year's surprise triumph. Even the blue chippers, though, aren't quite the sure things that their track records suggest. Paul McBeth is looking to add his second U.S. title to his trophy case, but the lingering effects — if any? — of a back injury that forced him to pull out of the Green Mountain Championship add some uncertainty. Two-time PDGA World Champion Ricky Wysocki is a zero-time USDGC winner and comes in with plenty of motivation, but has started slowly at tournaments in the second half of the season. Does he finally get over the hump?
We could ask the same question about a bevy of other players who have been on the cusp of USDGC glory: JohnE McCray, Nate Sexton, and Eagle McMahon are all charter members of the Close But No Cigar Club and would no doubt love to graduate to the winner's circle. They'll be pushed by a handful of North Carolina natives who can rely on accuracy (Michael Johansen), power (Austin Turner), and youthful exuberance (Grady Shue) to climb the leaderboard, as well as some backhand beasts (James Conrad, Chris Dickerson) and versatile veterans (Paul Ulibarri, Gregg Barsby). And we haven't even gotten into the 23-strong contingent of European players looking to take some hardware back across the pond.
There is one near certainty, though, as players make the pilgrimage to the Palmetto State: Whoever wins will do so in gut-wrenching fashion. The average margin of victory at the USDGC since 2010 is a mere two and a half strokes, with four titles being decided by two shots or fewer. With a daunting island just begging for errant drives on hole 17 and a lake-lined tee shot on 18, no one will be able to breathe a sigh of relief until the very last chain rattles.
And that's exactly how it should be.
Links
Course
Winthrop Gold – (Open: Wednesday through Saturday): 18 Holes. A Pins: Par 66, 9,835 feet, Wednesday and Saturday; B Pins: Par 67, 10,235 feet, Thursday and Friday – 2017 marks the 18th USDGC, and the famed Winthrop University Gold Course has hosted each one. The course itself regularly goes through slight adjustments year-to-year, and 2017's iteration is no different. While you can reference the entire caddy book here, below are some of the more significant changes:
Hole 1: The opener stays at 265 feet, but now has just one basket position pushed a bit further left (as viewed from the teepad), up the hill. A mandatory has been added to the first tree left of the teepad to keep tee shots down the middle.
Hole 2: Wood pilings have been added inside five feet on the right side of the basket. Additionally, the hazard area along the fence on the right side of the fairway is much longer than last year.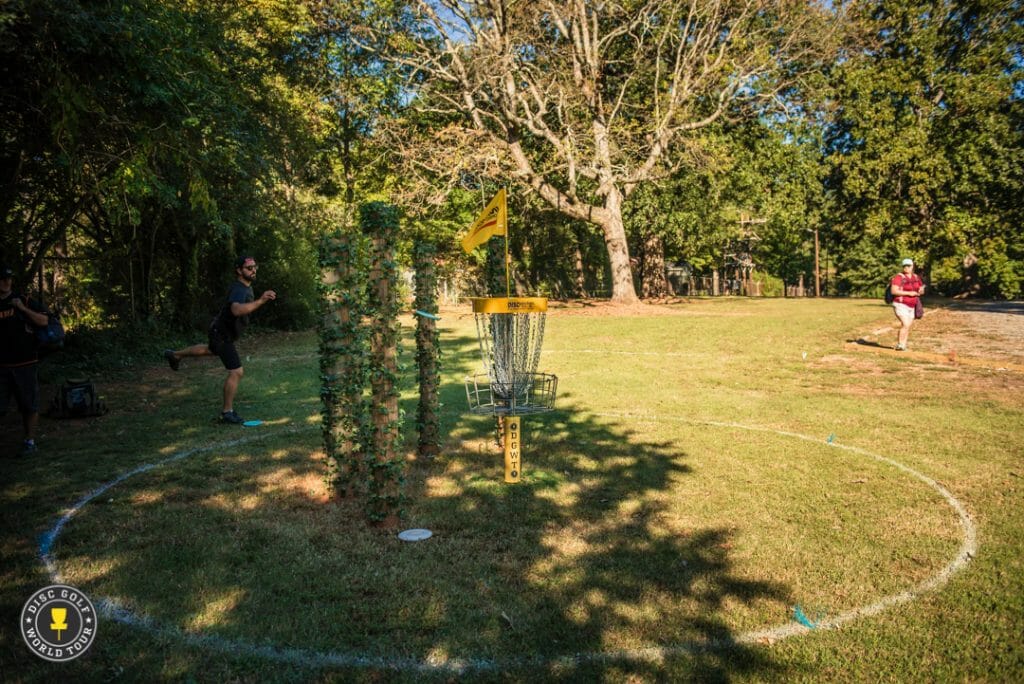 Hole 3: The hazard rope that last year encompassed the right side of the green in the dense shrubbery is now pushed back to not include the already challenging rough.
Hole 5: The mandatory to the right of the green has been moved closer to the corner that is created by the large stand of trees that protects the right side of the green. The B pin has been pushed back and right on the green, behind the trees that are behind the mandatory. The B pin distance, which in 2016 was 1,078 feet, is now 1,118 feet.
Hole 9: The complete redesign experiment of this hole in 2016 is no more. Hole 9 returns to a more familiar version of itself from prior years, with the original tee location back in play. The yellow hazard rope is now changed to red OB rope. The new pin location created in 2016 remains, but is now inside a relatively small island created by OB rope, similar in shape to the green on hole 10. At only 499 feet, players will assess risk when determining whether to drive the green for an eagle putt, or play to the top of the hill and attempt a challenging birdie.
Hole 13: The infamous "888" is now back to a par 5, with the teepad moved back roughly 100 feet from its 2016 location to make it "999." There are also a number of changes to the fairway: The hazard area in front of the tee is gone, and the large field in front of the tee is now open fairway. The original fairway is OB up to the tree and drainage culvert, with the tree sitting 276 feet from the A pin. A new B pin is in the back right corner of the island green instead of the front left corner, with a new distance of 1,111 feet (in prior years it was 803 feet).
Hole 16: Just one pin now, which is slightly in between the former A and B pins. Hazard ropes left of the green are expanded, while the hazard ropes behind the green are gone, with a new OB line being the road. The hazard ropes right of the green are extended further, too, shrinking size of fairway and green.
Past Winners
| | Winner | Total Score | Runner Up |
| --- | --- | --- | --- |
| 2016 | Jeremy Koling | 180 | Nikko Locastro |
| 2015 | Paul McBeth | 242 | Ricky Wysocki |
| 2014 | Will Schusterick | 249 | Paul McBeth & JohnE McCray |
| 2013 | Steve Brinster | 237 | Barry Schultz & Steve Rico |
| 2012 | Will Schusterick | 224 | Ricky Wysocki |
| 2011 | N/A | | |
| 2010 | Will Schusterick | 244 | Nikko Locastro |
| 2009 | Nikko Locastro | 238 | Dave Feldberg |
| 2008 | Nate Doss | 236 | Avery Jenkins |
| 2007 | Ken Climo | 233 | Avery Jenkins |
| 2006 | Barry Schultz | 236 | Brian Schweberger |
| 2005 | Dave Feldberg | 244 | Scott Martin |
| 2004 | Ken Climo | 255 | Darrell Nodland |
| 2003 | Barry Schultz | 243 | Ken Climo |
| 2002 | Ken Climo | 237 | Barry Schultz |
| 2001 | Barry Schultz | 245 | Ken Climo |
| 2000 | Ken Climo | 226 | Al 'Sugar' Schack |
| 1999 | Ken Climo | 204 | Al 'Sugar' Schack |
Extended Forecast
Wednesday: Some fog may be possible, especially early in the day, which should make for a picturesque start around Winthrop Lake. Temperatures will warm throughout the day despite a slight east-northeast breeze. Afternoon highs should top out around 80° under partly cloudy skies.
9 a.m.: Patchy fog possible. Temperature around 60°. Calm wind.
1 p.m.: Partly cloudy skies with temperatures around 75°. East-northeast wind around 5 mph possible.
Hole to Watch: Hole 10, a 554-foot par 4, is traditionally one to keep an eye on. Big arms may run the basket, which sits to the right of the tee. With an east-northeast wind possible, a left-to-right crosswind may come into play and knock some of the aggressive flex shots down and out-of-bounds.
Thursday: Another nice day is in store for Thursday. High pressure will remain fixed over the region, leaving things dry. Temperatures should warm to around 81° under mostly sunny skies. The wind should remain calm throughout the day.
9 a.m.: Mostly sunny skies with a temperature around 57°. Calm wind expected.
1 p.m.: Mostly sunny skies with a temperature around 78°. Calm wind expected.
Friday: High pressure should keep things high and dry one again. Temperatures will heat up to around 83° under mostly sunny skies. Wind should remain subdued once again.
9 a.m.: Mostly sunny skies with a temperature around 63°. Calm wind expected.
1 p.m.: Mostly sunny skies with a temperature around 80°. Calm wind expected.
Saturday: A tropical disturbance in the Gulf of Mexico may push some moisture into the region. As such, a few showers may be possible during the afternoon hours, with a handful of storms possible as well. Afternoon highs should top out around 81°. The wind will also pick up to around 5-10 mph out of the south-southeast.
9 a.m.: Partly cloudy with temperatures around 67°. Southeast wind around 5 mph possible.
1 p.m.: Isolated showers and storms possible with temperatures around 75°. Southeast wind between 5 – 10 mph possible.
Hole to Watch: Hole 5 is a signature shot at Winthrop Gold. This 1,083-foot par 5 that requires an approach shot over the water of Winthrop Lake may find players faced with a left-to right-crosswind. That should help those approaching with a sidearm, but could possibly hurt those approaching with a backhand hyzer.
How To Follow
USDGC doubles as this season's Disc Golf World Tour finale, and as such will be accompanied by the circuit's media suite. Next-day video will be available on The SpinTV's YouTube channel, while real-time scoring and highlights can be accessed during rounds at the Disc Golf World Tour's website and social media hubs. Ultiworld Disc Golf will be on the ground Thursday through Saturday producing a wide array of coverage, including live updates on Twitter, post-round podcasts, and written recaps of each day's action.