Some pros will be taking a pass on Pro Tour events this year, but there's still plenty reason to watch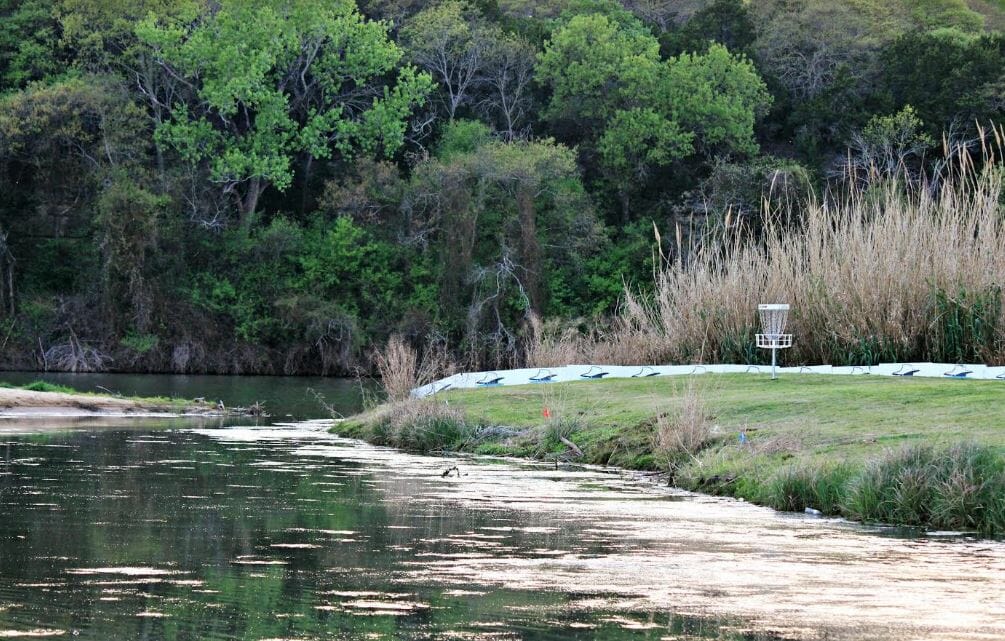 With three A-Tiers spread out across the country, the professional fields are a bit diluted in this weekend, though most are concentrated in Texas for the second Disc Golf Pro Tour event of the season, the Waco Annual Charity Open.
Waco, Texas, has hosted the WACO every year since 1996, with 2009 as the only exception. In that time, it has been everything from a B-Tier to twice a PDGA National Tour event, and this year makes its way to the Disc Golf Pro Tour.
Storylines
The dispersal of talent across the United States is most noticeable at the top of the men's field: Paul McBeth and Nate Sexton are in Florida, though they aren't in the Sunshine State for the oranges or to hit the beach. Instead, they're taking some time to travel through the Southeast to host McBeast Challenge events (jump to the 40:30 minute mark) and clinics, finishing off their sojourn at the Throw Down the Mountain A-Tier. JohnE McCray, Austin Turner, and Matt Dollar will be there, too.
McBeth and Sexton will be back at the next DGPT event later this month in Rockwell, Texas, for the Nick Hyde Memorial. But perhaps this may have been the trouble with the DGPT expanding to "smaller" PDGA events or tournaments that haven't been quite as high profile in recent years, or ever before: From the player's perspective, not only do A and B-Tier events carry less weight in terms of bonuses and added cash that can make traveling to them less feasible, but the points structure of the DGPT means some (especially those at the top) won't need to attend as many of their events to still qualify for the tour finale.
Indeed, the next three DGPT events – the Nick Hyde, Jonesboro Open, and Utah Open—all are on weekends with multiple A-Tiers, possibly watering down the competition again.
But, is there a silver lining here? These smaller, more regional events are likely to draw slightly lower rated, but still talented pros looking to qualify for the DGPT championship. And their stories can be just as compelling as those of players atop the field week in and week out.
The 2016 DGPT season brought plenty of new faces to the mainstream. There was James Conrad, in his first season of real touring, notching three top 10 finishes and one top 5 showing on the Pro Tour, plus a 12th place finish at the Vibram Open. Then, in the Pro Tour Finale, Jordan Castro, James Cole, Peter McBride, and Dana Vicich upset much of the field in the opening quarterfinal round, besting the likes of well-known names like Jeremy Koling, Eagle McMahon, Philo Brathwaite, Steve Brinster and Will Schusterick.
Cole and McBride went on to claim even bigger upsets in the semifinal round, advancing past Ricky Wysocki, Nate Doss, Cale Leiviska and Paul Ulibarri — just to name a few — to make it to the final card. As those two proved, it's all about making it to the finale's playoff bracket, where it seems like almost anything can happen. But they still had to get there by hitting the road and racking up quality finishes earlier in the season.
The moral of the story here? Instead of worrying about who isn't playing Waco, perhaps keep an eye out for what's going on just a bit further down the leaderboard. Those names might come in handy when the tour championship touches down in Jacksonville, Florida, in October. 
Venue and Course
Brazos Park East (Thursday, Friday & Saturday): Par 66, 7,557 feet — All three rounds of the event will be played at Brazos Park East. The course features some picturesque views of the Brazos River to help take players' minds off the eight par 4s and two par 5s they'll encounter as they navigate the wooded fairways and abrupt elevation changes.
The course was last played by an A-Tier professional field at last year's Texas States Championship. Hot rounds at the event came in rounds one and two, where Bradley Williams tossed 12-under par 54s, both rated at 1049. At the rate Wysocki and McMahon have been racking up birdies to start the season, we could see those numbers eclipsed by quite a bit.
Holes 6 and 18 stand out, if only because of their stark contrast. Hole 18 — at the very end of a nine-hole stretch played through tight woods — measures in with a 609-foot fairway that zigzags its way through dense vegetation before finishing to an uphill green.
With play for this event beginning on hole 7, hole 6 has the distinction of closing out the event. Sporting the only treeless fairway on the course, this 492-foot par 4 plays almost entirely over water. What's more, the hole plays directly south from tee to pin, which means players will be faced with a 15 to 20 mph headwind during the first two rounds and a 10 mph left to right crosswind by Saturday afternoon. If you want to check out some pros throwing these holes, plus the rest of the course, check out our Tournament Throwback post for those highlights.
Past Waco Annual Charity Open Winners
In more recent iterations of the event — which has often found it as a B-Tier or lower –Lisa Fajkus has won Women's Open four years in a row, from 2015 and 2012. Des Reading took the win in 2011, and in 2016, 2010, and 2008 there was no Women's Open field. Keith Russom won Open the last time the event held A-Tier status, in 2015.
Extended Forecast
Thursday: Less than ideal weather is in store for Thursday, though it won't be too terrible. Low clouds will bring a chance of some isolated patches of drizzle. The high temperature will likely climb to around 72°F. Southerly winds of 10-20 mph are possible with gusts as high as 25 mph possible.
7 a.m.: Cloudy and 54°F. Southerly winds around 10 mph likely. Patchy drizzle likely.
10 a.m.: Cloudy and 57°F. Southerly winds around 10 to 15 mph likely. Patchy drizzle likely.
1 p.m.: Cloudy and 63°F. Southerly winds around 15 mph likely. Gusts as high as 25 mph possible. Patchy drizzle possible.
4 p.m.: Cloudy and 70°F. Southerly winds around 15 mph likely. Gusts as high as 25 mph possible. Patchy drizzle possible.
Weather will definitely be a bit of a factor for the opening day of the Waco Annual Charity Open. It will be interesting to see how players adjust to the potential for gusty winds and light showers. With strong southerly winds, I expect hole 6 to give players some problems. Hole 6 is a 492 foot hole that carries across the water. Players can either run the pin for a chance at eagle, or they can lay up short of the water and play their upshot across the water.
Friday: Cloudy skies in the morning should give way to partly cloudy skies by the afternoon. Some very light drizzle may also be possible in the morning, but this should dissipate rather quickly. The high temperature should be around 78°F. Wind will continue to crank out of the south around 15-20 mph with gusts as high as 25 mph possible.
7 a.m.: Cloudy with a temperature around 63°F. Southerly wind around 15 mph. Patchy drizzle possible.
10 a.m.: Cloudy with a temperature around 66°F. Southerly wind around 15 mph.
1 p.m.: Mostly cloudy with a temperature around 71°F. Southerly wind around 20 mph, with gusts as high as 25 mph.
4 p.m.: Partly cloudy with a temperature around 76°F. Southerly wind around 20 mph, with gusts as high as 25 mph.
Gusty southerly winds continue to be in the forecast. In addition to trouble continuing on hole 6, hole 8 may give players problems, as well. Hole 8 is a 516 foot par 4 that requires a low drive off the tee due to a low ceiling all the way to the pin. A headwind could cause some of the discs to lift, crashing them into the low ceiling and leaving players some work on their upshots.
Saturday: Clouds will continue to stick around for the third and final round of the tournament. Some isolated showers will also be possible. Highs will make it up to around 75°F. Southerly winds will be a bit subdued to around 5 to 10 mph.
7 a.m.: Mostly cloudy with a temperature around 62°F. Light southerly winds with an isolated shower possible.
10 a.m.: Cloudy with a temperature around 63°F. Light southerly winds with an isolated shower possible.
1 p.m.: Cloudy with a temperature around 70°F. Light southerly winds with an isolated shower possible.
4 p.m.: Cloudy with a temperature around 76°F. Light southerly winds.
After two days of navigating the wind, it should certainly be less of a factor on Saturday. However, there is a chance of some isolated showers in the forecast that could make things interesting down the stretch. Brazos Park East is certainly no stranger to rain on the final day of tournaments, just look at the 2016 Texas States Championship.
It should be noted that wind forecasts do not take into account the local topography of Brazos Park East. Any elevation changes near the area can lead to some swirly winds.
How To Follow
You can follow along with the live coverage on the Disc Golf Pro Tour YouTube channel at 3:30 p.m. EDT for all three Open feature/lead card rounds, Thursday through Saturday. SmashboxxTV will be producing the live coverage, and expect them to again intersperse footage from the Open Women's feature and lead cards into the broadcast. Additionally, Jomez Productions will provide next-day post-production, with live scoring and statistics available via UDisc Live.