The course isn't the only thing in Texas with multiple personalities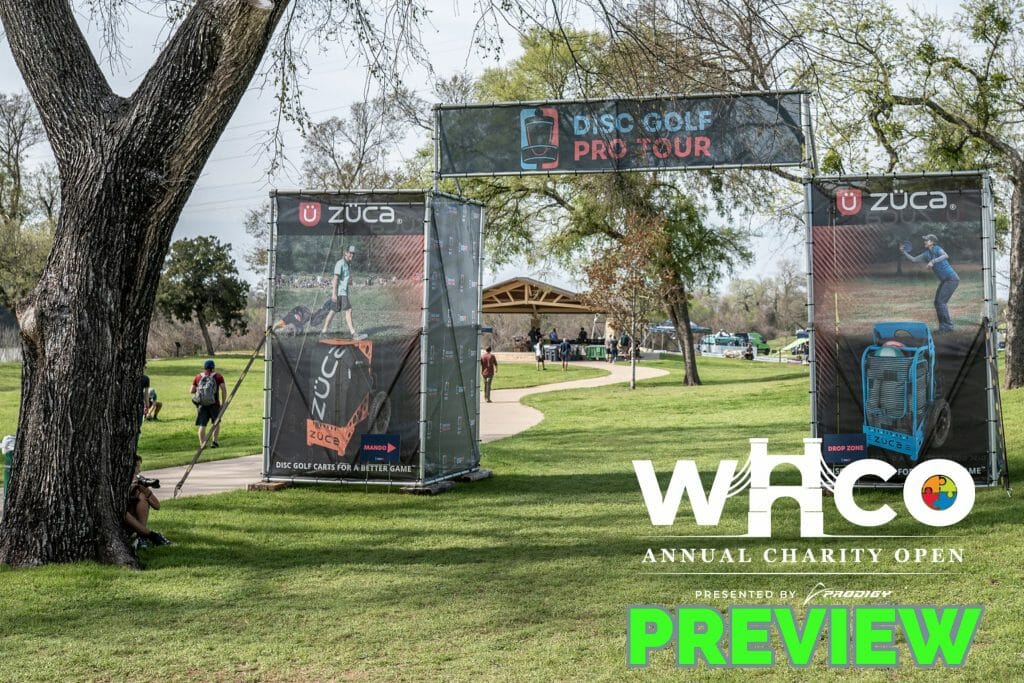 Waco, Texas, is about 100 miles away from Austin, but some of the weirdness from the capital has rubbed off on the Waco Annual Charity Open (WACO). As the only remaining institution in the city that hasn't been touched by Chip and Joanna Gaines, WACO is not always kind to its guests.
Back to the weirdness. Since WACO was added to the Disc Golf Pro Tour in 2017, Jeremy Koling won the event in back-to-back seasons with playoff victories that were eerily similar both years; Paige Pierce had a dramatic comeback and battle with Sarah Hokom one year but also her worst professional finish ever in another; Paul McBeth threw a "perfect" 18-under par round, and then, of course, in 2020, the event was prematurely ended after the second round due to the fledgling COVID-19 pandemic. And even the shortened event had a chase card win.
While scores can go low on the bEast, players can also be tripped up by any number of elements. Even when you're not in the technical wooded half of the course, you still don't have the green light. Texas is prone to some nasty and unpredictable early spring weather, so winds off the Brazos River always seem to be ripping. That looks to be the case this week as well.
The combination of factors allows for players who aren't normally in contention, like Nate Perkins, to challenge for not just podiums but wins.
WACO is not complete madness, though it does revel in unpredictability. It's more like demo day in Texas — controlled chaos — and a great way to shake up the early season schedule.
Past Winners
What We'll Be Watching
Things were cut short last year, but Paige Pierce's 13th place showing, where she missed cash, was puzzling for the two-time champ. Even 2019 was a bit loose by Pierce's standards, a third place finish 11 strokes behind Catrina Allen. Will WACO become Pierce's DGPT bugaboo — or a two-year blip?
Since a fourth place finish at last year's Preserve Championship, Emerson Keith has struggled at Elite Series events. Look at his 2021 so far: two B-tier wins, a couple C-tier second places, and a 64th place finish at the Las Vegas Challenge, missing cash. What's going on there? Before he started touring full-time, the Texan was playing WACO when the DGPT came through and he's had success here historically — 9th in 2017 when he was rated 979, 7th in 2018, 12th in 2019, and 19th last year. It would be nice to see Keith back on a lead card this weekend.
In the three WACO events he's played, Paul McBeth has finished third, first, and second. In 2021, despite the win at the Memorial last weekend and a DGPT All-Star victory, McBeth hasn't looked sharp. WACO should give us more data on whether McBeth is actually fine or if he should just play every event in Arizona for the rest of the year. I'll especially be watching some of those edge of Circle 1 putts.
GRIP6 Pick6 Locks Of The Week
Half the course is woods? Better call up James Conrad. With the exception of 2018's 14th place (still not bad), Conrad has never finished lower than sixth in Waco. In the four events he's played here with UDisc Live stats, Conrad averages more than 12 strokes gained on the field in tee-to-green shots.
We've noted some of the other up-and-down play in the FPO division, but Sarah Hokom has never finished lower than fourth in four DGPT events and twice has been the runner-up. You know you're thinking of those tasty forehand lines in the forest. Don't overthink it: have Hokom in your lineup.
Home Of The Hyzer Odds*
Paul McBeth: +100
Ricky Wysocki: +100
Chris Dickerson, Eagle McMahon, Kevin Jones, Calvin Heimburg, : +300
Garrett Gurthie, Nikko Locastro: +500
Chris Clemons, Cale Leiviska, Drew Gibson: +700
Jeremy Koling, Colten Montgomery, and eight others: +900
*No FPO Odds listed
The Course
Brazos Park East: MPO – par 63, 7,872 feet; FPO – par 67, 7,677 feet
If you like a little fusion cuisine in your life, Brazos Park East, aka The bEast, will be very much to your liking. Mixing park style golf, not totally dissimilar to places like Fountain Hills or Vista del Camino, with some exceptionally tight wooded fairways, the bEast has a little something for most people. While the course isn't long, there are a couple opportunities for the big arms in both divisions to air it out and let the disc fly. Pars have been tightened up since McBeth's 18-under par round in 2019.
Waco Annual Charity Open Caddy Book
Extended Forecast
It looks like windy conditions will again play a major role in the second Disc Golf Pro Tour event of the season. A strong upper level jet stream will lead to a tightening pressure gradient across the southern United States. As a result, strong southerly surface flow will become established for the weekend. In addition to the windy conditions, rain will enter the forecast for the first time at a tour event this year.
Friday: Isolated light showers will be possible, especially in the morning hours. The temperature at the start of competition will be around 67°. The temperature should warm to 81° by the afternoon hours. Southeast winds of 15 to 20 mph will be possible with gusts up to 30 mph likely.

Saturday: Although the atmosphere will be primed for thunderstorms, a strong capping inversion will keep precipitation chances down. Afternoon highs will top out in the low 80s. Southeast winds of 15 to 20 mph will once again likely gust to 30 mph throughout the day.

Sunday: Thunderstorms will move into the region overnight Saturday. These storms will likely linger into Sunday morning. Fortunately, precipitation chances will diminish throughout the late morning and into the afternoon hours. Temperatures will be notably cooler, only topping out around 70°. The wind will also shift directions. A 10 mph southwest wind will be possible throughout the day with occasional gusts to 20 mph.
In Las Vegas we saw Eagle McMahon and Paige Pierce battle the wind and rise victorious. Will the same players perform well in this wind? Will the rain play more of a factor in the final round? In the wise word of Paul Ulibarri, "Let's see how it plays out."
No Spectators
WACO has been designated a COVID-19 Phase 1 event by the Disc Golf Pro Tour, meaning no spectators or caddies will be allowed.
"Our partnership with the City of Waco has been an invaluable key to the success of this event over the years. We respect their guidance and will continue to follow the event limitations and protocols set forth," said Ryan Draper, WACO Tournament Director. "More importantly, we value the safety and health of the players who travel to participate in this event, and wish to send them off to the next event in the same condition they arrived. We are excited to be in a position to have a great tournament here in Waco and look forward to going full send at the next one."
How To Follow
UDisc Live will have livescoring available all weekend. For video coverage, see our other post: