Orum, Leatherman take Tallahassee titles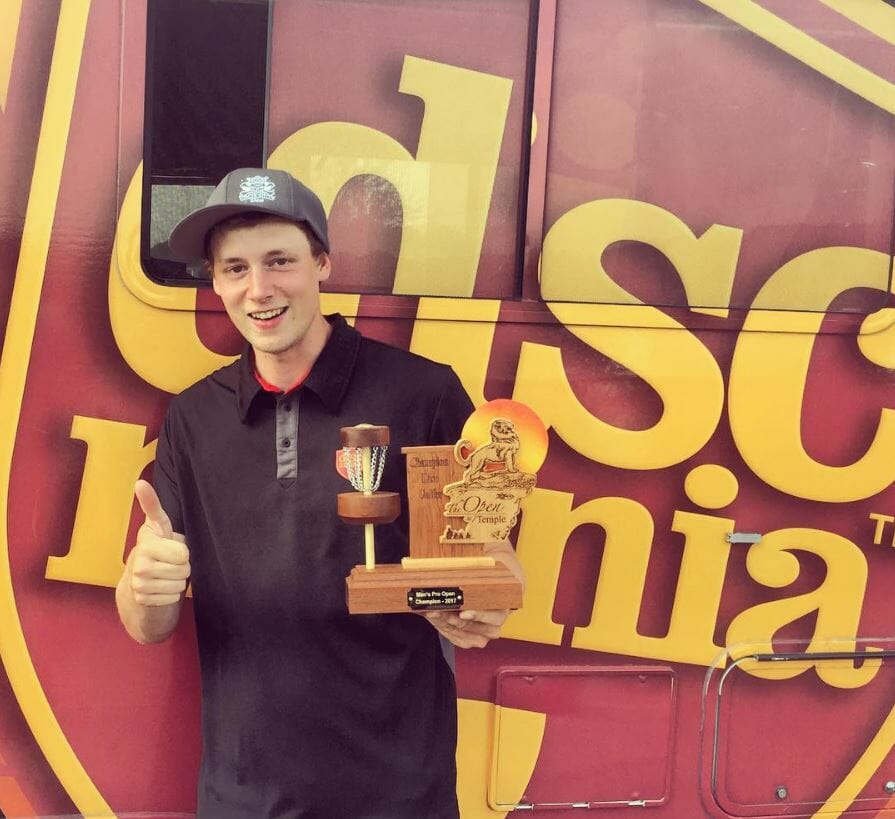 In only his fourth tournament back from knee surgery, Simon Lizotte already has his first win.
The German pro took the victory at The Open At Temple this weekend in Temple, Texas, his 25-under par 164 over three rounds netting him $1,260 in winnings (the course was set at par 63, despite the PDGA's website showing par as 54 as of press time). The A-Tier title was his first high profile win since last season's Konopiste Open and saw him finishing the event with a 1071-rated final round. Lizotte has averaged 1049-rated golf over his last 10 rounds, a whopping 21 points above his rating.
James Conrad took second place for the second week in a row, his 20-under par 169 tying Nikko Locastro for the runner up position at Temple. Eagle McMahon took fourth place with a 17-under par 172, while Ricky Wysocki's 15-under par 174 rounded out the top five. Jeremy Koling, coming off his overtime win over Conrad at last week's Waco Annual Charity Open, couldn't make up for a difficult first round and finished in a five-way tie for ninth place with an 11-under par 178.
Catrina Allen, meanwhile, rediscovered her 2016 form, collecting her first A-Tier win of the season with a 5-over par 194 total at Temple to oust Paige Pierce by seven strokes. Allen entered Sunday one stroke ahead of Pierce before closing with a 972-rated final to pull away, while Pierce's 928-rated day tied her second lowest round of the season. Lisa Fajkus took third place with a 21-over par 210, while Melody Waibel (+25) and Stephanie Vincent (+28) took fourth and fifth, respectively.
Out in Florida, Matt Orum took the Open at Tallahassee A-Tier with a 30-under par 203, highlighted by a 1050-rated final round. Orum jumped out to an early lead over Cameron Colglazier and didn't look back, recording his second win of 2017 and his first A-Tier victory since the 2014 Alabama Disc Golf Championship.
Colglazier finished 10 strokes behind Orum at the end of the three-round event with a 20-under par 213. Josh Childs rounded out the top three, finishing with a 16-under par 217, while Michael Gibney followed up in fourth place with a 14-under par 219. James Mosier and Izak Mcdonald ended up fifth and sixth, and the highest finishing Florida pros in the field were Calvin Heimburg and Colin Forehand, who both tied for seventh. Orum's next big event will be the Glass Blown Open, while Colglazier heads east for the Jacksonville Open next weekend.
In the Open Women's division, Hannah Leatherman is now six for six in Florida events since the beginning of 2017 and is still undefeated on the year. Typically based out of Pennsylvania, Leatherman makes the Sunshine state her winter home, and her 14-over par 247 was good enough to keep her two strokes ahead of Jacksonville pro Jessica Hill. The event marked the fifth time this season Hill has finished second to Leatherman.
A favorite to place in the top three and challenge for the win, Madison Walker struggled to a tie for fourth place with a 43-over par 276. After Saturday's round she posted a short Instagram video showing her icing her arm, which may have contributed to her performance. Walker and Leatherman are both scheduled to return to Texas for next weekend's Nick Hyde Memorial, the third stop on this season's Disc Golf Pro Tour.