Seven A-tiers made for a busy holiday weekend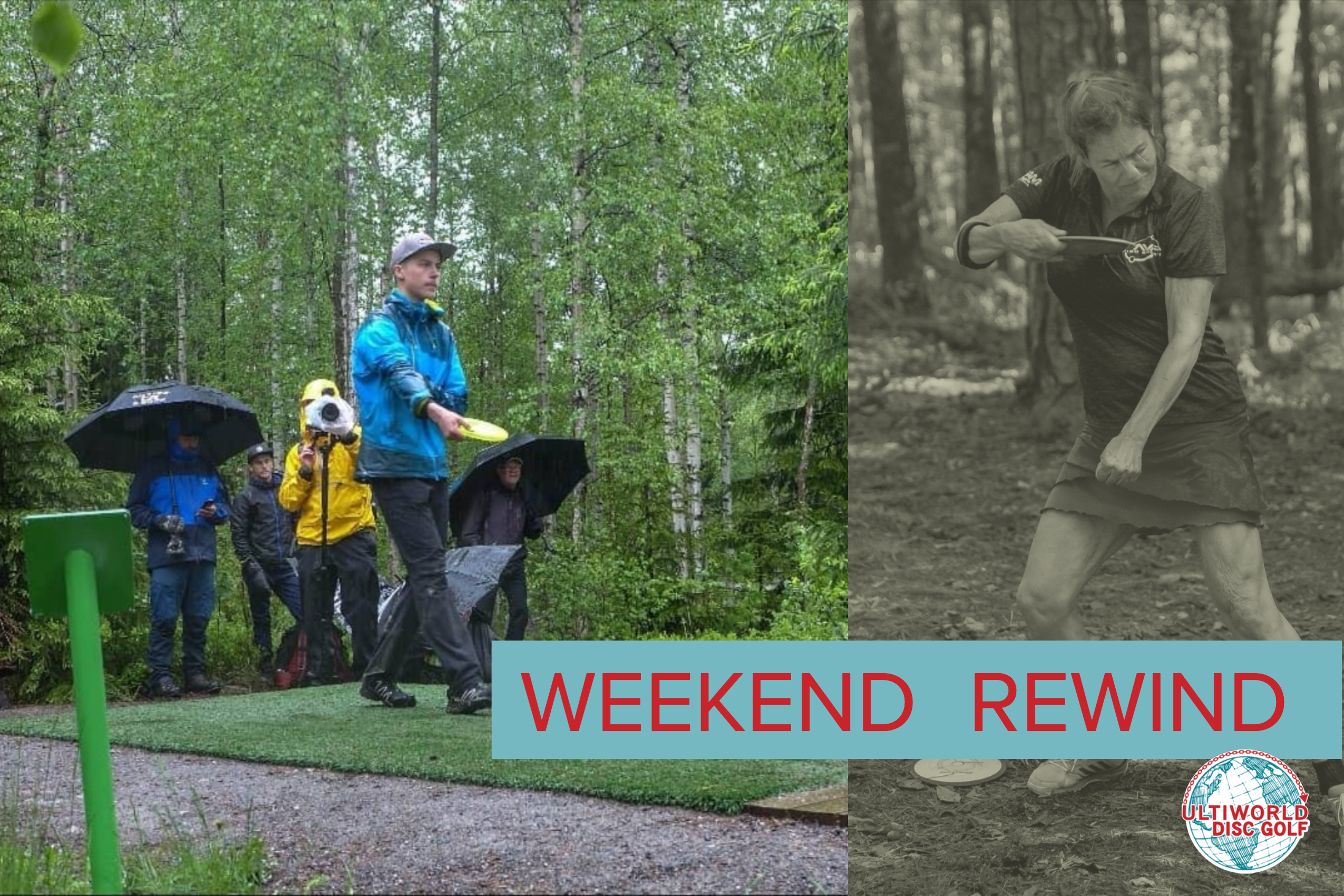 Hot rounds to open and close Two Days in May secured a win in Spotsylvania, Virginia for Paul McBeth, who has traveled back to the East Coast for several weeks while the rest of the tour remains on the opposite side of the country.
McBeth shot a 1090-rated first round on the Sunnyside course at the Blockhouse, and wrapped it up with a 1057-rated romp on the same track round four to win by seven strokes over Chris Dickerson. He led wire-to-wire in a field that also included Andrew Fish and Zach Melton.
On the Open Women side, Hannah McBeth had a three stroke lead over Elaine King heading into the final round, but a 974-rated effort from King to finish pushed her over McBeth to take the win by one stroke.
"After realizing we both shared the hot score from the first day I jokingly asked Elaine to leave me alone and, 'let me have this one,' since she's very good at beating me," McBeth said in a post after the tournament. "She put it best when she said, 'You will win when you've earned it.'
"It was tied going into the 18th hole and I pinballed my way down the fairway for bogey."
Kristen Parsley finished one stroke behind McBeth for third place in FPO. Kevin Gleason beat Mike Moser for the Masters victory.
---
The Prodigy Disc Pro Tour continued in Tampere, Finland last weekend. Lauri Lehtinen, a 979-rated player out of Jyväskylä, bested 12 1000+ rated pros to win his first PDPT event. He averaged 1038-rated golf over three rounds in tough weather conditions.
"It all came down after five holes of sudden death and it was easily my biggest win ever," Lehtinen posted. "Playing with top players in Finland was really exciting but I was able to keep my calm and shoot great scores."
Lehtinen outlasted Väinö Mäkelä in the playoff. Jesse Nieminen was third, one stroke out of the playoff.
Henna Blomroos and Eveliina Salonen continued their friendly rivalry in the Open Women division, with Blomroos taking this round. Blomroos got out to an early lead and held onto it, winning by seven strokes and averaging 976-rated golf. It is her first win of the year, if you can believe it.1
---
Staying in Europe, another sub-1000 MPO player picked up the W at the Söderhamn Open in Sweden. Robin Villman won in a playoff over Anders Swärd to get the first A-tier and second overall win of his career. Sofie Björlycke easily won FPO.
"We had some tough conditions the final round with a lot of rain, wind, and cold but I managed to stay calm and focused," Björlycke said. "I was very impressed by Matilda Ringbom, Robin Villman, and Oskar Dahlin this weekend."
---
Keeping it international, Gregg Barsby came back in a big way to win the Forest City Open IV north of the border in London, Ontario. A sub-1000 rated opening round did not deter the world champion, who battled back with two consecutive hot rounds to beat Phill Diloné by one stroke. Martin Hendel, the highest finishing Canadian, was third.
Colleen McInnes took things home from the FPO division to lock the Hendel household out of first place hardware. Sandi Hendel finished a stroke behind McInnes in second.
---
At the 41st Annual Normal Pro-Am, Coda Hatfield was the winner of the long-running event for the 11th time. While Hatfield would win by five strokes, averaging more than 30 points over his rating each round, he was helped by Emerson Keith turning in his third lowest rated round of the year and falling off the pace in the third round. Keith would drop to third and Alex Savage, who has a PDGA number in the six digits, finished second, his highest finish at an A-tier.
GK Productions, who covered the event, mentions Savage's rise in the regional ranks during round one.
Jennifer Allen was back in Oklahoma and took the FPO win with ease over Tawna Windover. She had two rounds in the 970s. Dixon Jowers got the Masters win.
"This was one of my first tournaments when I started playing in 1999," Allen said in a post. "It was great being able to make it back to play. I have only missed a couple of years and can proudly say I was able to keep my winning streak alive! I was putting with more confidence than I have in years and it felt great!"
---
Still in the Midwest, the Des Moines Challenge had more than 50 players duking it out in the MPO division.
Benjamin Callaway got his first A-tier win since 2017 by two strokes, shooting two rounds above a 1050 rating. Callaway had finished top 10 at the event three times prior to the victory this year.
"This is a special one for me personally," Callaway said. "Been playing this event for so many years, coming so close many times but never pulling it off. Until now! I put together three great rounds to give myself a comfortable lead into the finals and just held on in the end over fellow teammate Terry Rothlisberger."
Sarah Gilpin knocked off 2018 Masters World Champion Kimberly Giannola for the FPO crown.
---
Dave Feldberg and Ellen Widboom both made easy work of the 2019 Trailblazer in Clermont, Florida, just outside of Orlando.
Feldberg beat second place Nicholas Masters by 21 strokes and shot a round in the 1060s. Widboom won by 14 over Priscilla Anzualda.
---
If you're not in the know, the Southern Nationals Disc Golf Series runs year-round in the southeast and awards a season-long points title as well as amateur and pro championships.
The Southern Nationals Pro Championship was held Memorial Day weekend, and Cameron Colglazier backed up his 2018 points title with a 2019 championship. He separated himself from second place Joshua Patin with a 1058-rated second round, and won by six strokes.
The only two women in the FPO division went to a playoff between Ashton Wade and Esther Schultz.
Colglazier, Patin, Michael Florey, Miles Seaborn, and Mike Brown qualified for the USDGC with their finishes in MPO.
Loosies
---
We couldn't. ↩