Clinic demonstration mishap has the German pro on the shelf for at least two weeks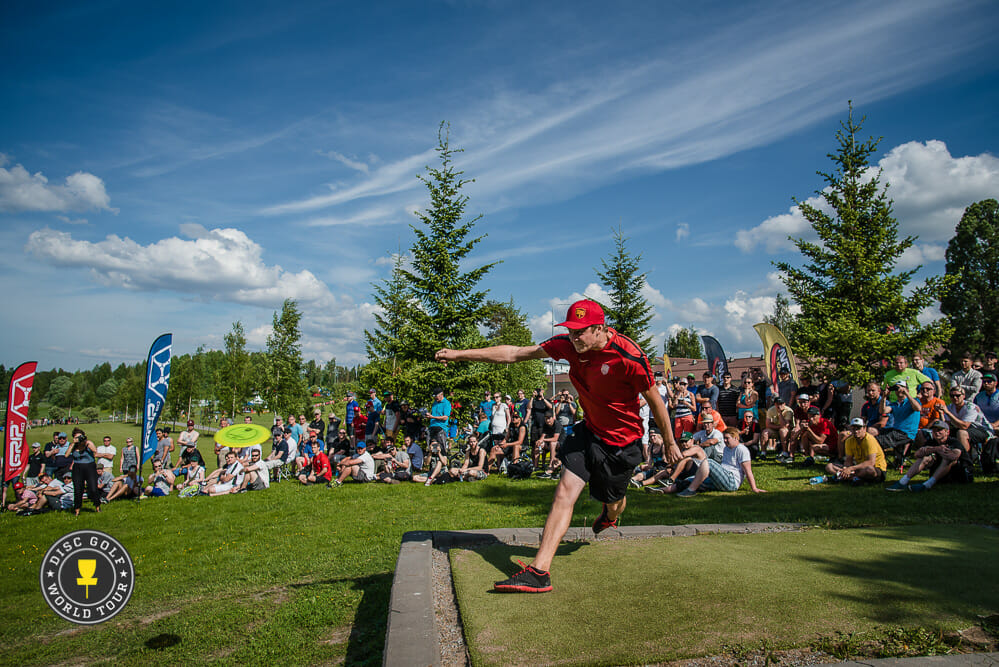 Simon Lizotte suffered an injury to his right knee during a clinic demonstration in Finland on Wednesday, he told Ultiworld Disc Golf, leaving his status for the European Masters on July 21 suddenly up in the air.
The injury was the culmination of stress Lizotte put on his leg during multiple 360-degree run ups as part of the distance and speed gun shows at his events. After launching almost 15 full power drives in an attempt to hit a bridge 200 meters in the distance – which he did – he moved to the radar tent to, as he said with a laugh, "show people how it's done."
"I threw it and kind of fell awkwardly," Lizotte said. "Last full power shot of the day, I was almost done. It was literally my last throw."
Lizotte was on the 13th of 14 instructional clinics during a five week swing of the Finnish countryside.
"I heard it pop and I was like, 'Oh my god, there goes the rest of the season,'" Lizotte said. "But then I kind of moved my leg a bit back and forth and felt surprisingly good. It hurt for a while, but it wasn't that serious."
He finished the clinic and felt encouraged as he went to bed Wednesday night, then woke up yesterday barely able to walk. A trip to an emergency room doctor yielded a diagnosis of a small tear and an order not to throw for two weeks, but Lizotte said he planned to head back to his home country of Germany for a proper follow-up.
As a result, he will not play in next week's Estonian Open, but he is keeping the European Masters and Pro Worlds on the table.
"If I'm not 100 percent sure I can play for Masters, I will definitely not play Masters," he said. "Worlds is the goal."
Known for his penchant to take risks to entertain spectators, Lizotte acknowledged that the injury might mean it is time to back off from the showy displays.
"After that post yesterday [on Facebook] I got a bunch of messages from people saying, 'Yeah, of course we love what you do and stuff, but it's time to take it a little easy and actually try and be good at your sport and not just be a show off,'" Lizotte said. "I agree with that.  I still feel like [I'm] 16. Even though I'm only 23 it does make a big difference, slowly but surely."
He said part of his recovery will entail wearing a support on his knee, even if it is healed.
"No matter how my leg feels, I will play with a brace," Lizotte said. "It's a good one. It feels kind of nice around my leg actually, and I like the way it looks."
Simon Lizotte, always finding the bright side.