Rivals turn their focus inward for 2016's final PDGA Major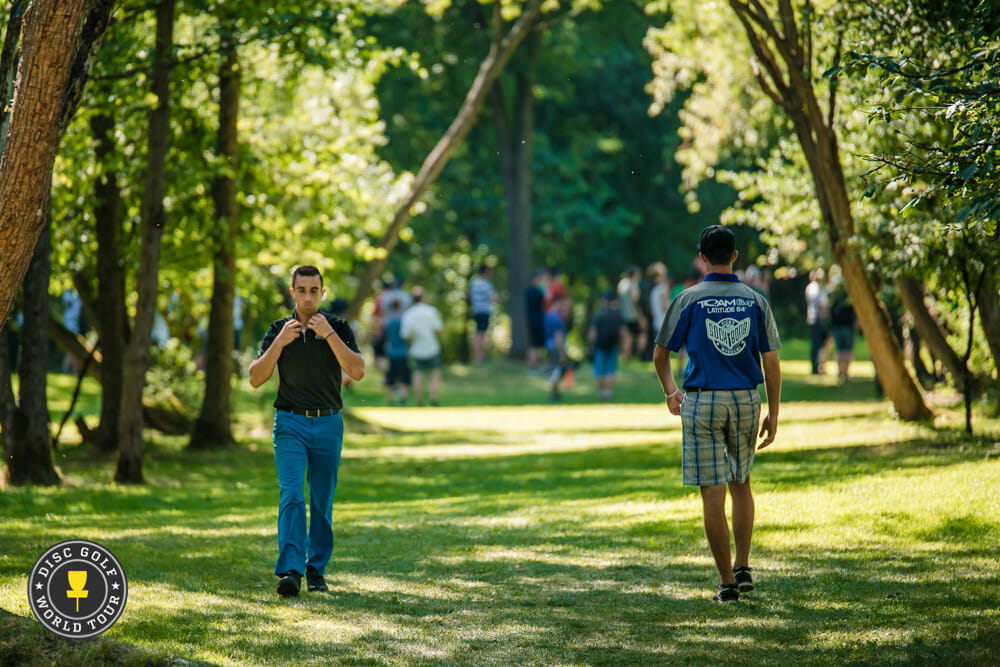 Ultiworld Disc Golf's coverage of the 2016 United States Disc Golf Championship is presented by Savage Apparel Co.; all opinions are those of the authors. Please support the brands that make Ultiworld Disc Golf possible and shop at Savage!
Ricky Wysocki, by and large, has used the 2016 season to finally emerge from the long shadow Paul McBeth has cast over the past five years and become a force to be reckoned with in professional disc golf.
Indeed, the resumé the Ohio native has compiled over 24 events has been tremendous: Three PDGA National Tour victories and the NT points series title; two PDGA Majors, including his first world championship; and the Disc Golf Pro Tour points title and a bevy of A-Tier wins have made it clear that 2016 has been the "Year of the Sockibomb."
Always nipping at his heels, though, has been McBeth. A closer look at the two competitors' head-to-head record shows that, despite Wysocki's accolades, they have been quite close: For higher placements, Wysocki currently holds a slim 7-6 margin over McBeth, while the two pushed at one event. Wysocki's two Majors carry weight, but McBeth's post-Worlds resurgence – highlighted by dominant wins at the Ledgestone Open and the Brent Hambrick Memorial Open, as well at the Disc Golf Pro Tour Championship – have tilted the conversation back in favor of the four-time world champion.
Perhaps that's why, heading into this week's United States Disc Golf Championship – which runs today through Saturday in Rock Hill, South Carolina – Wysocki knew that his 2016 would be judged less on his overall accomplishments, and more on whether or not he holds off McBeth to sweep the Majors.
"I guess you could say that," Wysocki said last week as he took a break from practice to tune into the Ryder Cup. "As you said, it's been me versus him, primarily, almost every tournament. That being said, I've won most of those battles this year, whereas in the few years past maybe he has. It's nice to be able to have to have won those tournaments…and to know I have a step up on him from winning those tournaments I have this year."
While Wysocki may have the season-long advantage, McBeth holds serve at the USDGC's hallowed Winthrop University Gold course as the defending champion. It could also be argued that the California product enters this event with a Major chip on his shoulder, as he has struggled this season to recapture the magic that saw him bag disc golf's first Grand Slam in 2015.
"It hasn't been as dominant a year as last year, and I don't have that big win this year," McBeth said last night after receiving his 2015 USDGC championship ring. "That's my main goal: Come in here and win this one and have a staple for the end of the year. It's been an up and down year, but still overall a really good year."
While both are acutely aware of the running Wysocki-versus-McBeth narrative and how a USDGC win may shift it in one direction or the other, McBeth said he wouldn't expend any energy on the chatter, because Winthrop would bite hard if he did.
"This tournament, you can't look at it that way," McBeth said. "It's not you versus anyone, because the course is so difficult…It's got so many punishing holes, and any hole can give you a big number. If you were to focus on someone else and try to beat someone else, it's not gonna work well."
Wysocki, too, asserted that his mind would only be on a single track, and not on any storylines dictated by fans or media.
"I'm playing for myself," Wysocki said. "Each tournament I'm gonna play my best, and whatever happens otherwise is whatever happens. I can only control what I can control. Like I've said before, if I play my best and he plays his best, I feel like I've got the edge and I'm gonna win."
Wysocki's enhanced confidence this season has not gone unnoticed by his closest rival. McBeth said that Wysocki's game has been augmented by his increased putting range, which has then resulted in less pressure off the tee, with a smaller premium being placed on pinpoint driving accuracy.
"He's definitely making his longer putts and his putts that have more pressure on it," McBeth said. "…As long as he's in bounds he has an opportunity to make his putts. His putting confidence had boosted every other aspect."
McBeth is no stranger to confidence himself, though. And after a season in which he has struggled with his putt – he switched early in the year to a straddle stance to offset back and knee pain, then returned to his standard approach in mid-July – he said he has finally dialed it back in to its 2015 level.
"Confidence-wise, [my range is] probably 45 to 50 [feet]," McBeth said. "I think I should make both of those, and the jump putt is going in from a lot further."
Beyond the rivalry between the two, there is more on the line. Both have an opportunity to be crowned the first Disc Golf World Tour Champion with a win, while Wysocki eyes his first U.S. championship. McBeth, meanwhile, can become the first USDGC winner in consecutive years since Ken Climo accomplished the feat in 1999 and 2000.
All of that has Wysocki looking to come out of the gates and land where he's spent so much of 2016: in first place.
"I think that's gonna motivate me to want to play my best, so I'm really excited, actually, to see how it turns out," Wysocki said. "I'm feeling good and I'm looking to set my name up there on top and make a statement this year."
Weather and Coverage
Wednesday and Thursday are set to be pleasant in Rock Hill, with highs of 75 degrees and winds between 10 and 15 mph. Friday and Saturday, however, may be under serious threat from Hurricane Matthew, a category 4 storm currently heading toward Florida. USDGC officials yesterday announced that they are monitoring the system and its possible impact on South Carolina – which has already declared a state of emergency and issued evacuation orders for coastal cities – and will make changes to the event as needed.
Action begins at 9:00 a.m. local time, and the Disc Golf World Tour will have extensive social media coverage of the event, as well as live scoring and statistics via its Metrix platform. PDGA Media will also be on hand with its own live scoring and Twitter updates. Next-day videos will be released through The SpinTV.